Having successfully completed the John Muir Trail in 2015, we were looking to get back out to the Sierra Nevada for another thru-hike this summer. After some consideration of the many options the Sierra affords, we decided to tackle the next section of the Pacific Crest Trail north of the JMT (the JMT itself overlaps with the PCT for most of its length). Starting at Barker Pass, in the northwest Lake Tahoe area, this section travels nearly 200 miles to Yosemite's Tuolumne Meadows. Along the way, it passes innumerable lakes, creeks and streams, crosses several roads and highways, and climbs up and down numerous mountain passes.
Prior to the trip, we connected with a fellow backpacker through mutual friends and the magic of the interweb, who was likewise looking to thru-hike for a couple of weeks. And so the trio of Edith, Jolly and Jed grew to a quartet, with the addition of our new hiking friend Tamara. Tamara had hiked the JMT in 2015 with her son Julian, then 13 years old. She proved a perfect companion. We thoroughly enjoyed hiking with such a thoughtful, patient, strong, informed and self-sufficient hiker, and we all benefited mutually from each others' complementary skills, knowledge and good energy.
We started our hike on July 20 and ended on August 4, hiking at total of 198 miles. During these 16 days we experienced unseasonably hot and humid weather – with some days seeing highs in the 90s, even at an elevation of 9,000 feet or more, and most nights seeing lows only into the 50s. We had no rain or thunderstorms – a rare period of dry weather in a mountain range that commonly experiences summer afternoon thunderstorms.
We were among a very few backpackers traveling southbound. The vast majority were northbound PCTers who had started at the US-Mexico border in April or May. We encountered dozens of Canada-bound backpackers, especially in the first half of our travels. With virtually no hikers going our direction, we got the sense that we were salmon swimming upstream and soon decided we needed a name for our intrepid group, in addition to individual trail names. The name we chose was the SOBO HOBOs (Southbound, Homeward Bound). E+J had received their trail names on prior trips (E's is Strong Birdy Legs; Jolly's is Timber Timber). Tamara had somehow missed being named on prior trips, so after much consideration we offered her a trail name this trip: Full Moon. We'll let you imagine why.
Day minus 1, July 18
E+J drove from LA to Yosemite, the end-point of the trip. We spent the afternoon visiting the area around Olmstead Point and Tenaya Lake, and in the evening we dined at the Tuolumne Lodge Dining Room, were we chatted with other travelers seated with us at the family-style communal tables. We camped at the Tuolumne Meadows backpackers' campground, along with many other backpackers – some of whom were nearly 1,000 miles along their Pacific Crest Trail journey, others starting out or wrapping up short trips in Yosemite.
Camp: Tuolumne Meadows Backpackers' Campground
Day 0, July 19
Tamara was delayed in Oakland for an extra day, and so we met near camp around 10am. After shuffling things around between our two vehicles, we piled into her car for the drive to Lake Tahoe, stopping in Bridgeport for lunch. Our trail angels, Robert and Mary, were camping in South Lake Tahoe and invited us to join them. Robert and Mary delivered our final JMT resupply at Onion Valley last year and hosted what ended up being a full delegation of friends and family members who convened at their campsite for a couple of days. They have also lent us their InReach Explorer on several occasions, a two-way satellite communicator that allows us to send check-in messages to loved ones and obtain weather forecasts while in the backcountry. The campground in South Lake Tahoe was not what they (or we) had expected: though it's called Campground by the Lake, we joked that it should be renamed Campground by the Highway. Yes – it's close to the lake, but the section we were camped at was adjacent to busy Highway 50, a four-lane thoroughfare used 24 hours a day by cars and trucks. We had a lovely vegan taco dinner made by Mary, chatted into the evening, and turned in for the night, serenaded by the traffic.
Camp: Campground by the Lake, South Lake Tahoe
Segment 1: Barker Pass (Lake Tahoe) to Lake Alpine
Day 1, July 20
After breakfast at a vegetarian place across the street from the campground, it was time to head to the trailhead. We took mountain roads to our starting trailhead at Barker Pass (PCT mile 1125) in the Tahoe National Forest. The trailhead is reached via windy roads and the final portion is unpaved. We did some last-minute packing and checking, bear-proofed the car by removing all scented items, and we were finally off! It was around lunchtime by the time we got started.
Hiking Tahoe to Yosemite is usually done following one of two routes: either along the PCT as we did, or following the Tahoe-Yosemite Trail (TYT), which combines parts of the PCT and pieces of other trails with portions of unmaintained routes requiring some wayfinding and occasional bushwacking. The TYT was never elevated to the status of an official trail despite a book written in the 1970s by Thomas Winnett, titled The Tahoe-Yosemite Trail. Winnett was founder of Wilderness Press and author of many best-known guide books, including the first one ever written about the PCT. Long out of print, the TYT book still inspires hikers looking for an adventure. We heard trail rumors that a lone hiker was doing the TYT during our time on the trail, but we never encountered him.
We considered the two options but found limited updates about conditions on the unmaintained portions of the TYT within the Mokelumne Wilderness. We also learned that that portion drops and gains several thousand feet, whereas the PCT portion does not. We were hiking during a heat wave and ultimately chose to remain on the PCT to avoid going down into lower and thus hotter elevations.
We arrived to Richardson Lake in the afternoon, where we took a break and chatted with a few PCTers camping on its shore. We got warned about the thick swarms of mosquitoes waiting for us for many miles south of the lake. With that, we chose to set up camp early despite the low trail miles we had covered.
We are not ones to take the first spot we see, so we wandered around quite a bit before finding our home for the night. Along the way, we stumbled upon Ludlow Hut, a winter shelter built by the Sierra Club in 1955 that is on none is the maps we had with us. The hut is named for Bill Ludlow, an engineer and supporter of the Sierra Club who loved winter sports. Bill died in the Korean War at the age of 23. His friends and family worked with the Sierra Club to build the hut in his memory, so others could share in the winter landscapes he enjoyed.
As a winter refuge, it is built to be accessible when snow can be a dozen or more feet high. It's therefore entered through the second story, via a vertical ladder that leads to a front door and what is in essence a suspended porch not more than a few inches in width. We went in and found tables, benches, firewood, and a kitchen area with cabinets filled with various items left by prior visitors, including half a bottle or whiskey. We enjoyed a swig and celebrated an auspicious start to our adventure.
Camp: Lake Richardson, Desolation Wilderness (PCT mile 1118.5)
Day 2, July 21
After climbing up out of the Richardson Lake basin, the trail enters one of California's most heavily-used wilderness areas -- Desolation Wilderness, within the Eldorado National Forest and Lake Tahoe Basin Management Unit. The PCT and popular Tahoe Rim Trail both pass through Desolation. Fee permits and trailhead quotas are in effect. The deeper we got into Desolation, the more we confirmed the presence of mosquitoes that hikers had warned us about the previous day. We took a lunch break at Phipps Creek donning our mosquito nets, which make eating very difficult!
We read that some of the best camping along this section of the PCT is at Middle Velma Lake, a picturesque spot with many vegetated rocky islets dotting the lake. We arrived in the late afternoon and found a fairly sheltered spot with a lovely view of the lake where we set up camp. It was still early enough in the evening that we went for a brisk dip and sunbath. As we finished up our dinner over sunset, a solo hiker camping nearby asked whether he could join us to prep and eat his dinner; we welcomed him. He soon divulged that he was hiking the PCT and the first time he tried backpacking was when he set foot on the trail a couple of months earlier. His trail name was Shoes, earned because he had some five pairs he had considered bringing.
Camp: Middle Velma Lake (PCT mile 1110)
Day 3, July 22
Day 3 was a beautiful day of hiking. After leaving pretty Middle Velma Lake we climbed up a forested slope toward the shore of scenic Fontanillis Lake, with its clear turquoise water and picturesque mountain backdrop. We took a break above its outflow, which cascades dramatically to feed Upper Velma Lake, and we took in views of Lake Tahoe in the distance. Our ascent continued, taking us above Dicks Lake, which was flanked by mountains covered in snow patches -- a drastic contrast to the snow-free Sierra of the past few summers. Just last year, spring snow levels were the lowest on record: 5% of average. 2016 was an El Niño year, which traditionally brings above-average precipitation to California. Though the phenomenon largely missed Southern California, making virtually no dent in our 5-year drought, Sierra snow levels were 97% of average this spring, with snow lingering into summer.
We carried on past the snow patches and arrived at Dicks Pass (9,390') in time for lunch. Surrounded by snow, we enjoyed a break as we took in stunning views to the south and west that gave us the impression we were at higher elevations than we actually were. Soon we were hiking through never-ending fields of wildflowers -- lupines and Mariposa lilies, among many other species. Passing by more lakes and a snow tunnel carved by rushing water, we arrived at gorgeous Lake Aloha (actually a reservoir that serves Sacramento) in the early evening and found a secluded spot on a rocky shelf well off the trail. We created our dining room for the evening -- a place to lean comfortably on the rocks while enjoying dinner and watching the changing colors of the sunset. Across the lake we could see and hear meltwater flowing down from snow patches, forming dozens of waterfalls and streams that fed the lake below.
Camp: Lake Aloha (PCT mile 1099.5)
Day 4, July 23
We packed up and hiked 7 miles toward the resort area around Echo Lake, arriving around lunchtime. We enjoyed delicious hot panini sandwiches from the Echo Lake store and deli, and stocked up on a number of luxuries including kettle chips and cookies. South of Echo Lake we crossed Highway 50 and ascended toward Echo Summit, a winter snow play area that served as the location for high-altitude Olympic trials and athlete training in 1968. Climbing for the next few miles, we arrived at the first viable camping area at Benwood Meadow and found that there were a couple of dozen backpackers crowding a camp area adjacent to the trail. We proceeded up the trail and found an isolated spot to call home for the night, halfway to Bryan Meadow. We had dinner on a rocky ledge behind camp with views north to Lake Tahoe, the nearby airport, and the network of roads south of the lake. We were amused to be back in the wilderness but observing the tiny illuminated dots of passing cars moving in the distance.
Camp: Between Benwood Meadow and Bryan Meadow (PCT mile 1087)
Day 5, July 24
Bryan Meadow began a stretch of stunning views on this very pretty day of hiking. Carpets of wildflowers in full bloom greeted us as we descended into a valley flanked by snow-capped mountains, igneous rock formations of various shapes and sizes dotting the landscape here and there. At Showers Lake we took a long lunch break that included a dip in a lovely bathing pool created by the lake's outflowing stream. Back on the trail, we exited Desolation Wilderness and were soon in Meiss Meadow, site of the historic Meiss Cabin built in the nineteenth century built by German immigrant and pioneer Louis Meiss and his family. Here forest groves grow adjacent to the lush and verdant meadow. Lavender and golden yellow colored Sierra irises and mule's ears were in bloom, making for a beautiful foreground complementing views of the mountains to the north. Climbing once more, we arrived at Highway 50 and Carson Pass (8,574'). Leaving behind the Tahoe Basin, we entered the Mokelumne Wilderness, where we would be for the next two days. Dispersed camping is not permitted for the first stretch of trail south of the highway, so we proceeded further and found a secluded site south of Frog Lake to call home for the night. A long and colorful sunset provided after-dinner entertainment.
Camp: South of Frog Lake (PCT mile 1075)
Day 6, July 25
A continuing stretch of gorgeous trail awaited us as we headed deeper into the Mokelumne Wilderness. Ascending toward the dark volcanic formations we had seen the day before, including the Elephant's Back, we soon encountered the first snow patch we would traverse over the remained of the thru-hike. Crossing took some coordination: we were on a fairly steep slope and our packs made us top-heavy. Sun cups in the snow made deep bowls every two or three feet, and the bottoms of the cups seemed the safest for foot placement. Shortly we were over the crest of the Forestdale Divide, taking in lovely views of slopes that were alternately rocky and blanketed in wildflowers, deep forested valleys, and picturesque alpine mountains surrounding an already breathtaking landscape. We took a lunch break on the shore of one of the Lost Lakes, a spot that offered an inviting reprieve from the dusty heat, but was simultaneously eery, with dead tree skeletons submerged several feet underwater. Tamara had some phone reception and our group agreed we should inquire about any lodging availability at Lake Alpine Lodge, where we would arrive the following day. Staying at the lodge would allow us to rendezvous with Tamara's boyfriend, who would be driving over from Oakland. The next day was also J's birthday and we were all ready for a real shower and a bit of pampering. We were in luck: there was one cabin left.
After lunch we hiked another several miles before arriving at Wet Meadows Reservoir and Summit Lake, on National Forest land. We found a roomy site tucked among rocks with a view toward the landscape we had hiked through earlier that day. We made our home for the night, but not before seeing tracks we thought belonged to a large feline -- likely a mountain lion! We hoped it was a long way from here, or at least would find no interest in these three smelly hikers.
As we prepared dinner we heard a round of gunshots nearby, which we thought were coming from somewhere by the lake just below us. We had crossed a dirt road prior to getting to camp and we figured perhaps some hunters were out late and would (hopefully!) get into their vehicles before dark and drive far, far away. We were as quiet and inconspicuous as we could be over dinner, unsure what the hunting regulations in the area were and hoping we hadn't happened upon some trigger-happy hiker-haters. Night finally fell, and we heard another round of shots around 9pm, thinking to ourselves "why in the heck would anyone fire a round of shots in the dark?!" We tried to put our uncertain situation out of our minds and celebrated J's birthday a day early with a chocolate-coconut mousse and chocolate pinwheel trail dessert topped with birthday candles. Fortunately we heard no more shots. We had whiskey hot toddies with dessert and called it a night.
Camp: Above Wet Meadows Reservoir (PCT mile 1061.5)
Day 7, July 26
We awoke before the sun was up: today we needed to arrive to Highway 4 early enough to hitchhike to Lake Alpine. We were about 12 miles away, with varying terrain to cover. It was also Jolly's birthday, so we had to balance our schedule's urgency with making it a good day for the birthday boy. We crossed back into the Mokelumne Wilderness after spending the night in the Humboldt-Toiyabe National Forest. Soon we were within a collection of bizarrely-shaped volcanic peaks and ridges, which were particularly striking in the the sparsely-vegetated stretches of landscape. We took short breaks and a brief lunch. We were making good time by mid-afternoon, when we were close enough to the highway that we decided to take a quick trail nap near Kinney Lake. We resumed our hike and arrived at Highway 4 around 5:00 pm.
In reality, calling this narrow, windy ribbon of pavement a "highway" is a massive overstatement. A glorified embellishment. An outrageous exaggeration. An extravagant hyperbole. What it is, in fact, is a small, unmarked mountain road with no striping or lanes that is barely wide enough for one vehicle, let alone two. It took several minutes for the first car to pass by, but it was going the wrong direction -- nevertheless an encouraging event given we weren't sure we were actually along "Highway" 4. Another 10 minutes passed before the next vehicle passed, again going the wrong direction. Then another few minutes before the next one. Finally, we saw a car heading west, the direction we needed to go. With the cleanest look and friendliest faces we could muster, we optimistically stuck our thumbs out. No go. But at least we had confirmed that this was a two-way road!
We waited about 90 minutes totally before a pick-up truck slowed and then stopped for us. It was followed by a big SUV, which the truck signaled to stop as well. The driver was Kevin, a friendly fisherman who spends part of his summers in the family cabin in Lake Alpine. In the SUV were his three young nephews -- all teenagers, and all perplexed at what their uncle was asking them to do. There were three of us, each with a large pack, and we needed to split up between the two vehicles. After clearing various fish parts scattered in the back of the SUV (!) and accepting ice-cold bottles of water from Kevin, we placed our packs in the car and hopped in. Jolly and I rode with the nephews and Tamara rode with Kevin. As soon as we got in, we realized the nephews were being asked to do something that was definitely not their idea -- but they had to do it anyway. We were all a bit unsure about how to interact in such a situation, so I started gabbing to avoid any awkward silences and didn't stop for the 30-minute ride. They weren't familiar with how backpacking works -- how resupplies are arranged, how you choose where to camp, how many miles you can expect to cover -- so we told them all about our trip...and anything else we could think of. They too shared stories. They had been fishing earlier in the day and the youngest, 15-year-old Nick, almost stepped on a baby rattlesnake. We also learned that Mario, the eldest and our driver, was learning to fly Cessnas. Kevin and the nephews dropped us off at Lake Alpine Lodge just after 7:00pm. We shook their hands gratefully and thanked them profusely for their kindness.
We walked up the Lodge steps to find a note taped to the door saying the store and check-in was closed for the night. A couple of parties were having dinner at the restaurant next door, and when the waitress saw us, she promptly declared that the store was "definitely closed" and that they had already taken their last dinner order for the night. We thought we had entered into another time zone. How could everything be closed just after 7:00? Once we let her know we had a cabin reserved, she apologized, changed her tune and did everything to accommodate us. She checked us in to the cabin, told us we could order anything from the menu, and opened the store for us so we could buy some wine and pick up the resupply packages we had sent ourselves.
After dropping off our packs in the cabin and getting slightly cleaned up, we had a satisfying dinner and some very satisfying cold beer, which we weren't even charged for. The waitress packed us two large slices of delicious, fluffy lemon cake to help us celebrate Jolly's birthday. We enjoyed them with wine in the cabin, took showers, and opened our resupplies like it was Christmas morning. We did a load of laundry but couldn't find $3.25 in quarters for the dryer, even after asking the wait staff and bar. We hung virtually our entire wardrobe (save for what we were wearing) outside the cabin to dry and turned in for the night. Tamara's boyfriend Mitch arrived around 2am -- the late arrival because he had great seats for the San Francisco Giants game earlier in the evening!
Camp: Lake Alpine Lodge, Floor of Quaking Aspen Cabin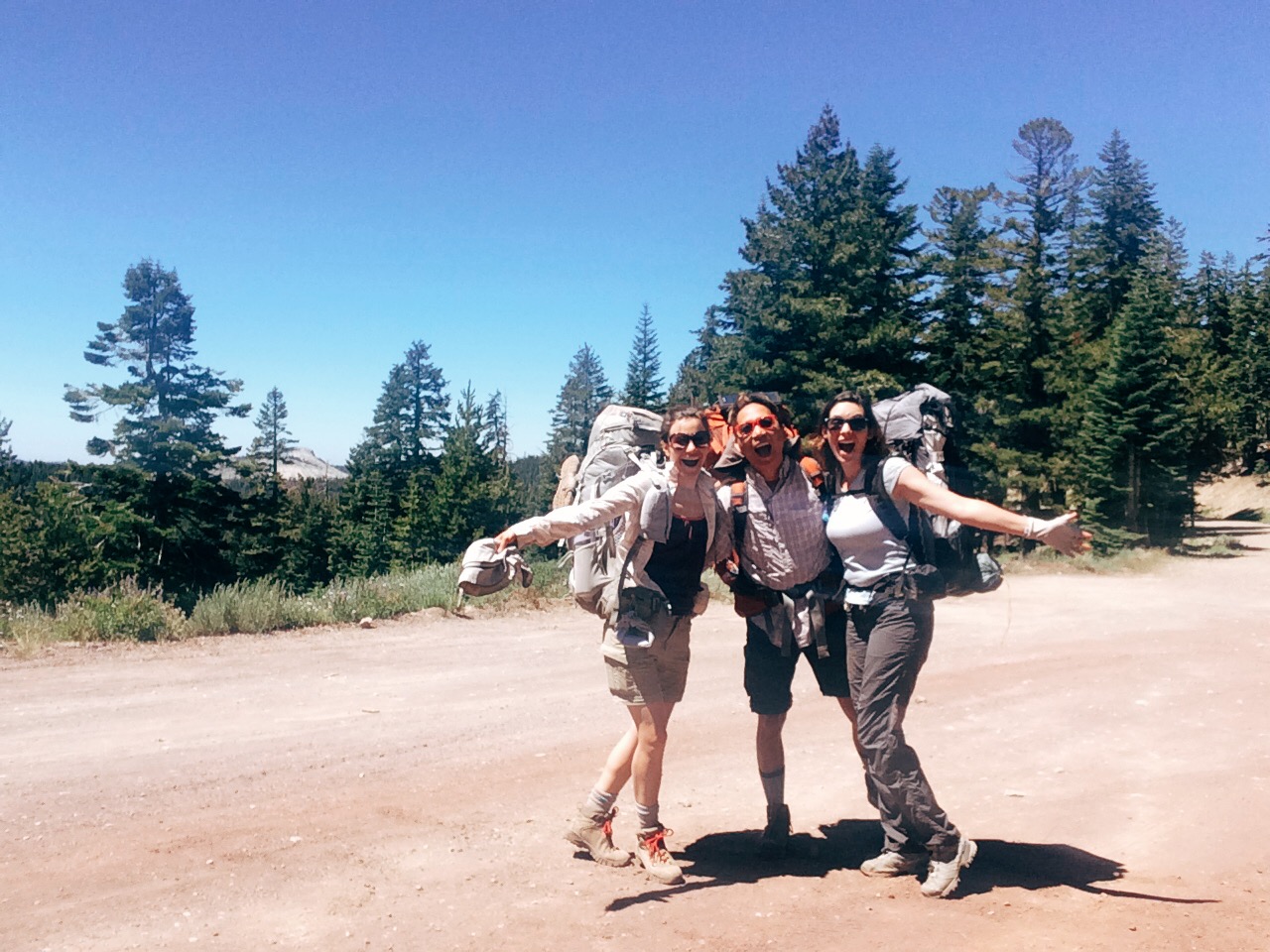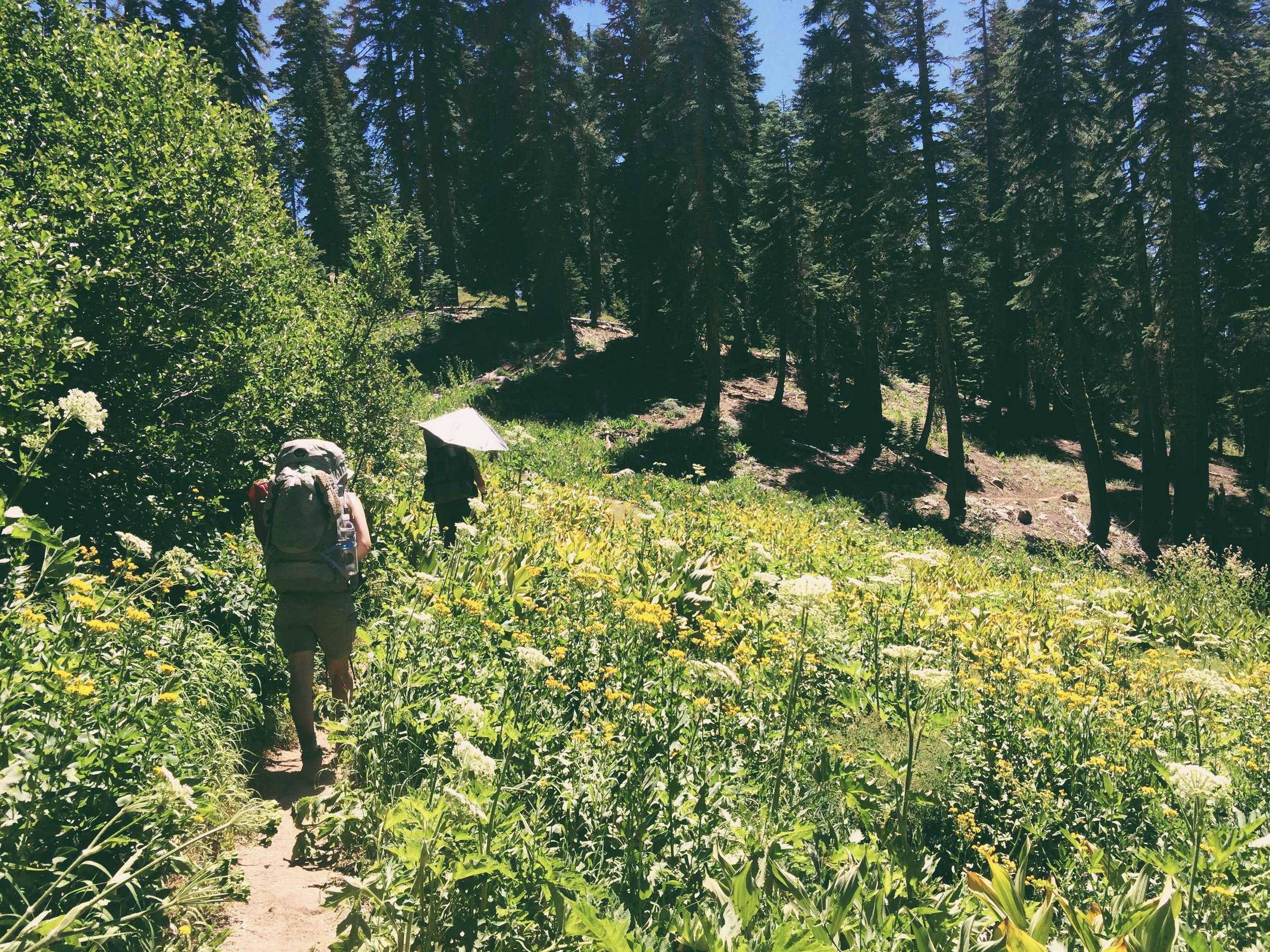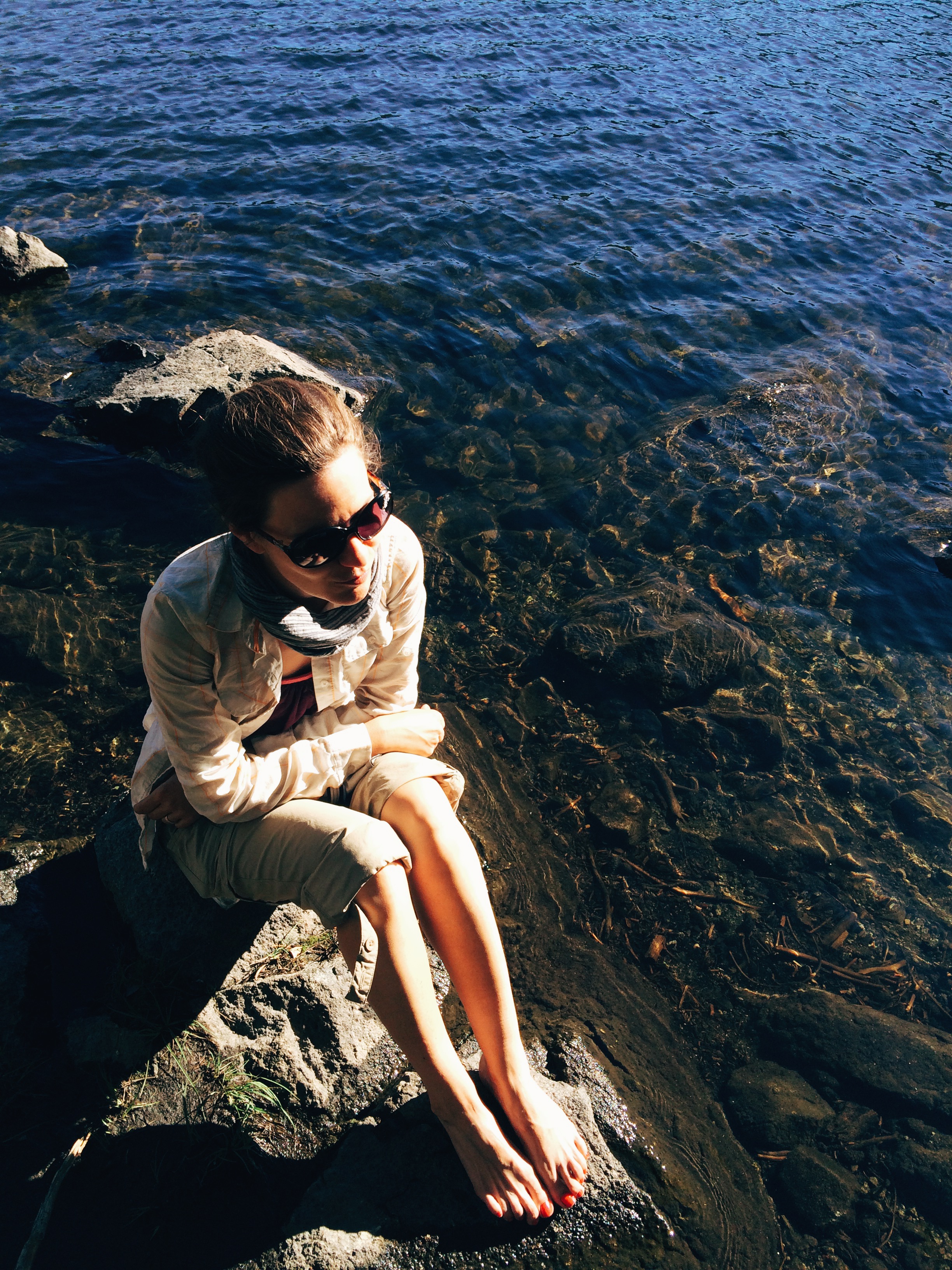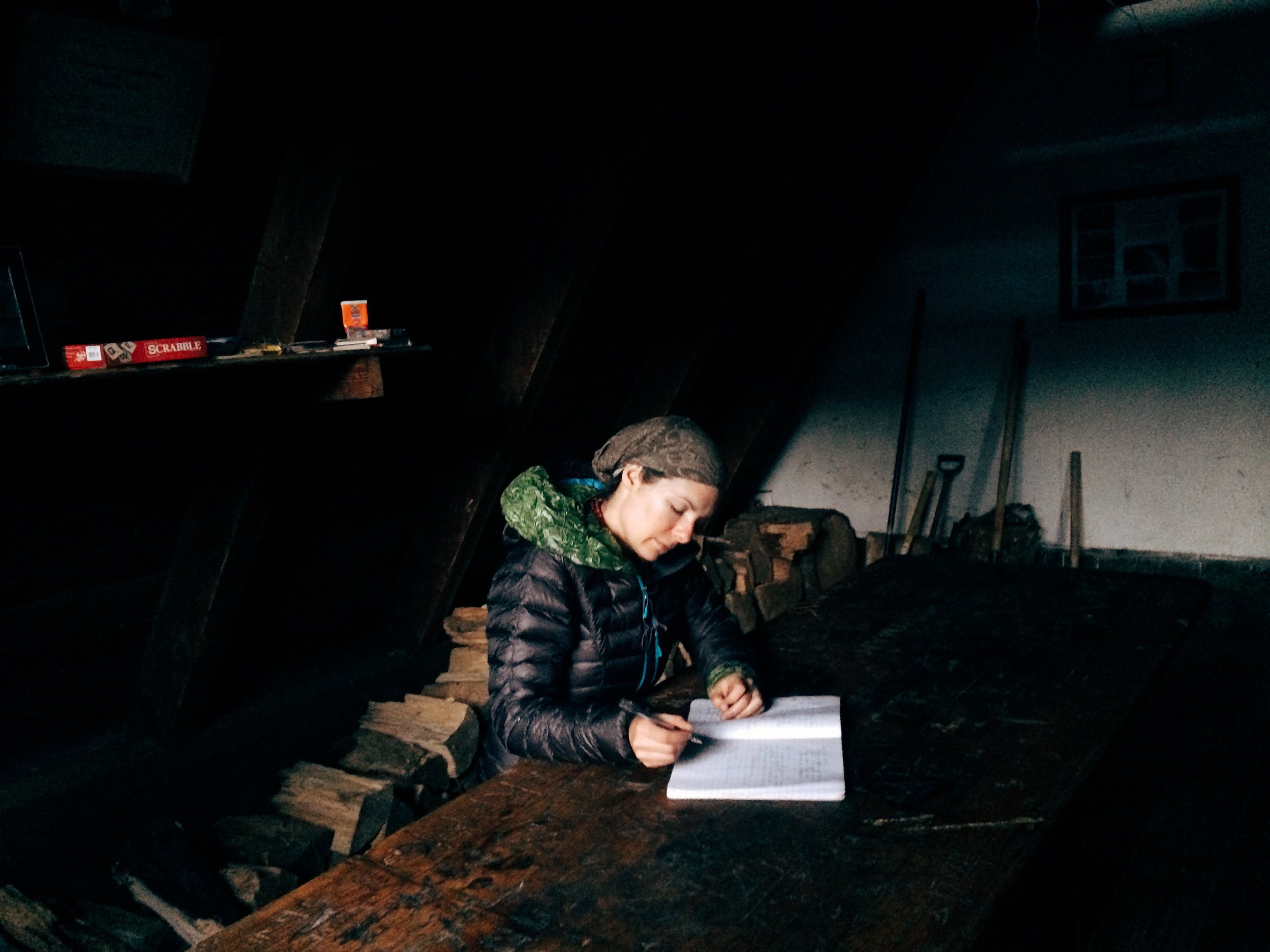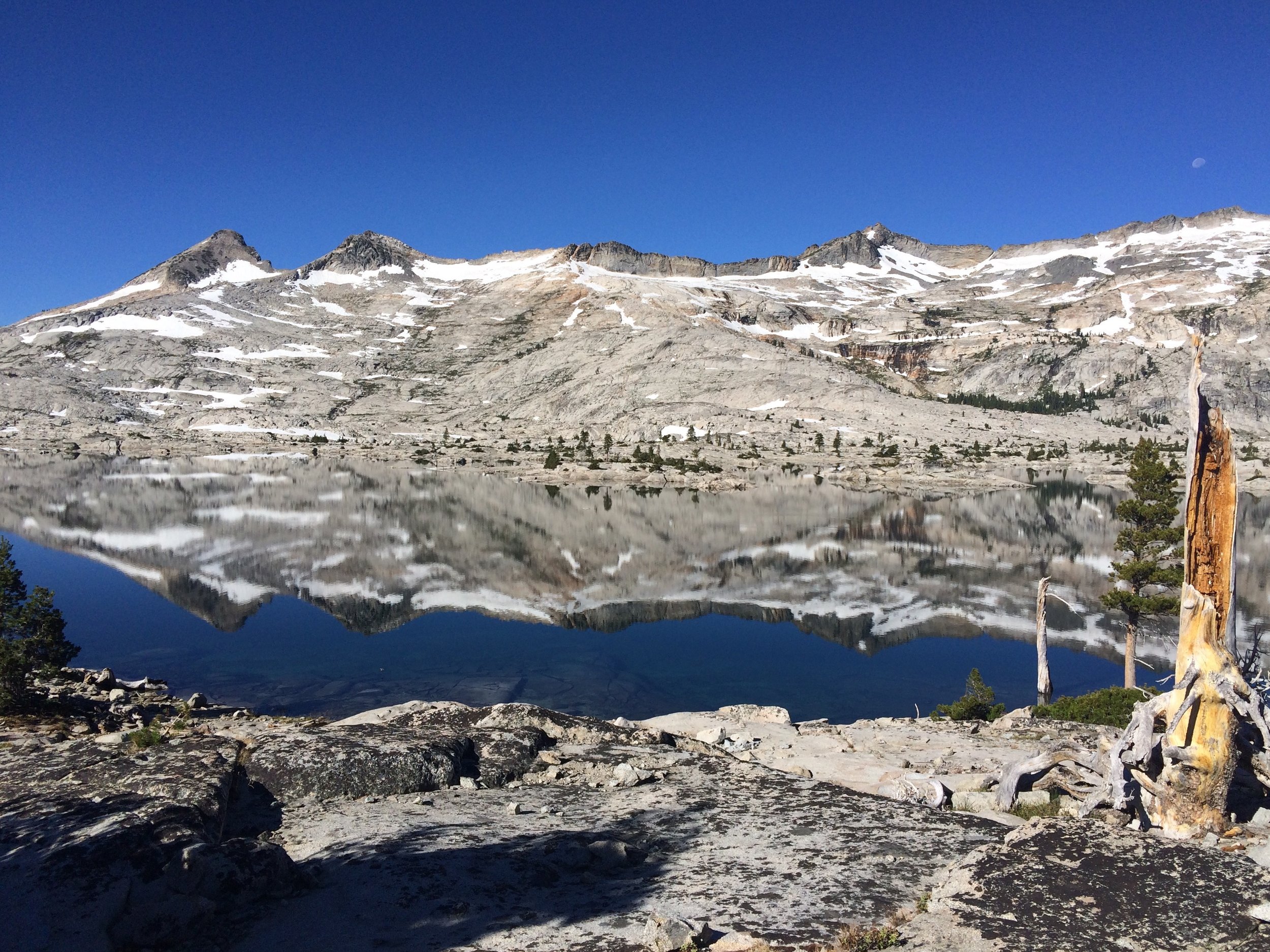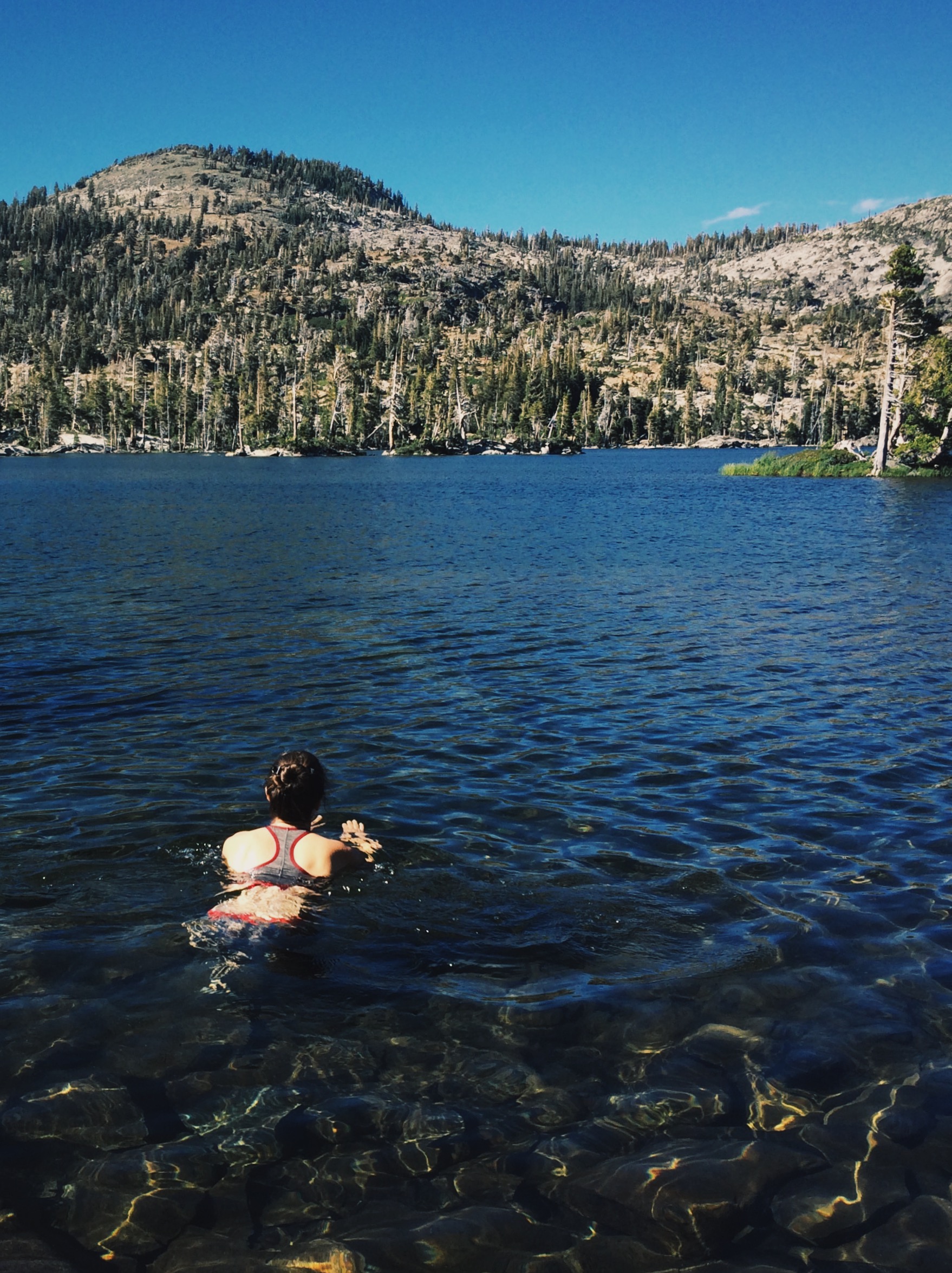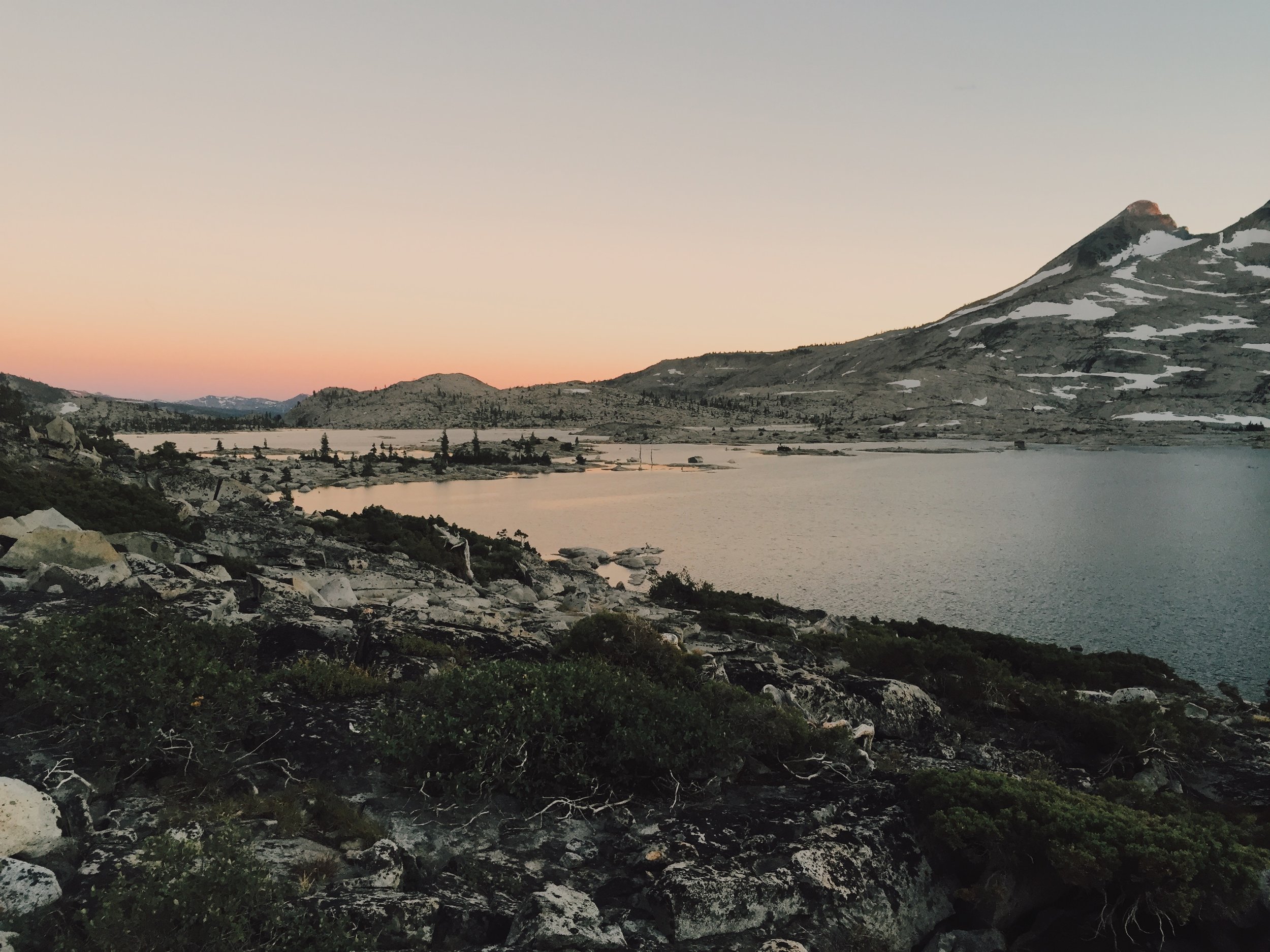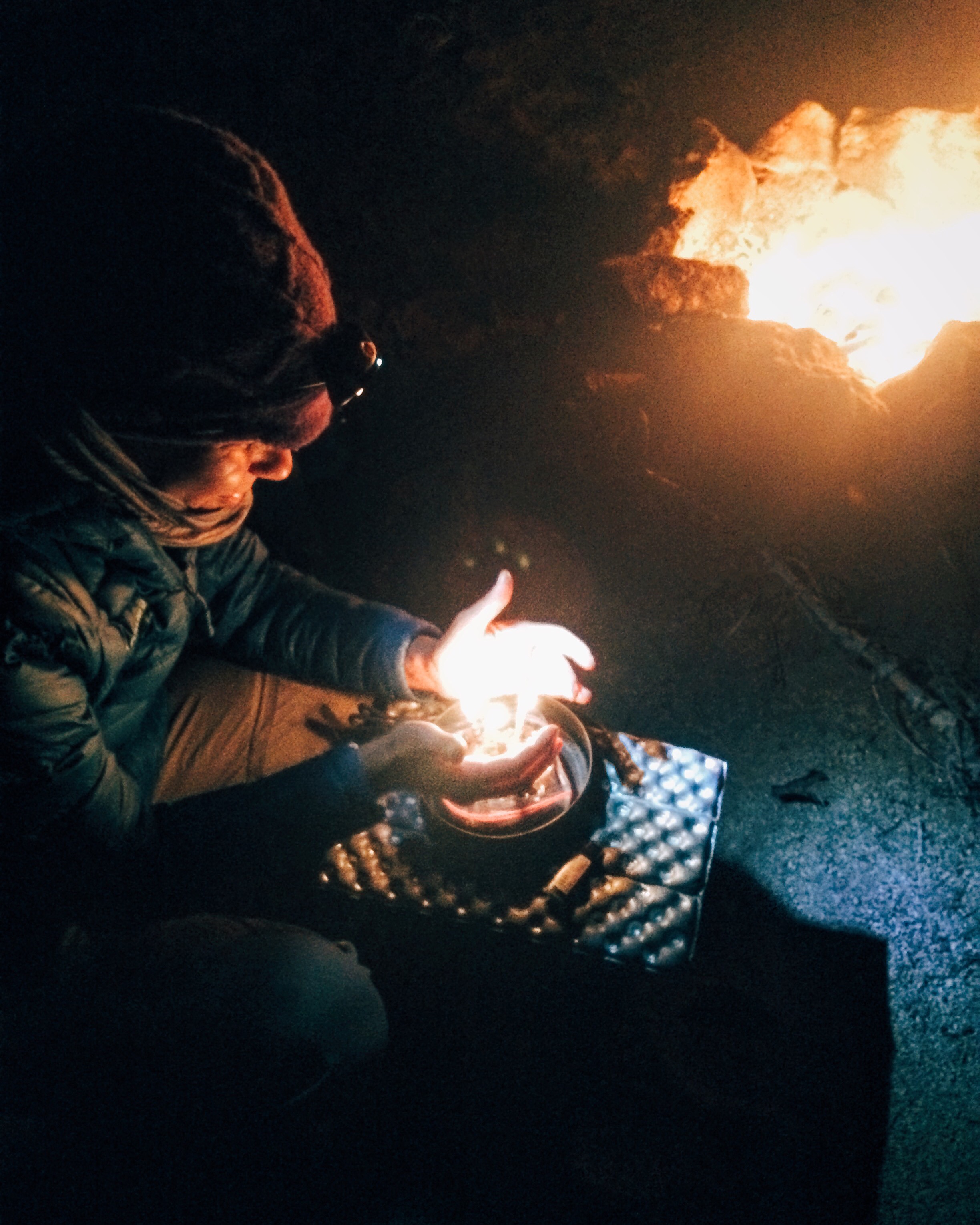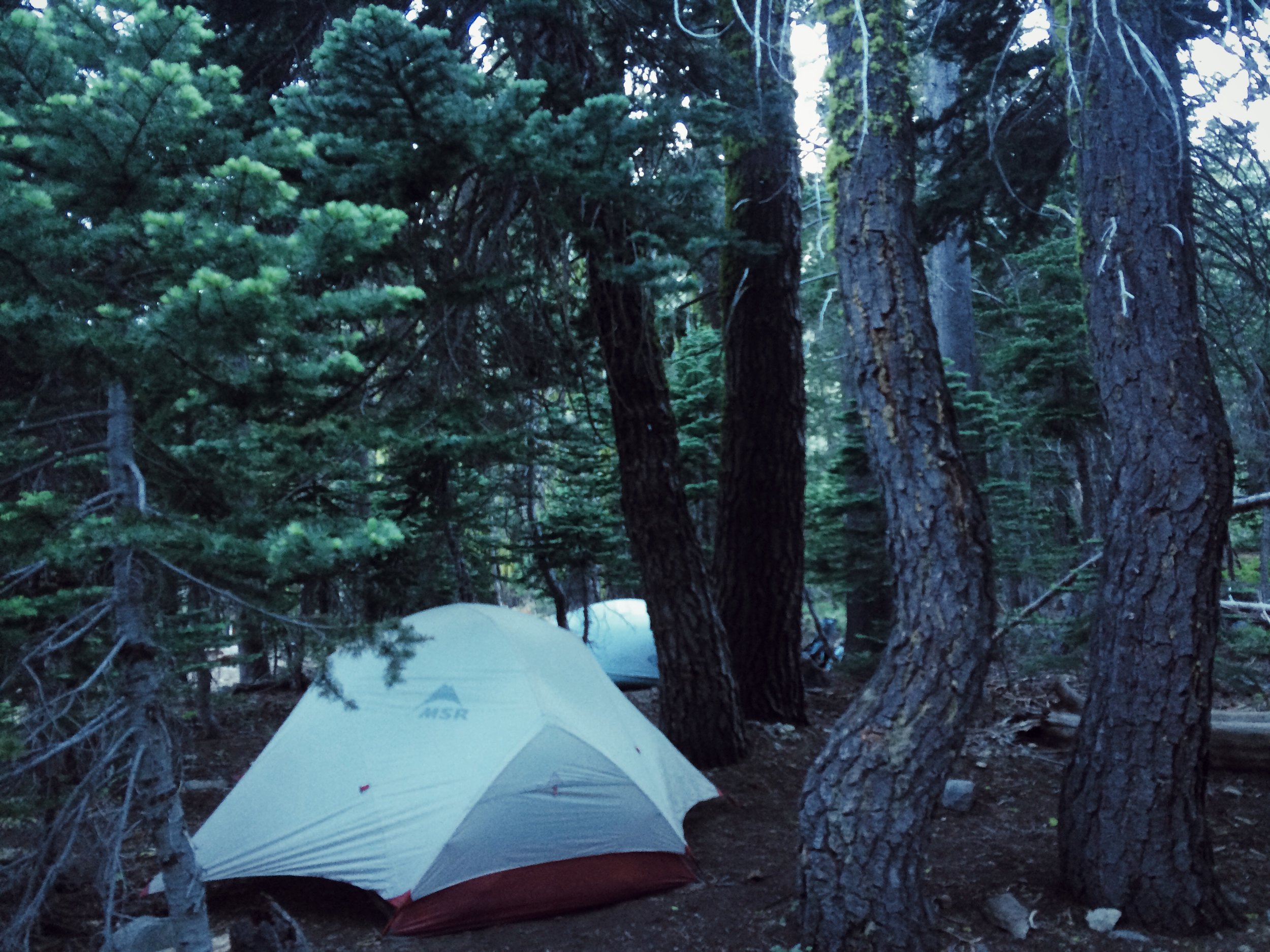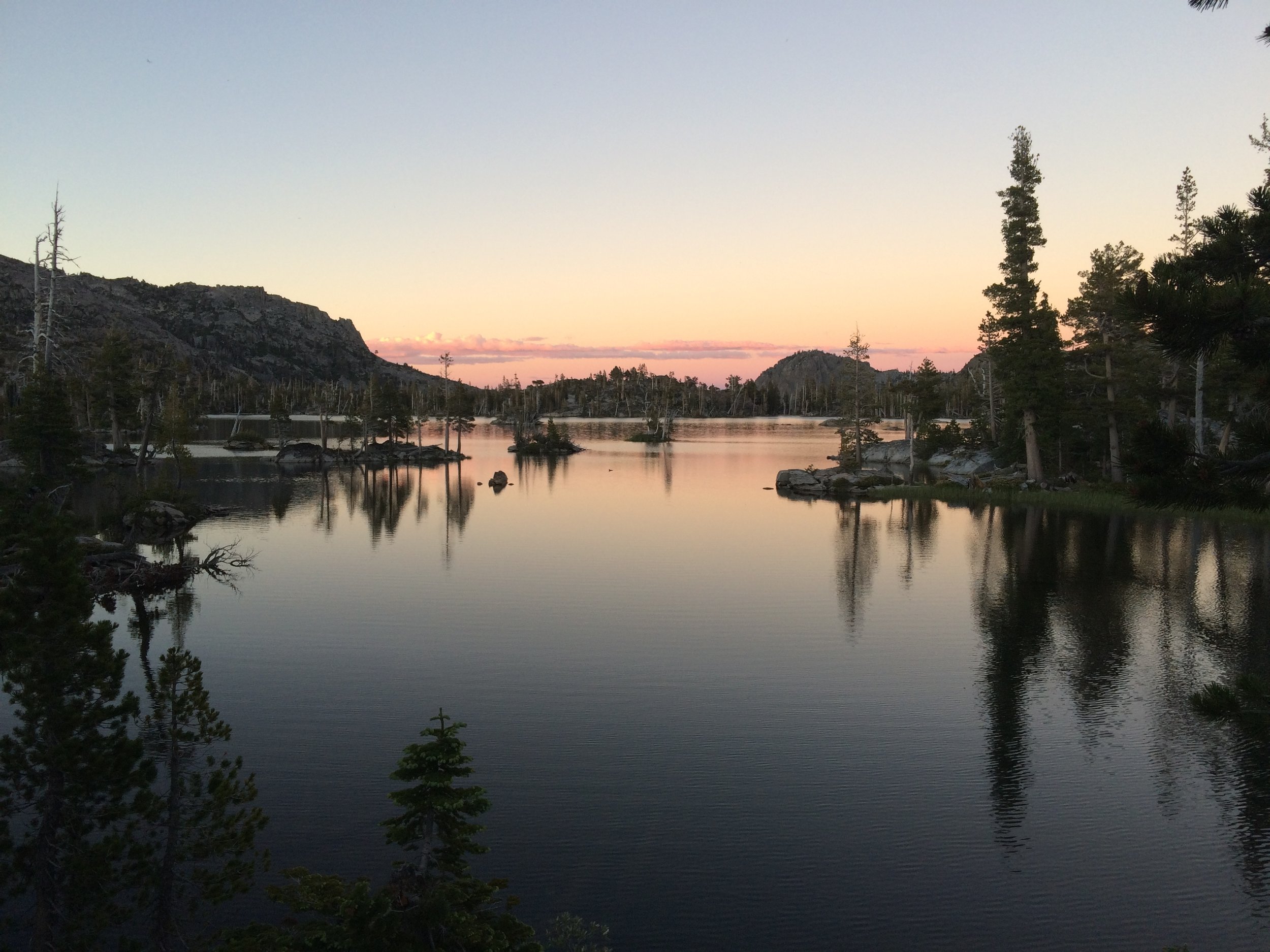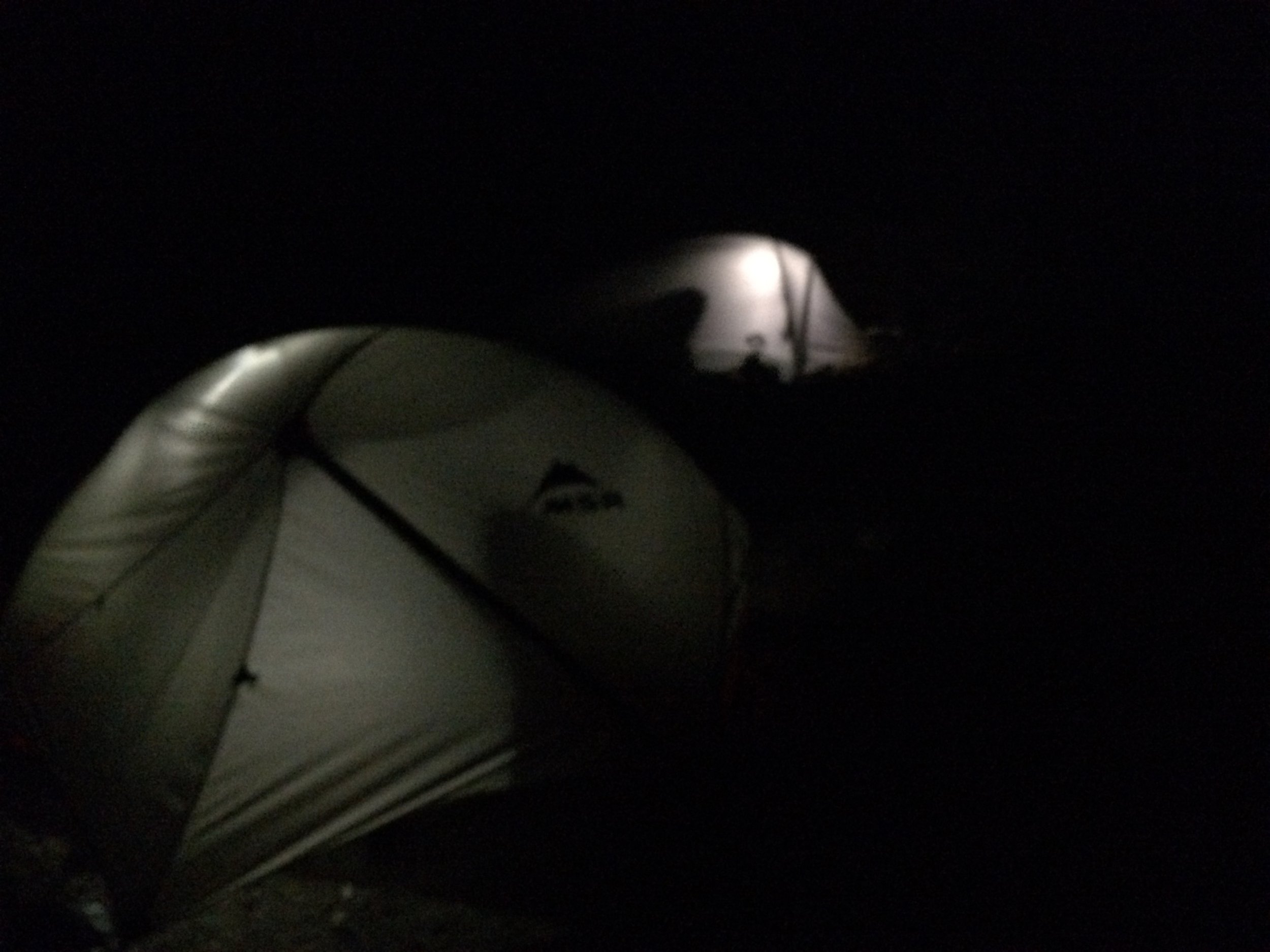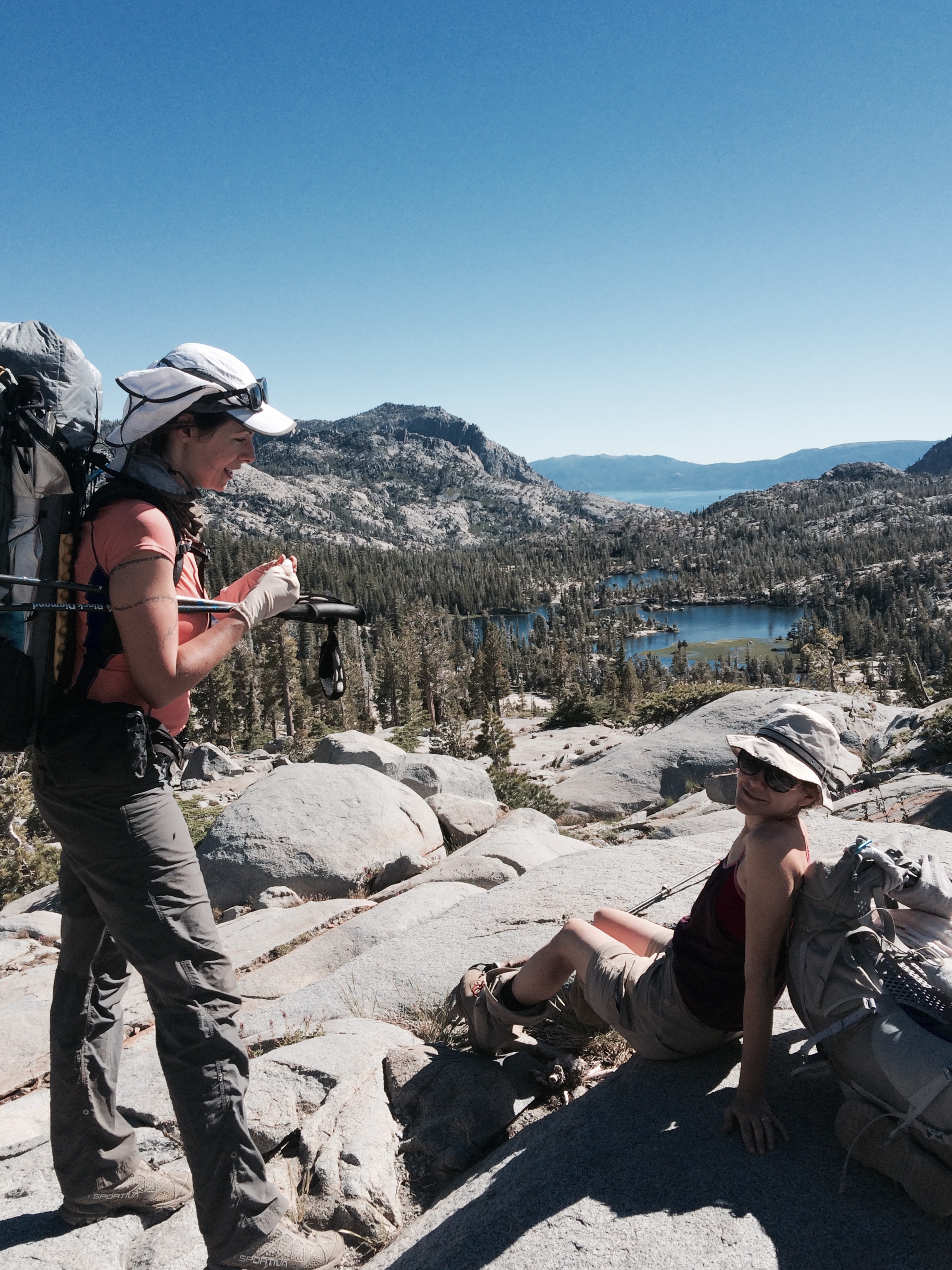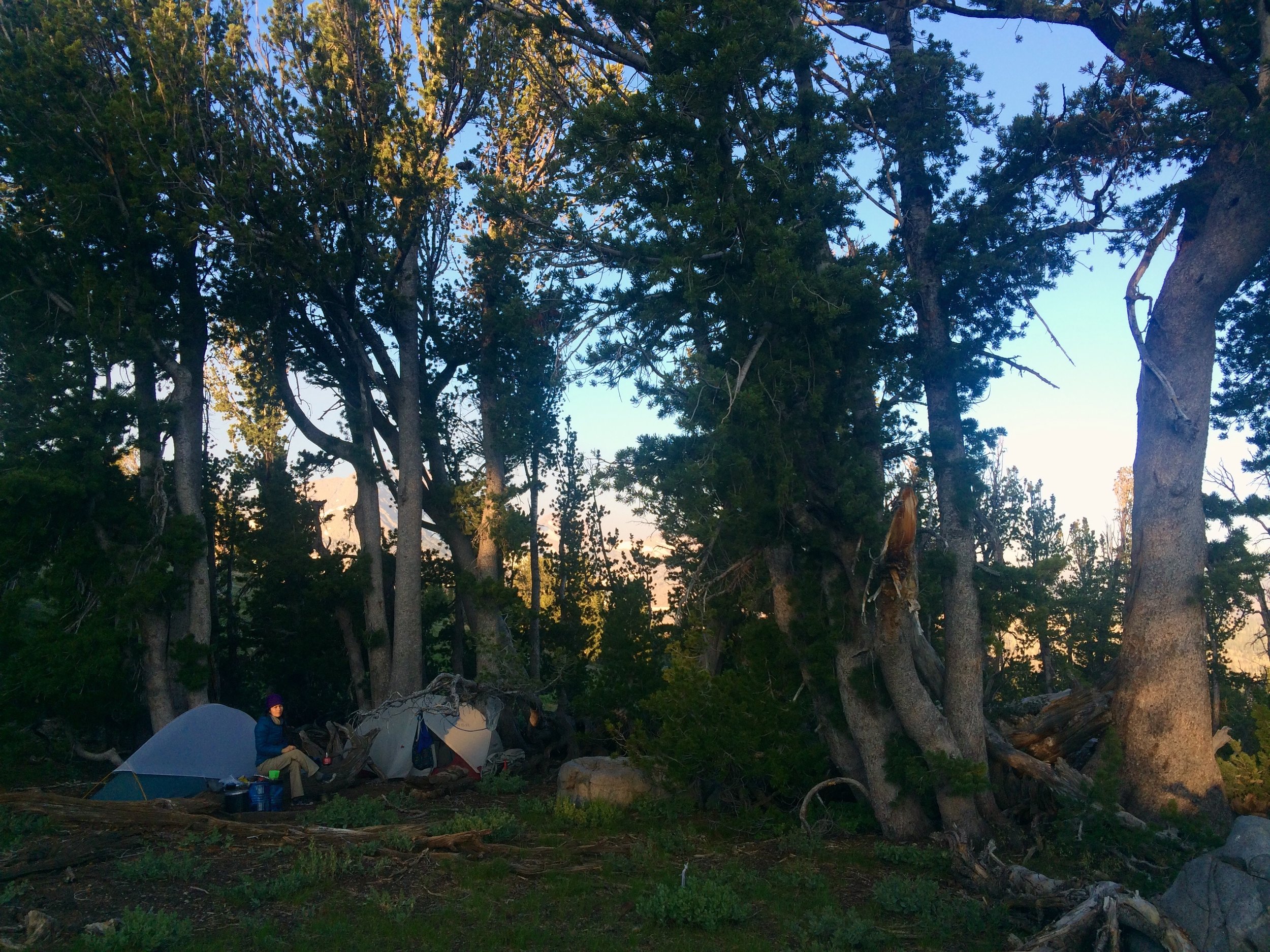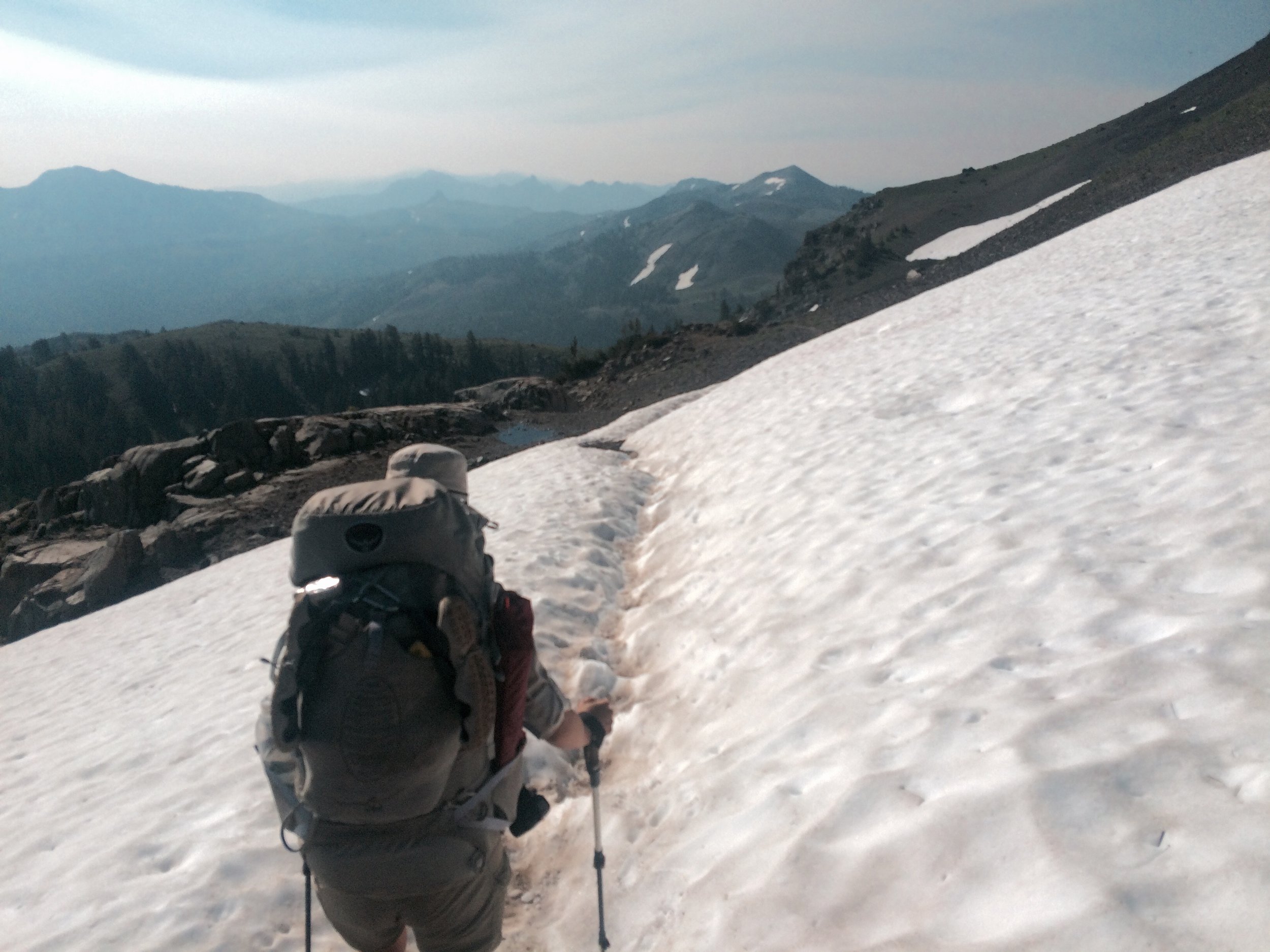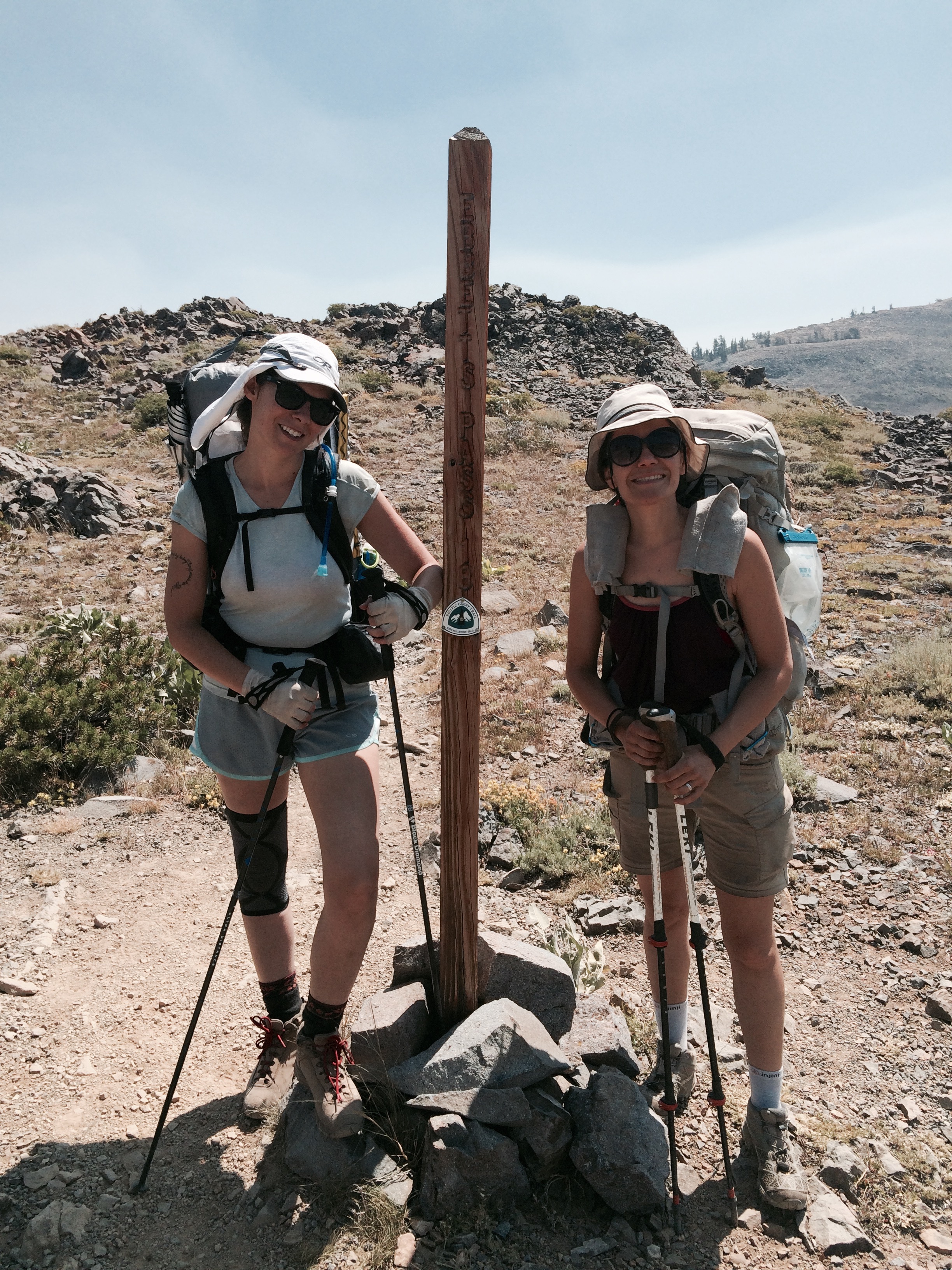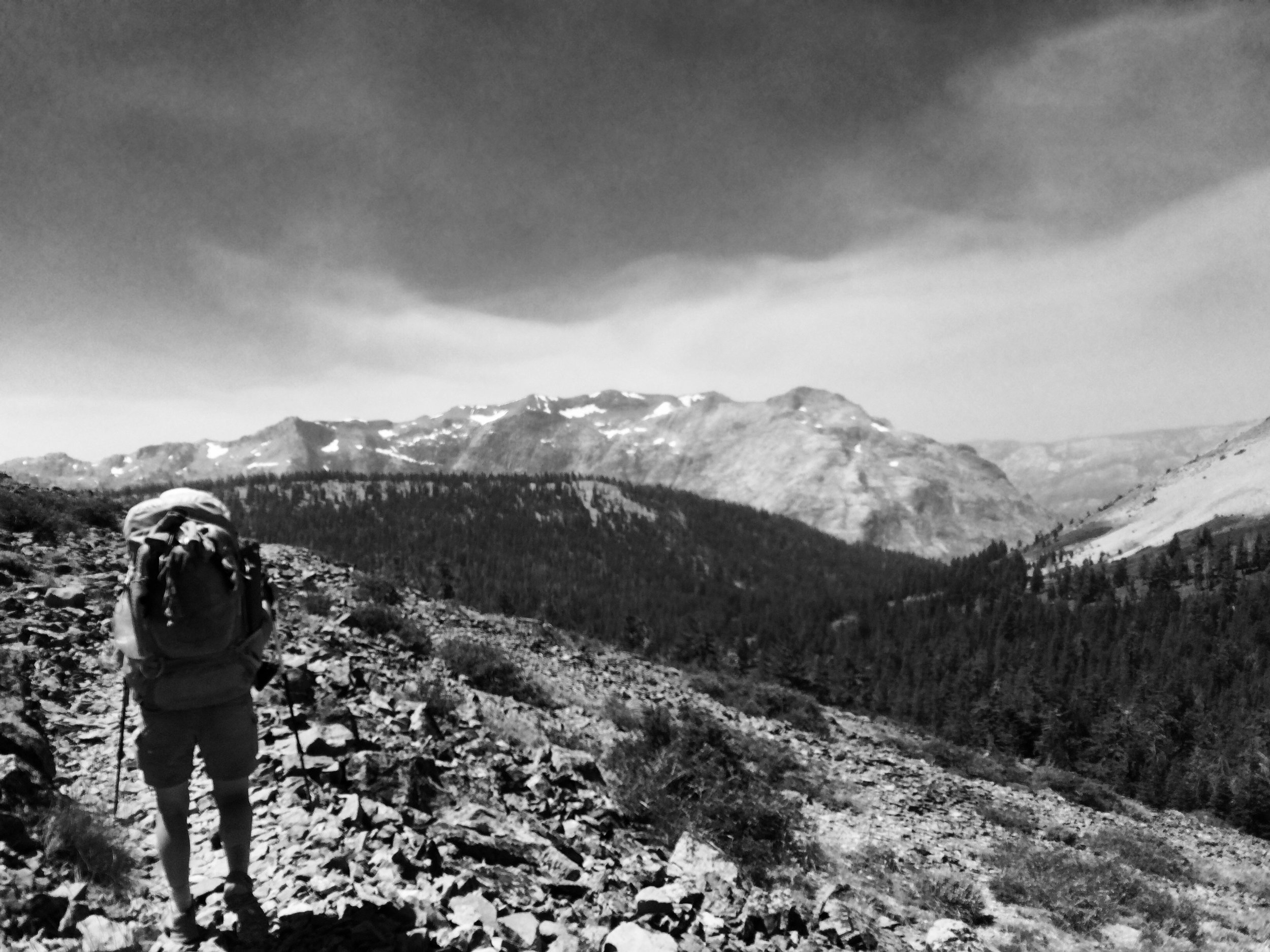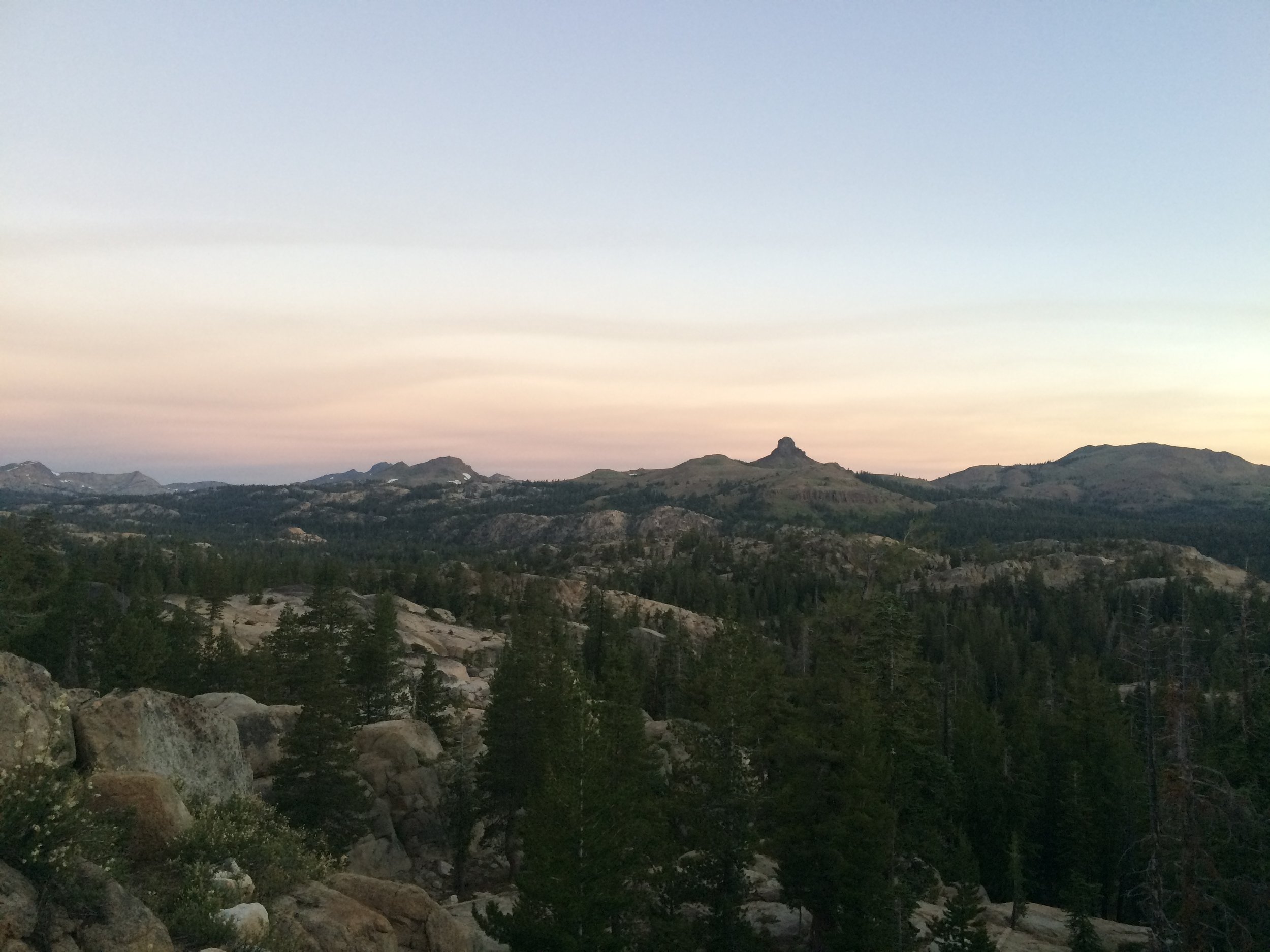 Segment 2: Ebbett's Pass to Sonora Pass
Day 8, July 27
We piled into Mitch and Tamara's Fiat 500 and drove to the nearby Bear Valley resort area for breakfast. Back at the cabin, we collected our mostly-dry laundry, did one last round selecting what to bring and what to leave from our resupply boxes, packed and checked out. Fitting four bodies and three large packs into the Fiat was a circus stunt that really should have been documented in photographs, had there been someone there to take our picture! Mitch had a work meeting we were going to make him late for, so the 15 windy miles were covered very quickly. It's something of a miracle that our breakfasts didn't become upholstery decoration. Glad to be back on terra firma, we said our goodbyes at Ebbett's Pass trailhead and were once again on the trail.
It was late morning by the time we started hiking, on a hot and humid day. Less than a mile in, we were greeted by a random act of trail magic: a small cooler filled with ice, a cold bottle of Gatorade and plastic cups for passing hikers. These acts are the work of "trail angels" -- people who, out of the kindness of their hearts, find a way to make a thru-hiker's day just a little better.
By this point in the trip, we felt we had the trail almost to ourselves. Heading south, we had already passed most of the northbound Pacific Crest Trail hikers during the prior week, and by now we were just about the only southbound thru-hikers. We hiked about 10 miles, entering the Carson-Iceberg Wilderness and taking in its rolling verdant landscape.
By evening, we had not seen any hikers for miles and were alone in this section of the Carson-Iceberg Wilderness. We found a homey campsite near Wolf Creek, and after dinner we did some stargazing in a clearing above the creek. We happened to be looking skyward when we were treated to a spectacular sight: we witnessed a bright fireball moving steadily from the south sky eastward for what felt like a minute. It broke up into pieces and had a long, bright tail of debris behind it. We were in absolute awe -- and had no reception to find out where else it had been seen and what it was. It was days before we could look it up. We confirmed that it had been seen throughout much of the West, but no definitive explanation was available for what it was. Was it a very large meteorite? Was it a rocket re-entering the atmosphere? There were theories, but we didn't care: witnessing it while out in the wilderness was a absolutely incredible no matter what it was.
Camp: Wolf Creek (PCT mile 1039)
Day 9, July 28
Backpacking is, in essence, a balancing act between challenge and reward. The kind of backpacker you are depends on where that balance is for you. On this day, which was a challenging 13-mile day spent ascending and descending several thousand feet in the humid heat, we really needed a mid-day reward. There were limited places in this stretch of the Carson-Iceberg Wilderness to take a decent break -- until we found a fantastic outdoor "room" which offered shade, a windbreak, and most importantly, three trees whose undulating trunks cradled our weary bodies perfectly.
Many beautiful sights fueled us as we hiked on this day: sweeping blue-green vistas with impossibly steep mountainsides, collections of vertical basalt columns offering reminders of a volcanic presence in this land, meandering streams and waterfalls we crossed again and again as we descended down steep switchbacks. Our destination was the bottom of a steep ascent -- 1,000 feet over a mile or so. Striking views of imposing rock-faced mountains kept us company. Soon we were at the bottom of deep White Canyon, through which the Carson River flows. We crossed the river and set up camp nearby, happy to take our packs and hiking boots off.
Camp: Carson River (PCT mile 1026)
Day 10, July 29
We began the day with a 2,500-foot ascent that led us out of the Carson-Iceberg Wilderness and back into the Humboldt-Toiyabe National Forest. As we ascended, we were treated to awe-inspiring views of the canyon we had just visited. We topped out at around 10,500 feet, the second highest elevation we would reach on this thru-hike.
The heat continued to be intense, even at these higher elevations. Luckily, Mother Nature offers various remedies for sweaty hikers to cool off. There was still plentiful snow near the top of our climb, including some near-vertical deposits resting on the rocky mountain face -- perfect for leaning against, even while standing with a pack on. We cooled off and continued the climb.
Wildflowers, krummholz (stunted trees growing near timberline), tarns (small mountain lakes) and snow patches were in abundance. As the trail topped out, just below Sonora Peak, views opened up and we could see far into the distance toward Emigrant Wilderness. We took a lunch break and then began our descent toward Sonora Pass and Highway 108 to pick up our next resupply. We arrived to the Sonora Pass trailhead and parking lot mid-afternoon and walked up to a big white truck belonging to Sonora Pass Resupply. The company provides an excellent set of services -- either send your box to them in advance, or order from their online store. Your box is then delivered to Sonora Pass, allowing thru-hikers to keep on hikin' rather than spend time and effort getting off the trail. This was an appealing option to us so as to minimize logistics planning and avoid breaking the rhythm of being on the trail and away from civilization. We sorted through and arranged our supplies, leaving some items in freebie hiker boxes on the truck. We hit the trail once more around 4:30pm.
We were treated to another random act of trail magic soon after resuming our hike. A PCT hiker seated under the shade of tree near a turnout greeted us with the sweetest words we could have heard just then: "Would you like a cold beer?" No amount of thought was required on our part (I'm pretty sure my response was an involuntary lurch toward him so I could quickly claim my treat). In no time we were toasting our new friend (trail name Brew Hiker, fittingly) and hearing about his and his trail buddy's adventures -- which, not surprisingly, included a great number of trips into towns in order to restock on his beer supply so he could continue his trail angeling tradition. On a popular trail where it's not uncommon to encounter folks who look at backpacking as a competitive sport, here was a guy unbound by any timelines or urgencies, whose pleasure was at least partly derived from bringing pleasure to others. What a cool dude.
We thanked Brew Hiker profusely for his generous offering (he even packed out our empty beer cans), and resumed our hike with a slight, happy buzz. We hiked only about a mile, to the last expected water source for the next 10 miles. We found a picturesque site on the top of a small hill, surrounded by stands of trees and overlooking what looked like a landscape painting.
Camp: Sardine Creek (PCT mile 1016.5)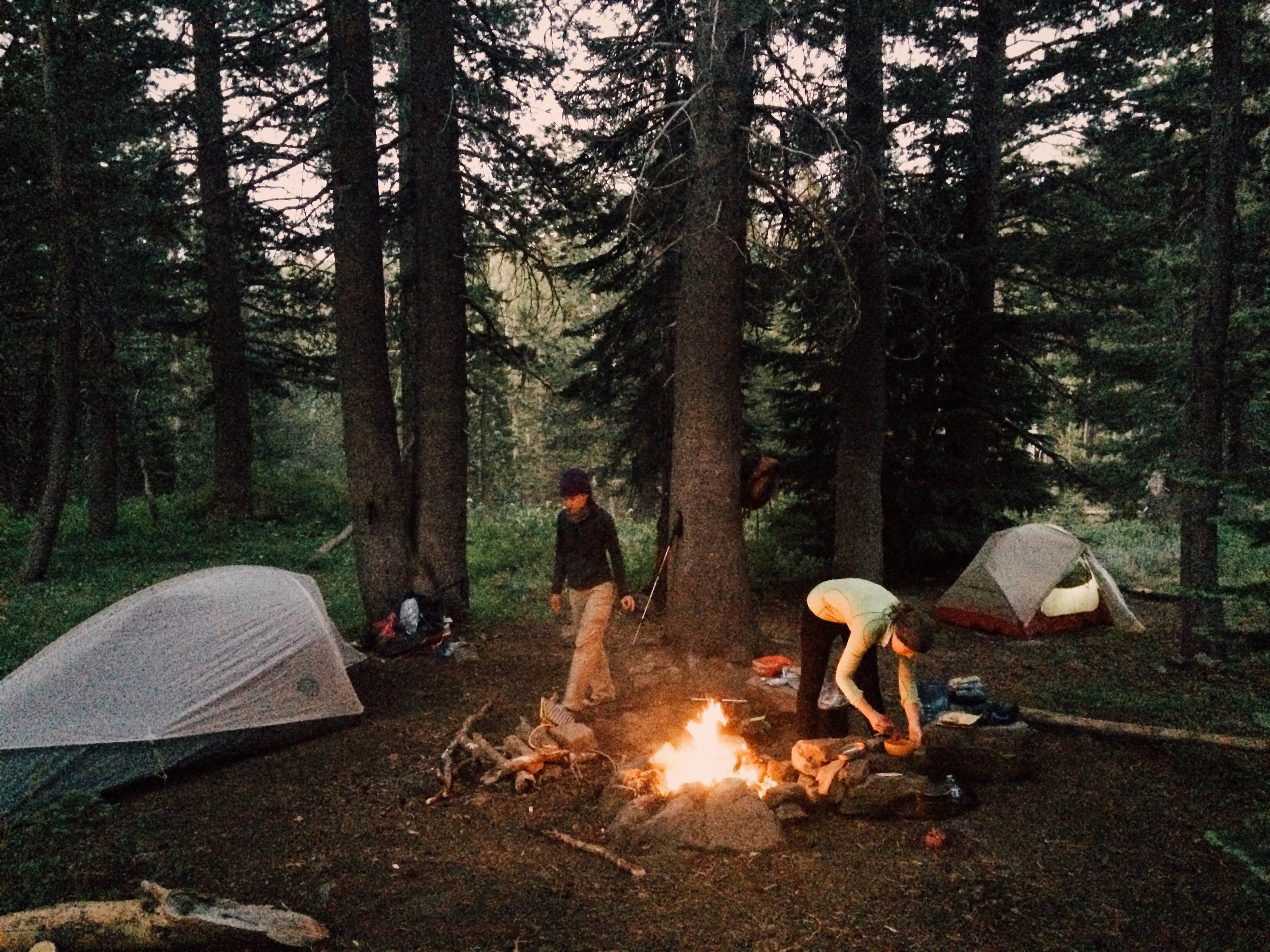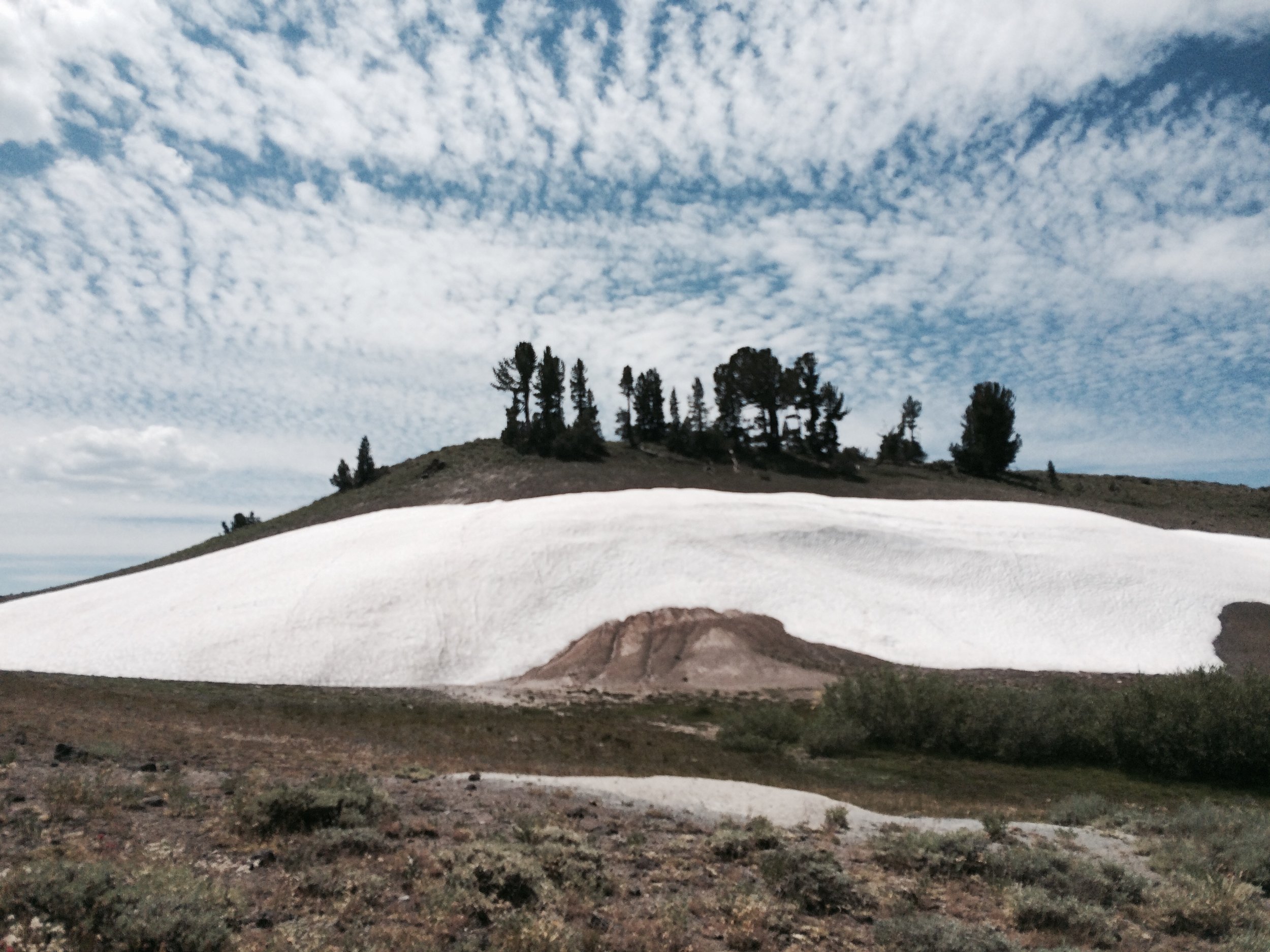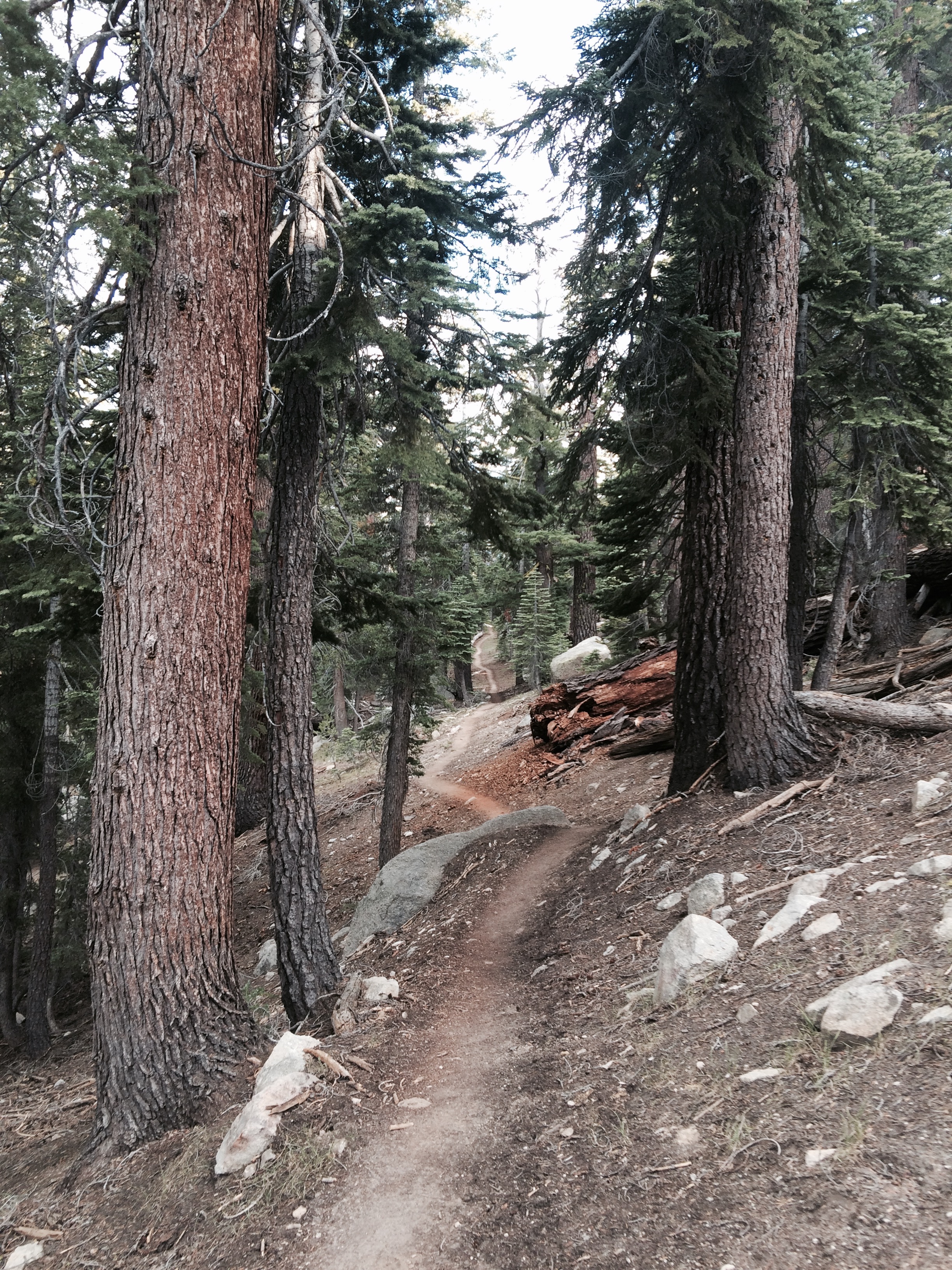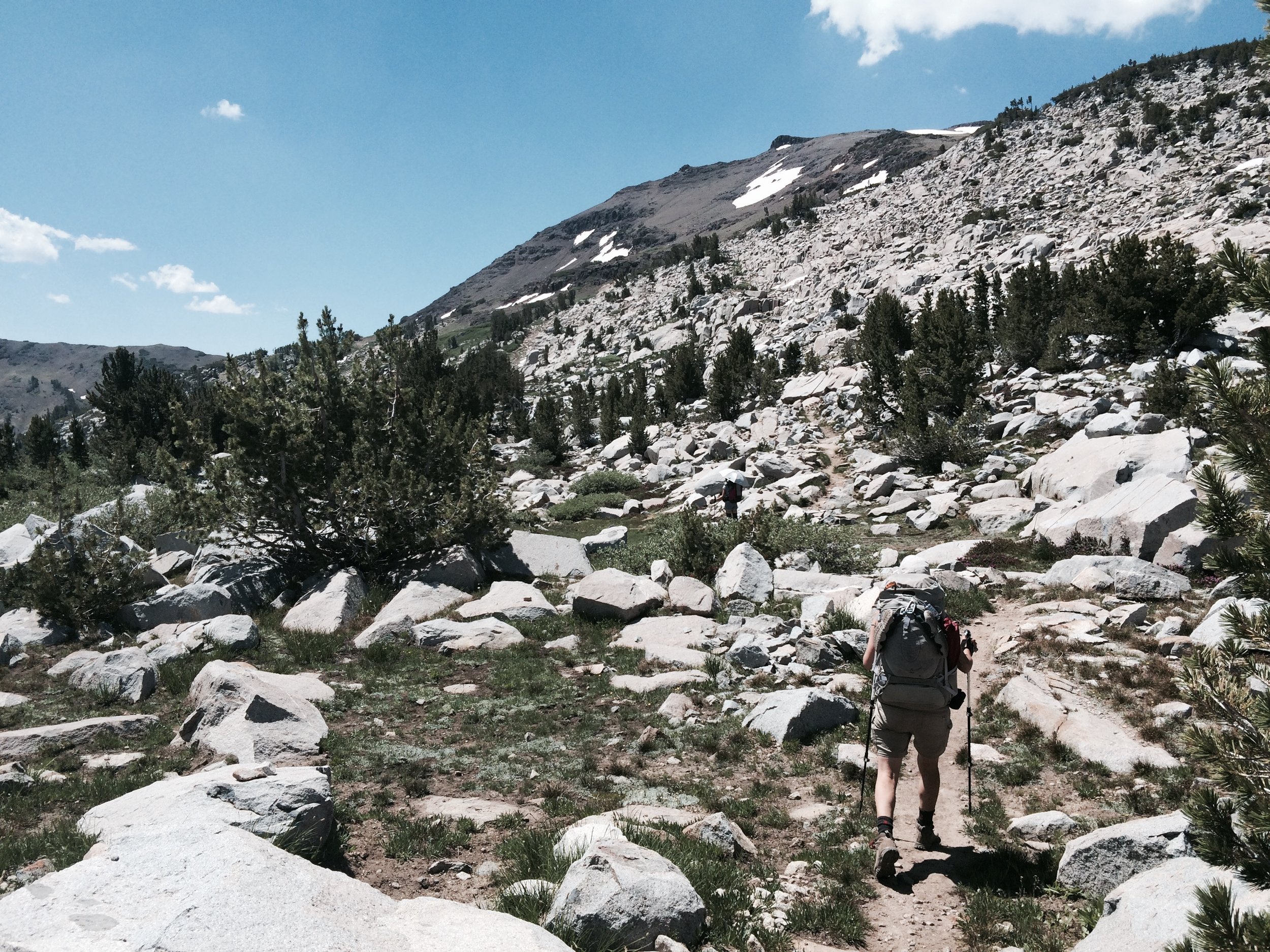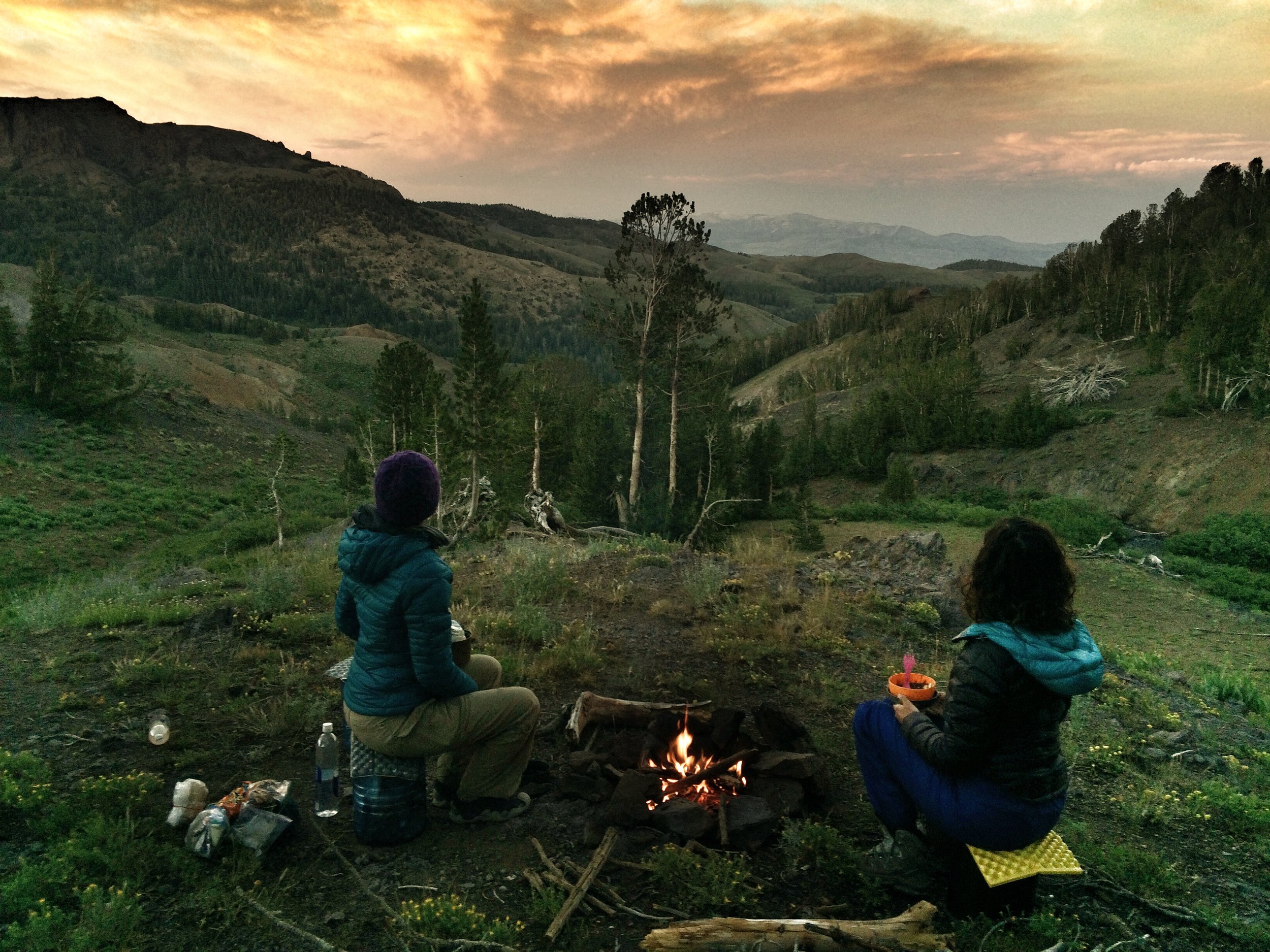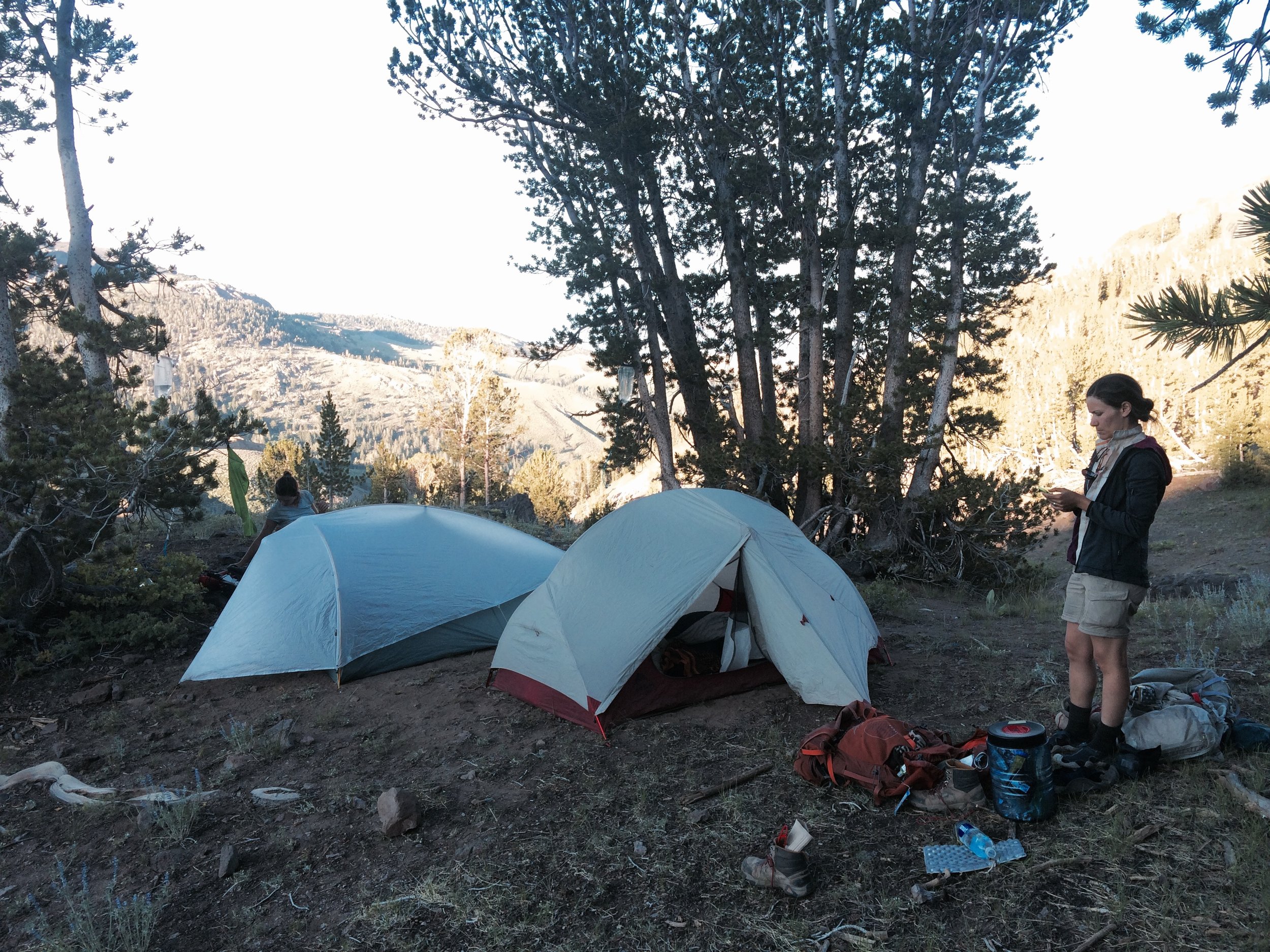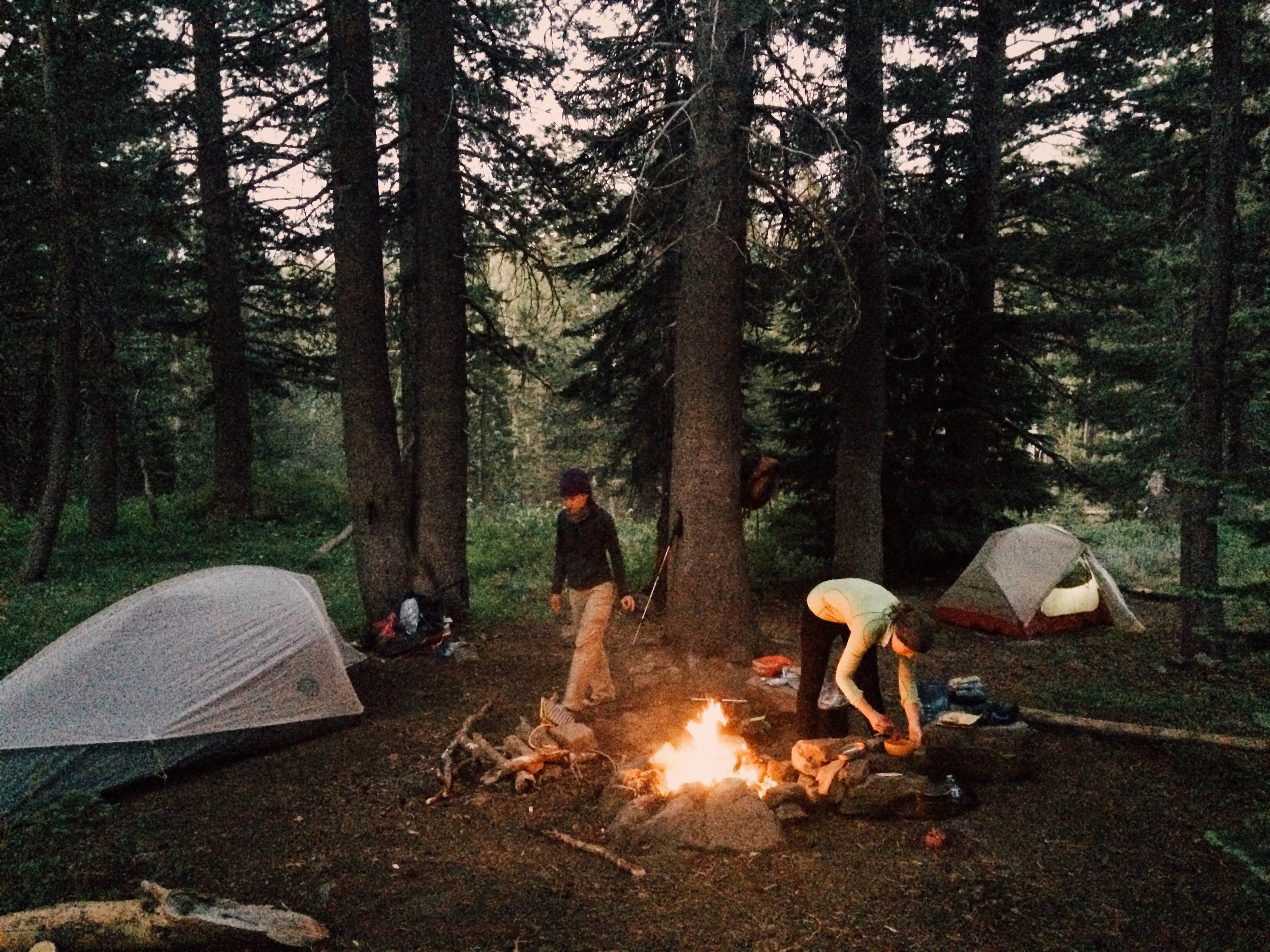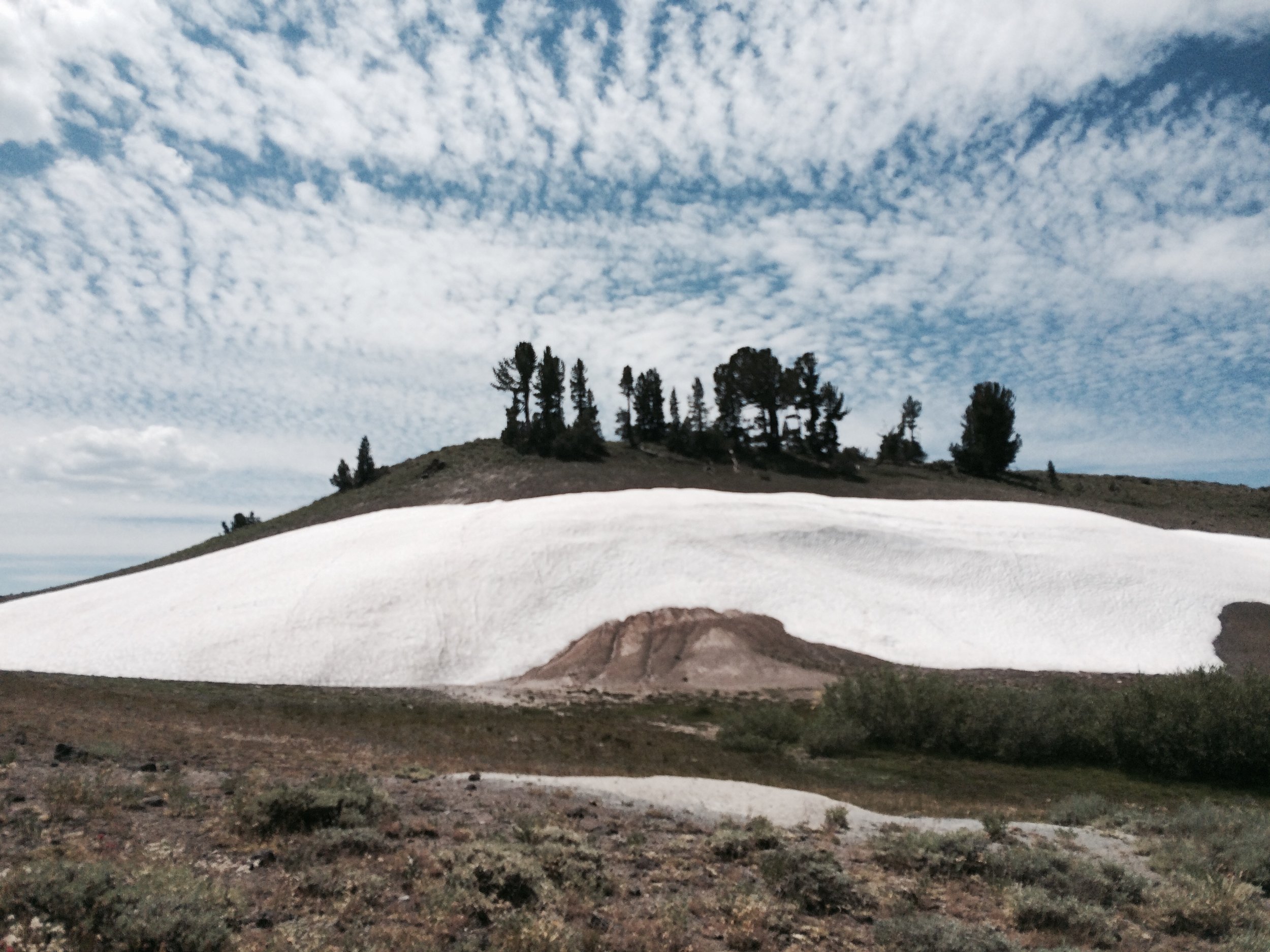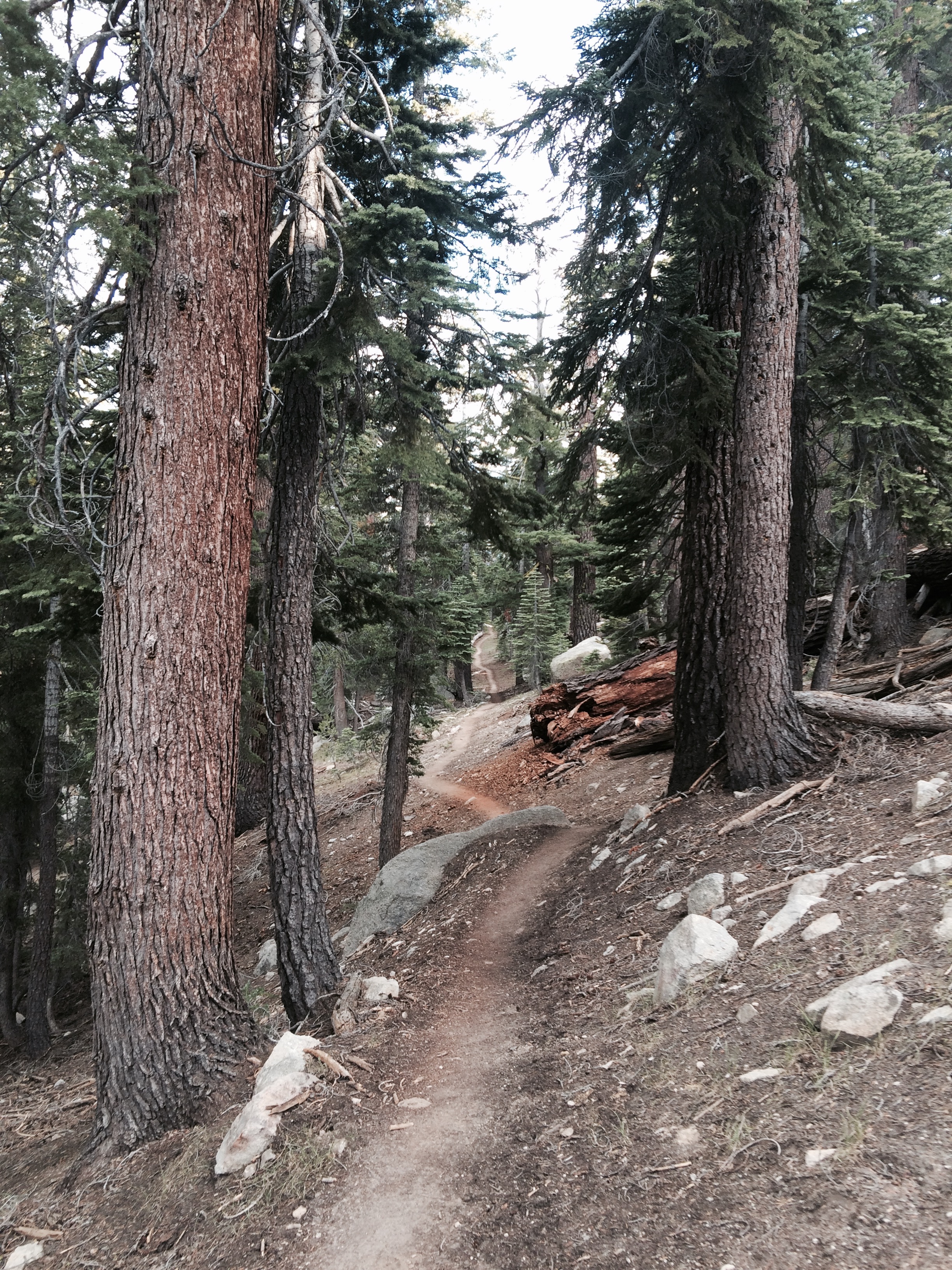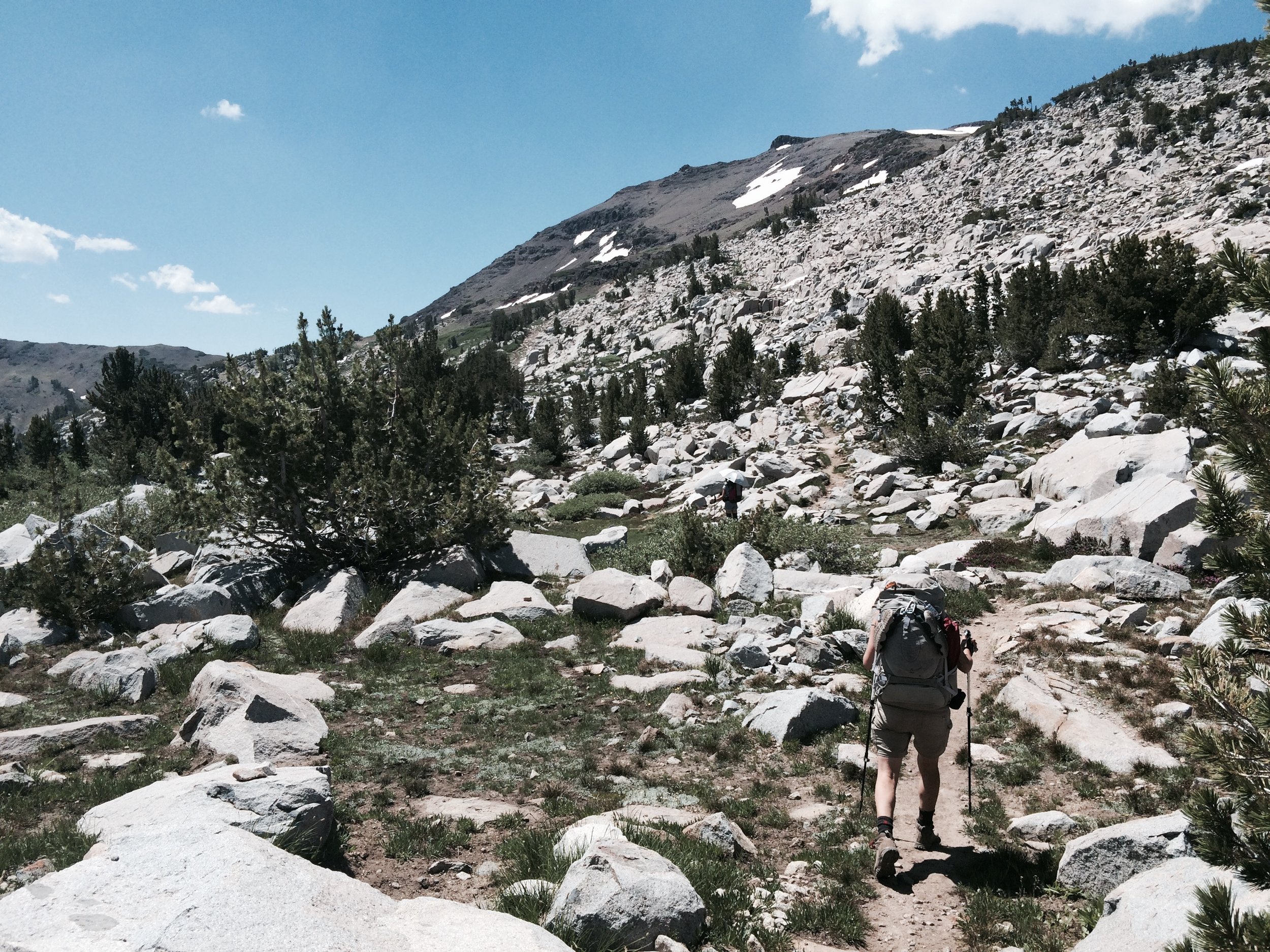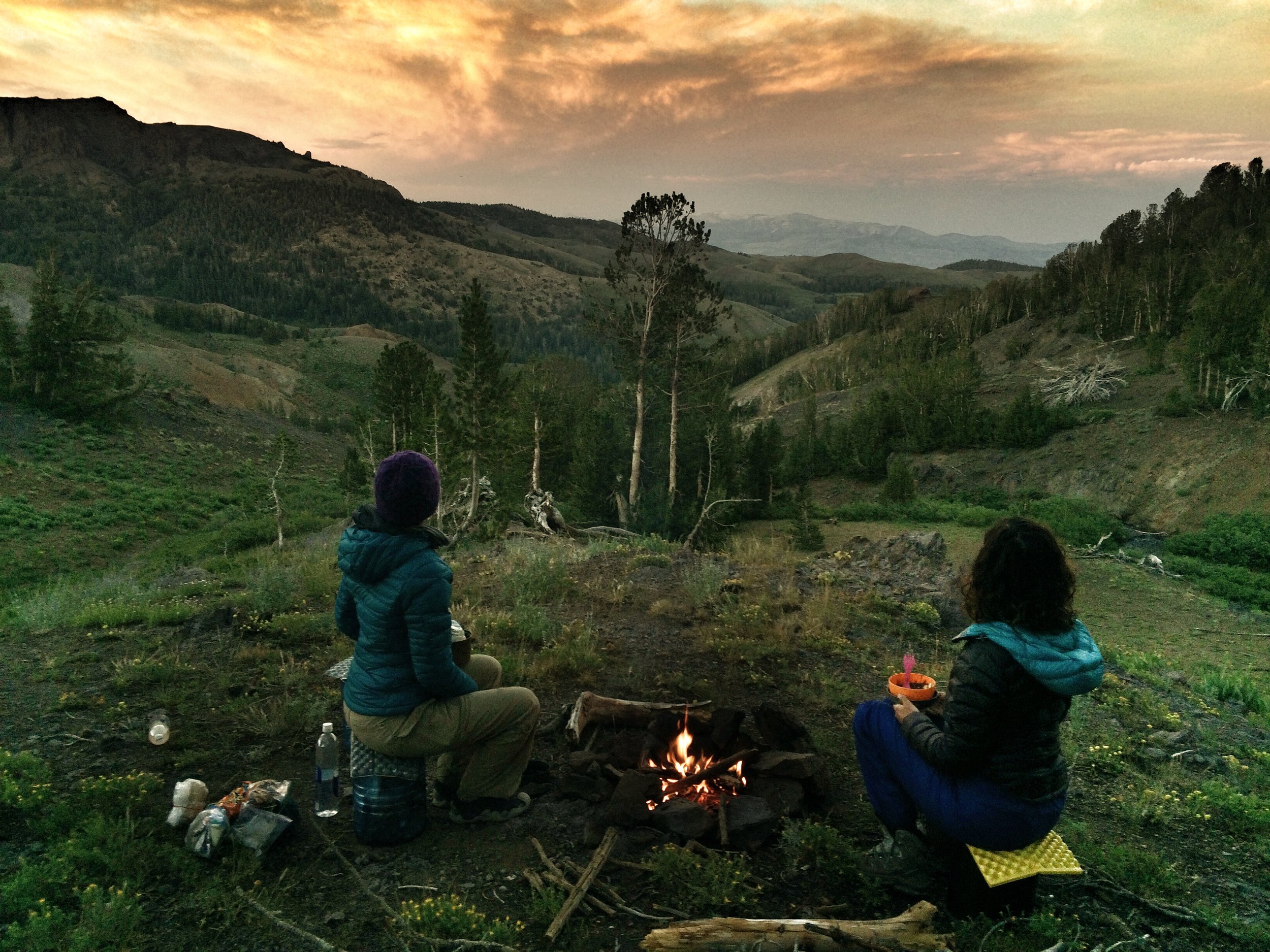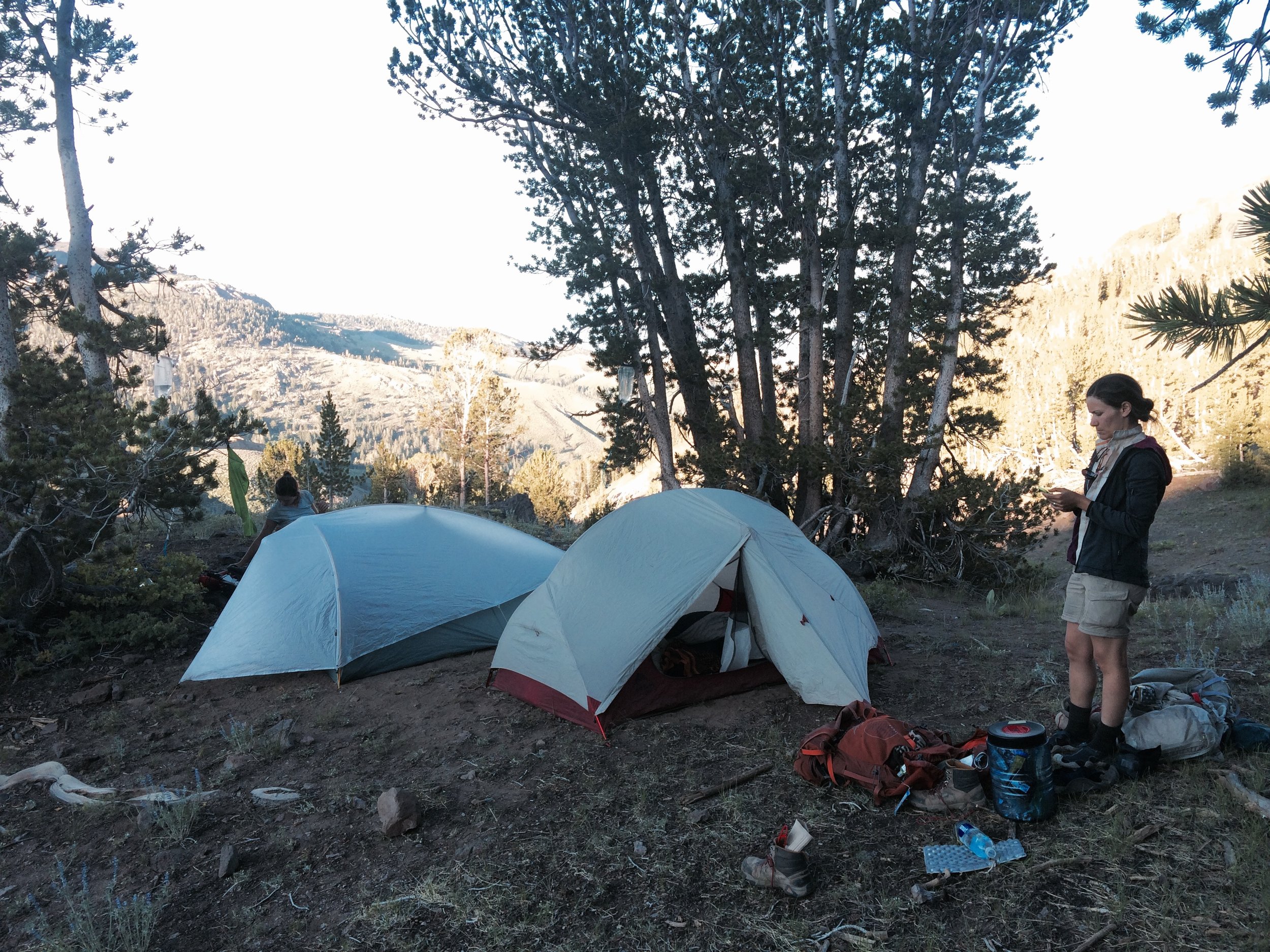 Segment 3: Sonora Pass to Yosemite's Tuolume Meadows
Day 11, July 30
We soon entered Emigrant Wilderness, a beautiful glaciated landscape. Though we had been warned by maps and guide books that we were entering a 10-mile stretch with no water sources, in fact we hit several snow patches -- which produce the coldest and most refreshing water you could hope for! We spent a few hours hiking near 11,000 feet, crossing several snow patches. As with the first snow patch we had crossed a few days before, crossing required coordination as we tried not to slip and topple over or slide. Sparse vegetation, dark volcanic soil and a series of turquoise-colored tarns and lakes provided a striking contrast to the snow. Within this lovely landscape, we took a moment to remember our friend Kevin, amateur naturalist and lover of the Sierra, who had passed away on this day two years ago. Kevin and his wife Melinda had introduced me to camping when I was 18. My first camping trip, to Onion Valley, and the many trips we took together in the following years left a deep impression on me.
We gently descended about 2,000 feet over the next 7 miles, traveling through Kennedy Canyon and arriving at Walker Meadows in the late afternoon. We crossed the Walker River over a wooden bridge and found a spacious site on the south bank. Being so close to the water and surrounded by meadows meant sharing the space with many hungry mosquitoes. We started a fire to encourage them to stay away and had dinner as night fell. Soon we noticed a tiny frog that jumped up onto one of the rocks in the fire ring. Fearing it was attracted to the light of the fire and might jump into the fire pit, I picked it up and placed it on a rock about 20 feet away. I sat back down by the fire, and within a minute or two another tiny frog was doing the same thing. I relocated it. And then another appeared. And then another. Soon there were so many tiny frogs moving around us that it became impossible to walk around without fearing we'd step on them. It didn't help that they blended in perfectly with the ground. I found them adorable -- but my companions weren't so convinced of their cuteness. We decided to turn in for the night and completed our nightly tooth-brushing and bear-canister-packing rituals with tiny frogs jumping up onto our boots. We entered our tent and were safe for the night. And just then, a few minutes after getting into our tent, Jolly and I heard Tamara yelping from her tent -- "Oh my god! They're trying to get in! There are about 50 frogs crawling up and jumping on the side of my tent!"
Camp: Walker River (Yosemite Wilderness, PCT mile 1002.5)
Day 12, July 31
We had a frog-free breakfast, packed up and were on our way. We passed many lakes and creeks -- we were entering a more water-abundant area. We reached Dorothy Lake Pass -- the boundary of the Yosemite Wilderness -- by noon. We took a long lunch break below the pass at the namesake lake, which offered warm water and a picturesque view of snow-capped mountains across the placid lake. I took this opportunity to do something I hadn't done in some time: wash my hair! I felt halfway to human. Easy hiking then led us into Jack Main Canyon and past Grace Meadow, and we walked next to Falls Creek for many scenic miles.
Yosemite is world-renown for being the home of inquisitive bears. Sure enough, as evening fell, we were hiking through a forested stretch along Jack Main Canyon when Jolly felt someone staring at him. He looked up to see a large cinnamon-colored black bear looking curiously in our direction. It was about 10 yards away and didn't react to our presence (except by staring), so we kept walking, speaking loudly and saying, "hi bear! Keep enjoying your evening! OK bye!" We walked another mile or so, searching for a less tree-dense (and hopefully more bear-free) area to call home for the night. We found a rocky opening near Falls Creek and enjoyed a trail shower before nightfall. No ursine visitors were seen or heard after our encounter earlier that evening.
Camp: Falls Creek (Yosemite Wilderness, PCT mile 989.5)
Day 13, Aug 1
The trail followed Falls Creek a few miles to Wilma Lake, after which the terrain became more demanding. On the John Muir Trail we got accustomed to the trail's extreme ascents and descents. There are few stretches of the JMT that don't demand a hiker's attention regarding foot placement -- you're generally either going up or going down. To our pleasant surprise, much of the Tahoe-to-Yosemite portion of the PCT was not as arduous, allowing us to look up from the trail and take in the scenery even while moving. Now that we were in Yosemite, we couldn't help but notice that the trail scenery consistently elicited more "oohs" and "aahs" from us. After all, it's designated part of Yosemite for a very very good reason! And herein must lie the reason that the terrain became more demanding. It just felt like we had to work a little harder for the beauty we were receiving.
If it wasn't for the faint tent pads worn into the ground's surface or the fire rings built by mysterious hands, many off-trail wilderness spaces would lead you to believe you were the first one to have discovered it, or at least the first one to visit in a long time. Such it was on this day, when we camped along Rancheria Creek, in Yosemite's Kerrick Canyon. The wilderness entices you make discoveries (not absolute ones, per se, but novel ones from your perspective nonetheless). At the same time, the wilderness binds you to others -- as you encounter strangers-turned-friends on the trail, or as you spy an excellent campsite only to realize someone in the past had the same thought, or as you benefit from the pile of firewood a kind, anonymous predecessor left just to pay it forward.
Camp: Rancheria Creek (Yosemite Wilderness, PCT mile 979)
Day 14, Aug 2
We had arranged an on-trail rendezvous with our adventure-loving friend Genevieve on this day -- a feat made difficult by the fact we had no cell reception anywhere during the past several days. We had arranged a morning meeting at the PCT-Buckeye Pass junction. Miraculously, our plan worked and Genevieve arrived around 10:30.
We had hiked with her twice before: the first time we met was in New Zealand, where we hiked the famous Tongariro Alpine Crossing together. Then last year she joined us for the final segment of the JMT. It was on that hike that we gave her the trail name Mary Poppins for her habit of taking a new delicious treat out of a mystery bag at least once daily -- for example, homemade fruit rolls, which she presented to us above 13,000 feet while we were atop Forester Pass. This time around, she earned her trail name once more, when upon reuniting she presented us with fresh cherries, dried persimmons, and fresh garbanzo beans, still in the pod. Fresh garbanzo beans in the pod! Most people have never even seen these, and here were were, miles from any road, enjoying organic treats from the produce section of a natural foods market.
We hiked up Seavey Pass and then passed a scattering of lakes and creeks. In the evening we came to Smedberg Lake, where we spied a secluded site on the far shore. It was a stunning spot, and one of our favorite campsites of the trip.
Camp: Smedberg Lake (Yosemite Wilderness, PCT mile 968)
Day 15, Aug 3
This was the final full day on the trail -- tomorrow we would exit the trail. Fortunately, the day was packed with memorable sights. We started the morning with a 1,000-foot climb up toward Benson Pass. We crossed through meadows carpeted in a rainbow of wildflowers, shared a dusty part of the trail with a mule train, and encountered Boy Scout groups out for a few days of exploration. Water greeted us many times -- including at Miller Lake, where we lunched and took a dip and sun bath. At Virginia Canyon, water alternately sheet-flowed horizontally and then cascaded vertically down a dramatic set of wide rocky terraces adjacent to the trail, as though a designed as an aesthetically-pleasing water feature.
Our final night on the trail ended up being magical. We were tired by the time we arrived at Return Creek, almost ready to take the first site we saw. But then we hiked up a faint use-trail about 1/4 mile off the main trail and found an incredible spot demonstrating water in some of its many forms. Just above the campsite, Return Creek flowed wide and calm, and was then suddenly funneled through a deep, narrow gorge beneath vertical rocks. We stood at the gorge and took in a cinematic sunset full of pinks, oranges, blues and purples. It was at once peaceful and jarring -- a reminder of the poignant dichotomy of reward and challenge that the trail (and perhaps life) is all about.
Camp: Return Creek (Yosemite Wilderness, PCT mile 956)
Day 16, Aug 4
We started the day with a hearty 500 foot climb from camp, which we completed briskly in the chill of the early-morning air. We hiked through Cold Canyon, past more meadows flanked by beautiful peaks. We crossed Conness Creek and arrived at Glen Aulin, location of one of the lovely High Sierra Camps, in time for an early lunch by its dramatic waterfall, White Cascade. The day prior we had been concerned that we were running out of food, as Genevieve had inadvertently packed food for one less day than needed and we were all sharing of our economically-packed supplies. But at Glen Aulin we fired up our stove and managed to piece together a feast that included two kinds of soup, left-over pasta from the previous night's dinner, a savory oatmeal, hummus with tortilla, and an inspired creation: a warm cocoa and coconut chia seed pudding for dessert. Satisfied, we were done and back on the trail before noon.
We were nourished by gorgeous views along the Tuolumne River for much of the hike, finally making it back to Tuolumne Meadows by mid-afternoon. We stopped at Soda Springs to take a sip of its mineral water. Tamara enticed us with an offer we couldn't refuse: "Try it! It's refreshing, just like licking a copper penny!" She was right on.
We celebrated at the Tuolumne Meadows store with various junk foods and cold beer before retrieving our car, which was covered in a layer of dust from being parked at the Wilderness Center for more than weeks. We drove down to Lee Vining and joined hundreds of happy diners at Whoa Nellie Deli, the happening place in town, which occasionally hosts live outdoor music in summer. On this night, the cover band Bon Rompus was cranking out 80s hits with so much gusto they had the kids and grandmas both dancing -- a fitting celebration to the end of our nearly 200-mile journey.
Exit trailhead, Tuolumne Meadows (PCT mile 942.5)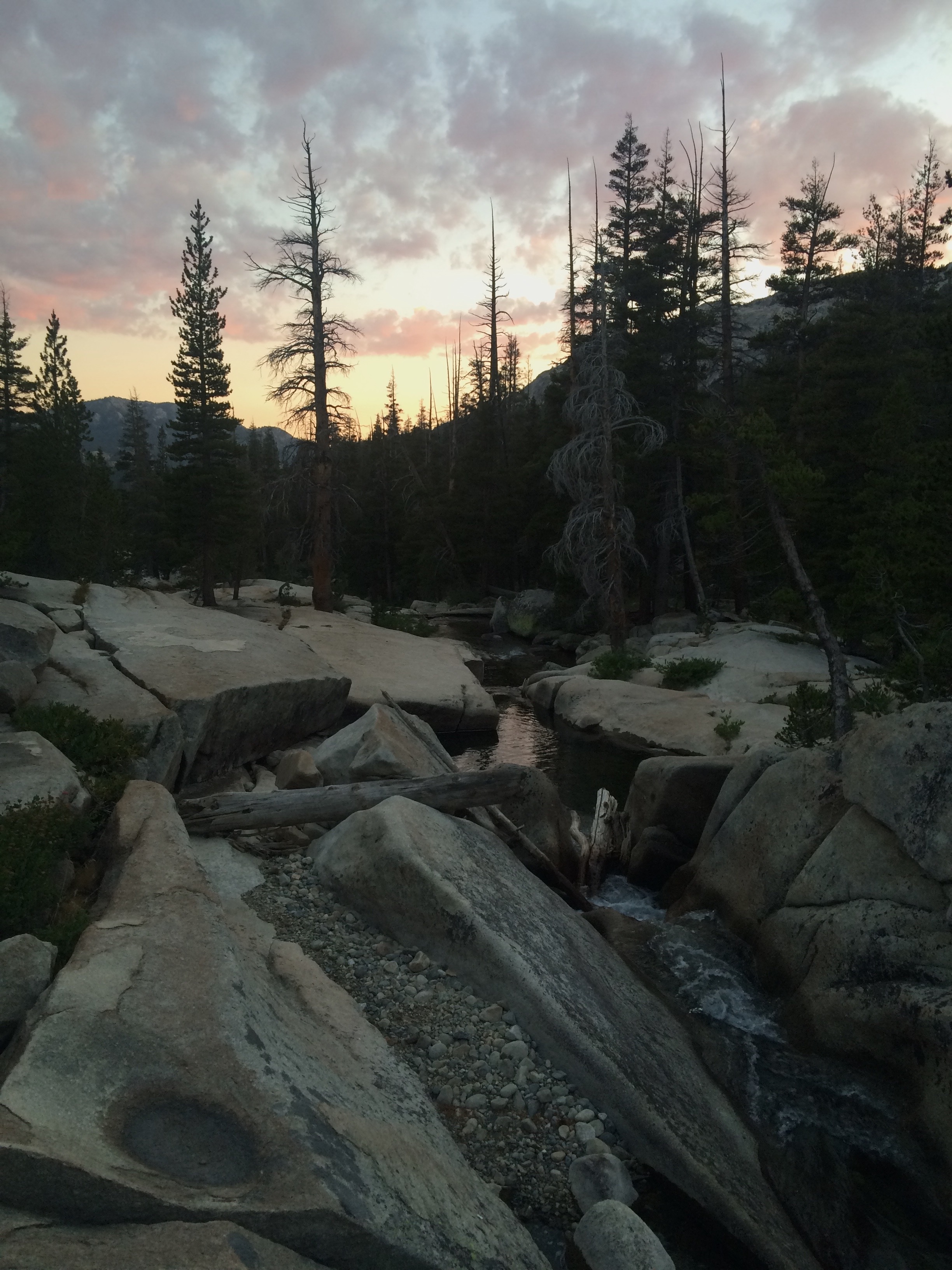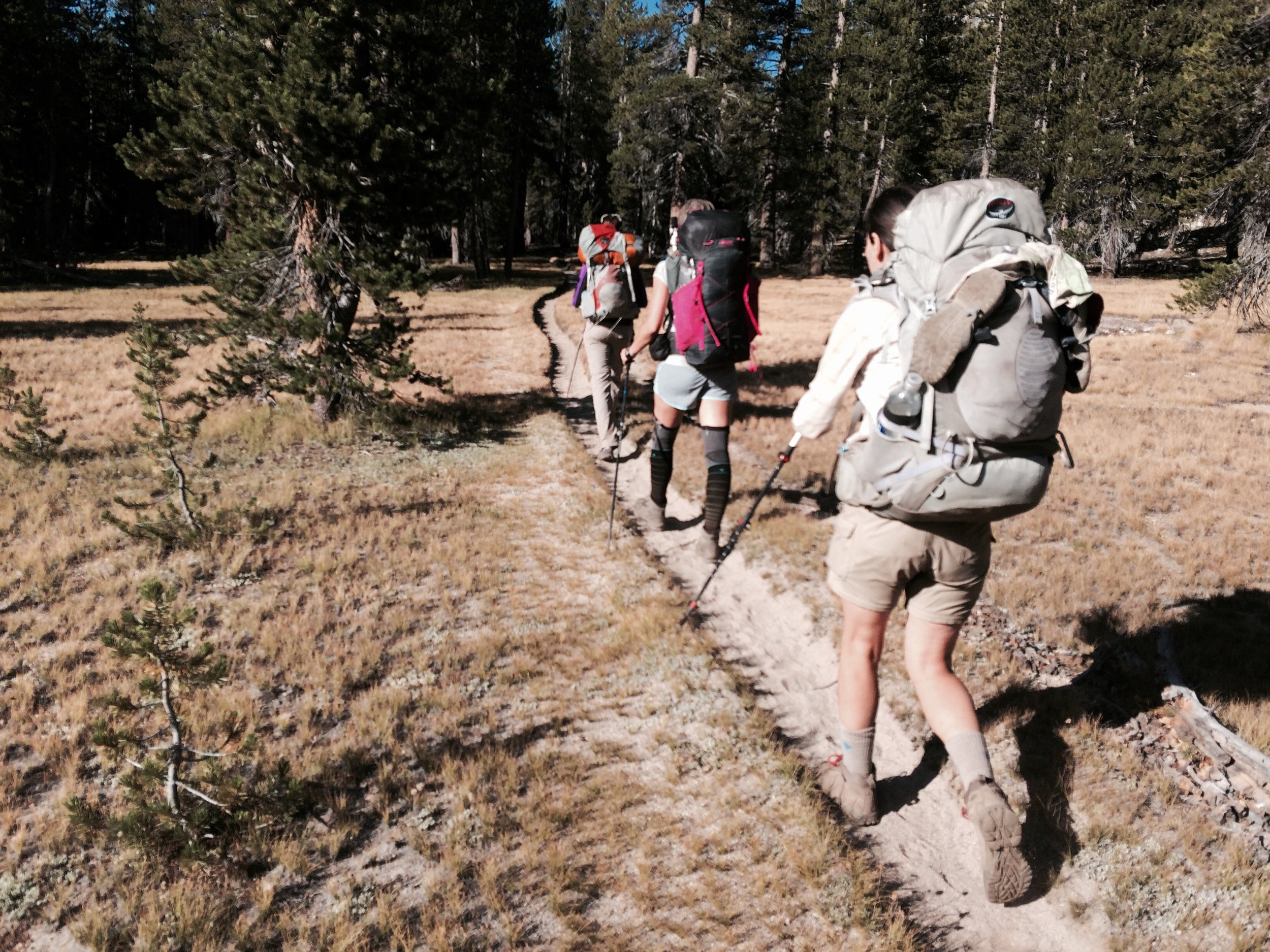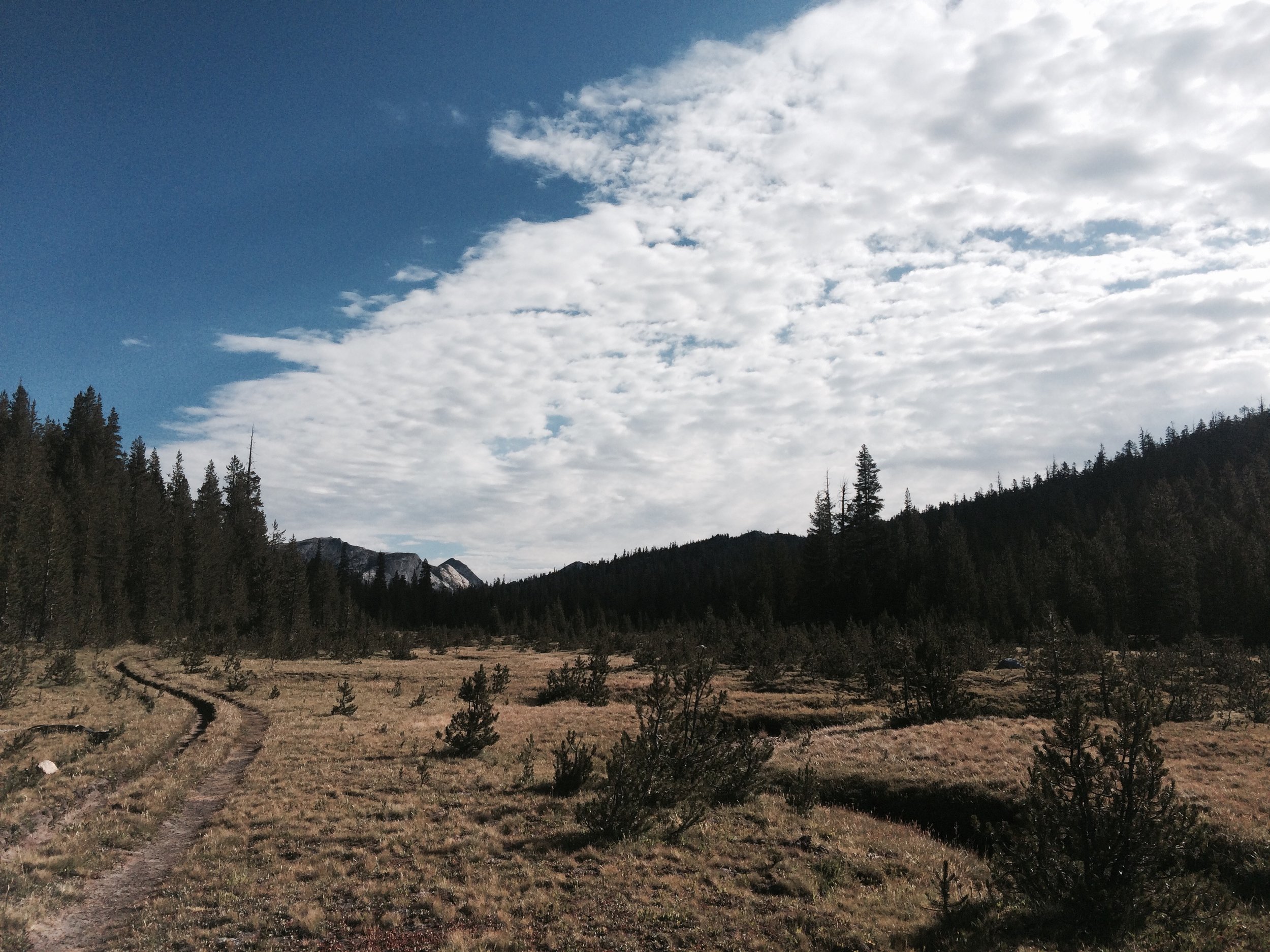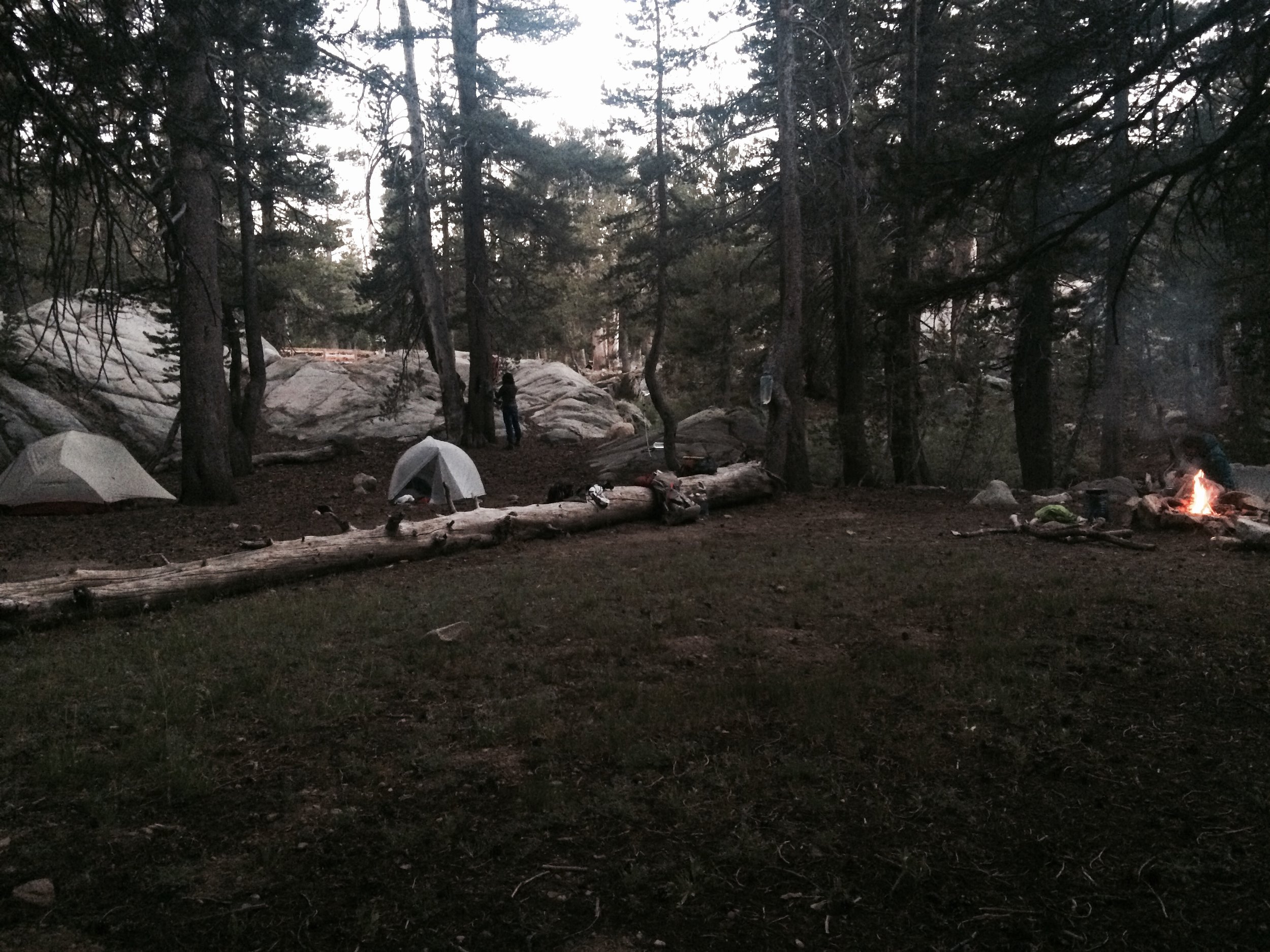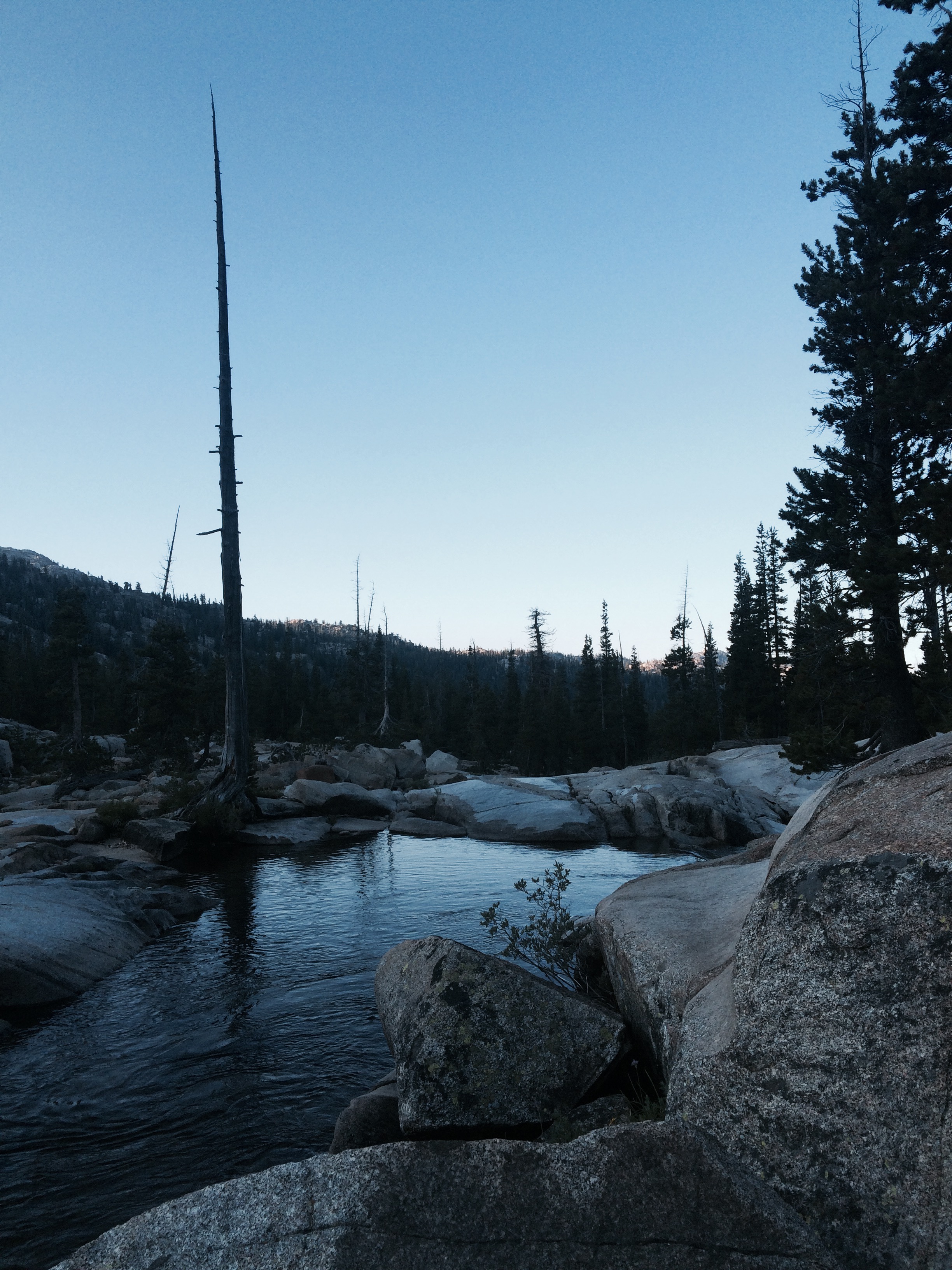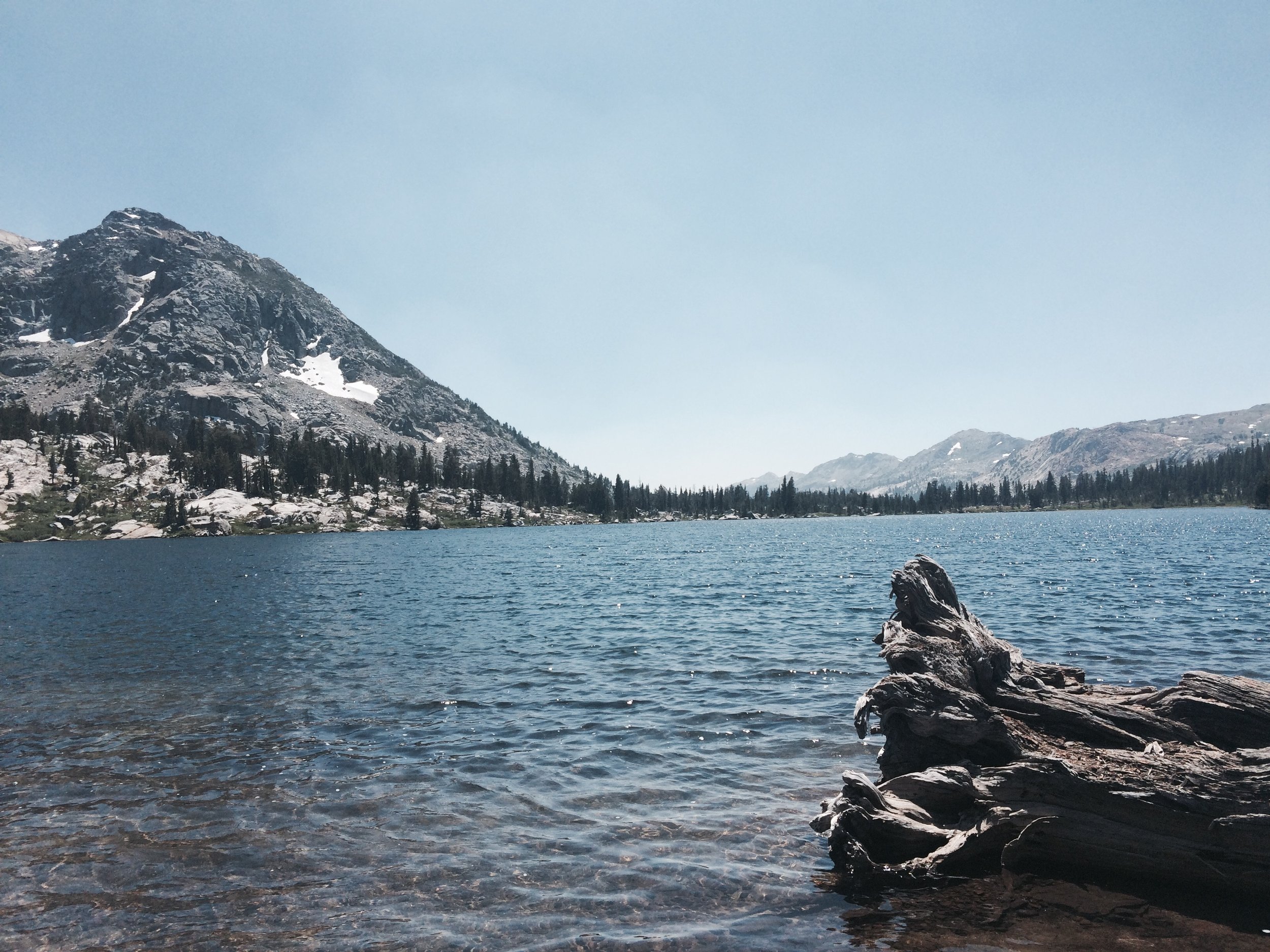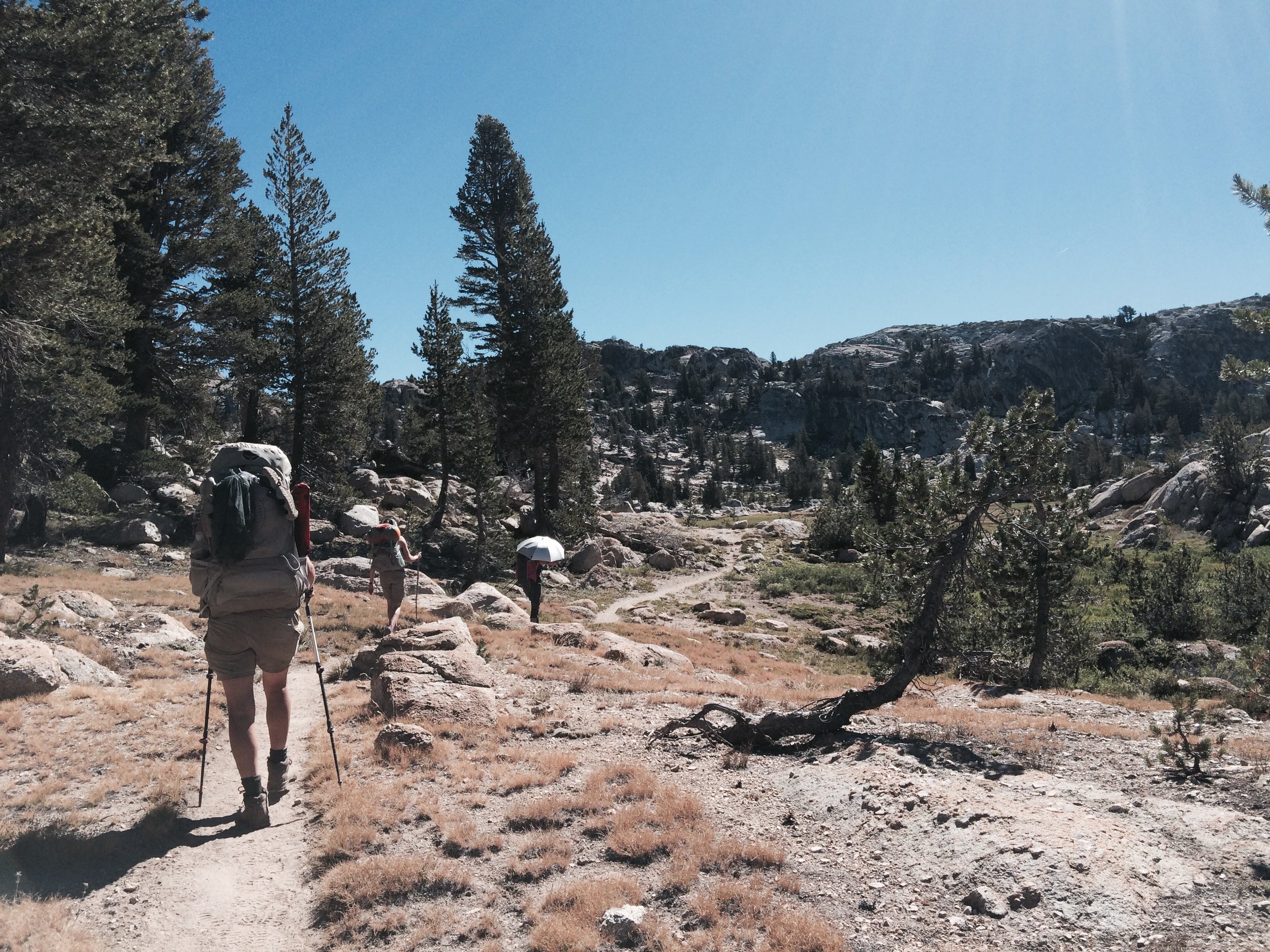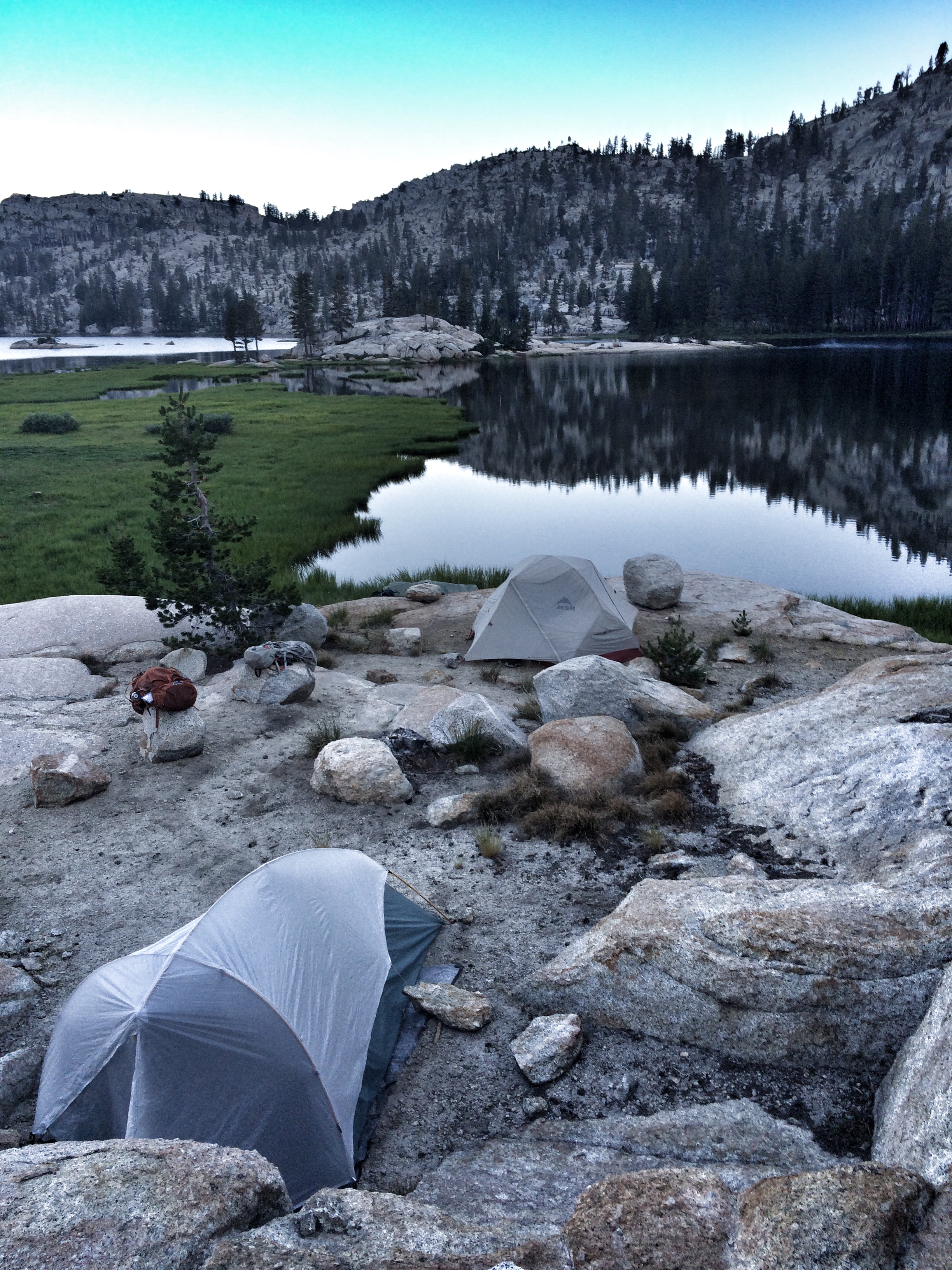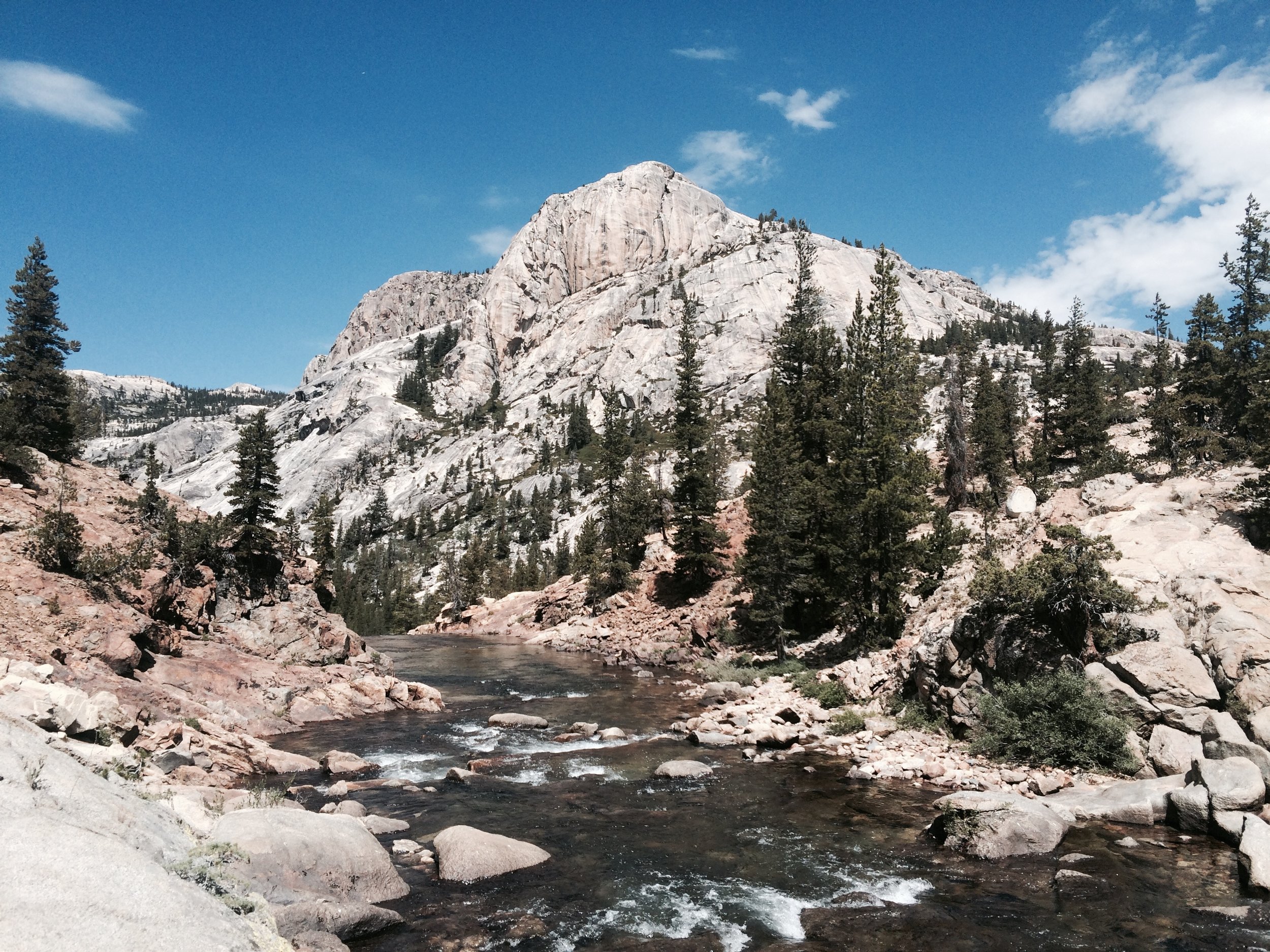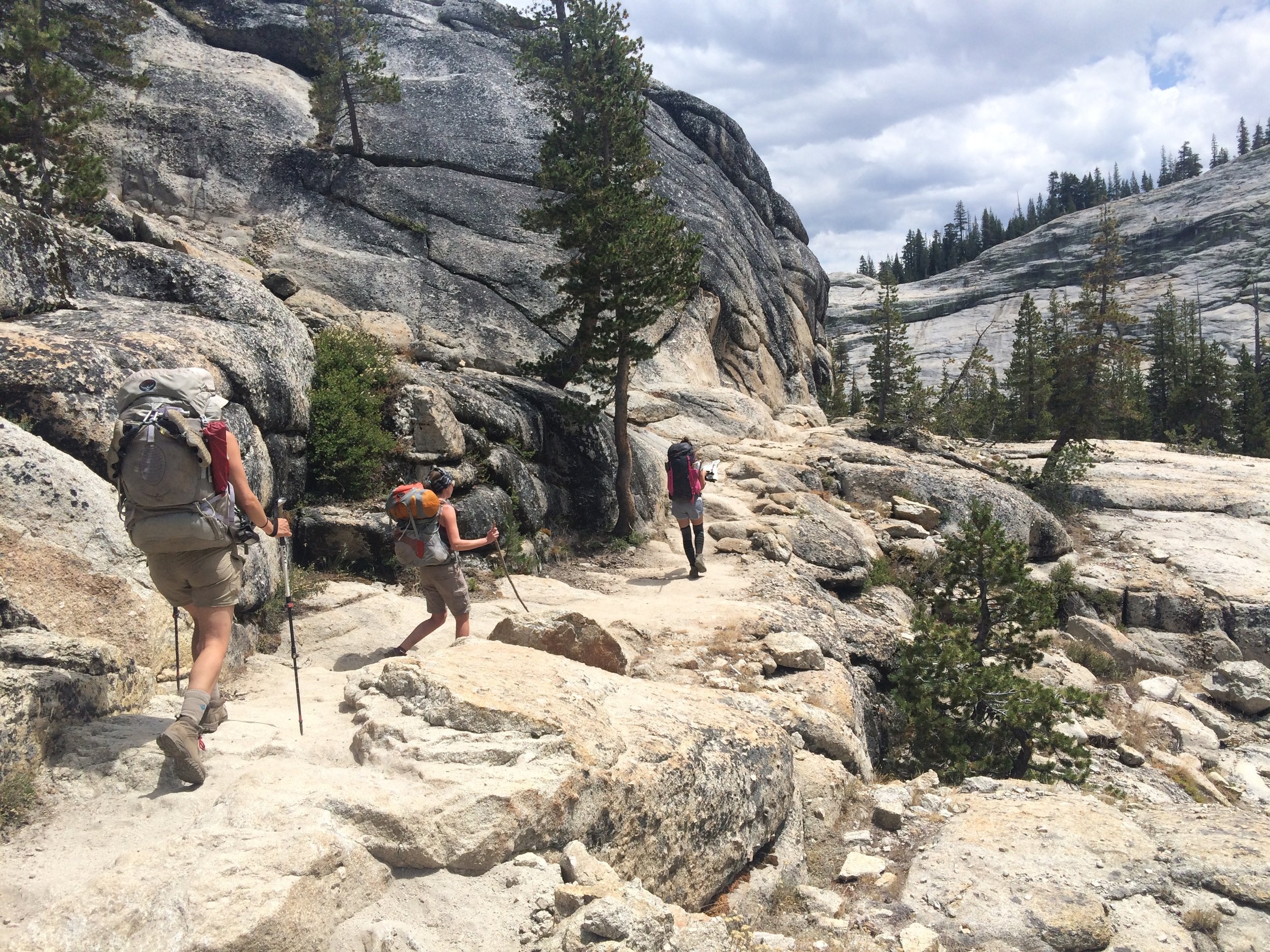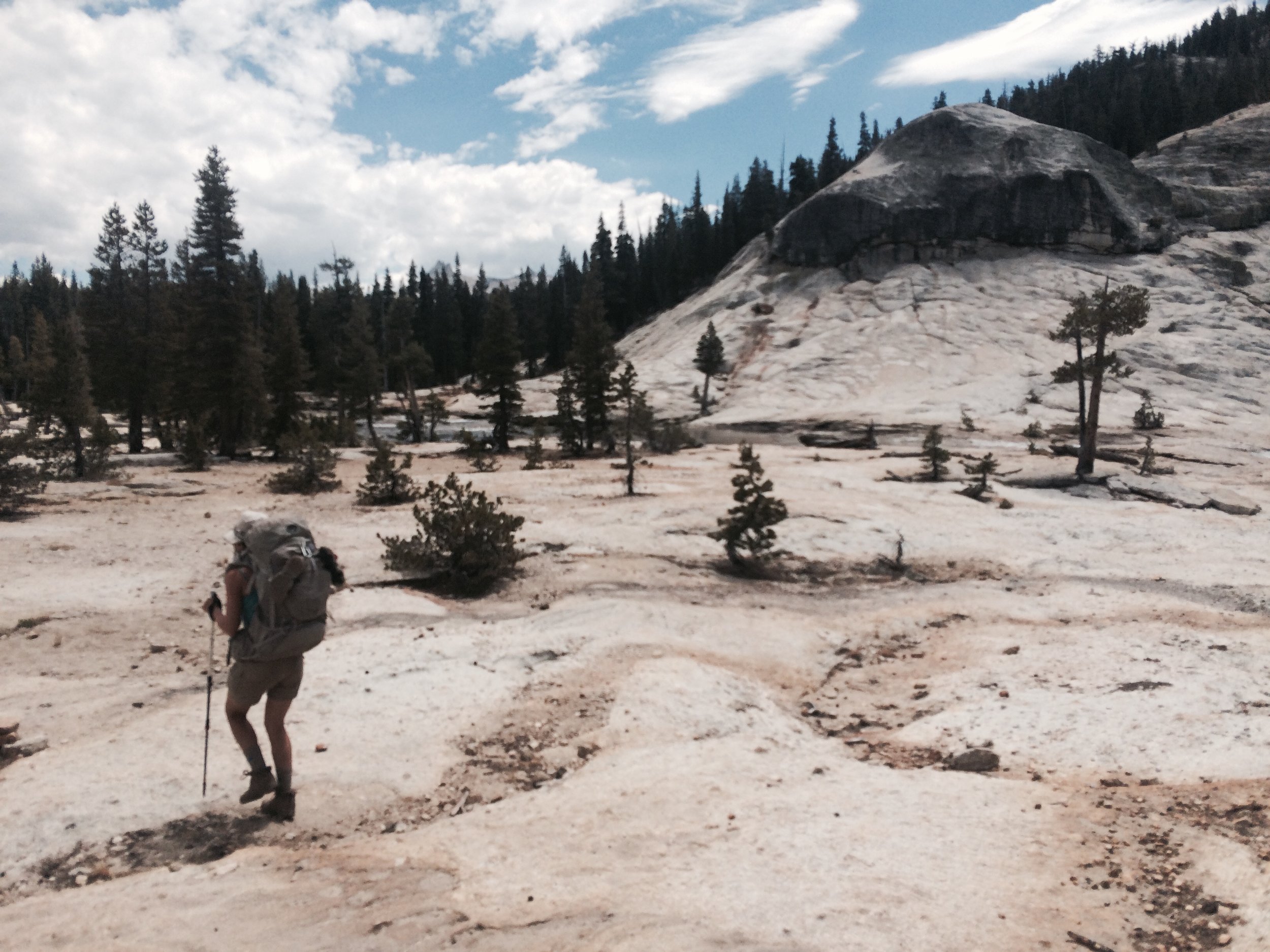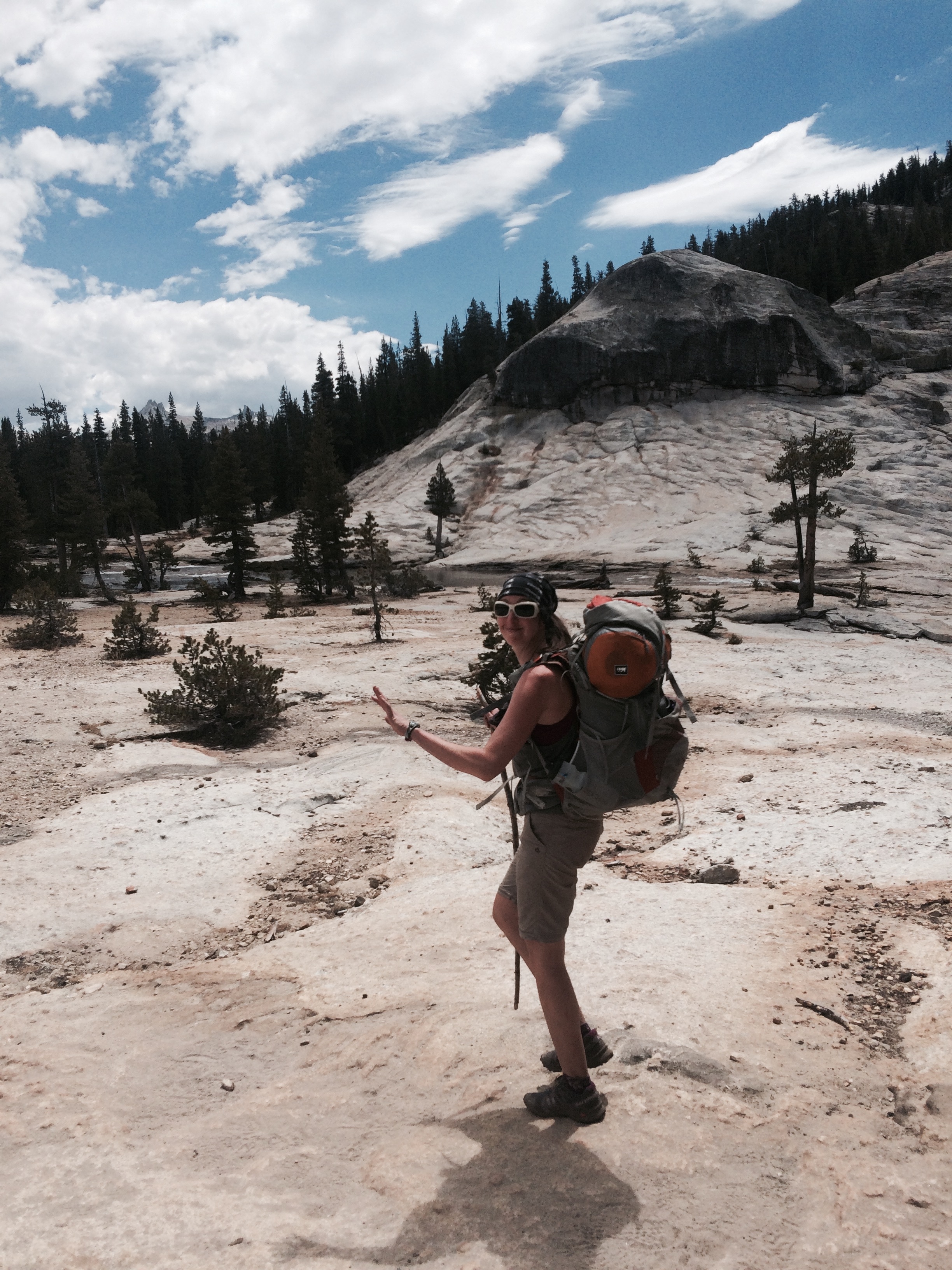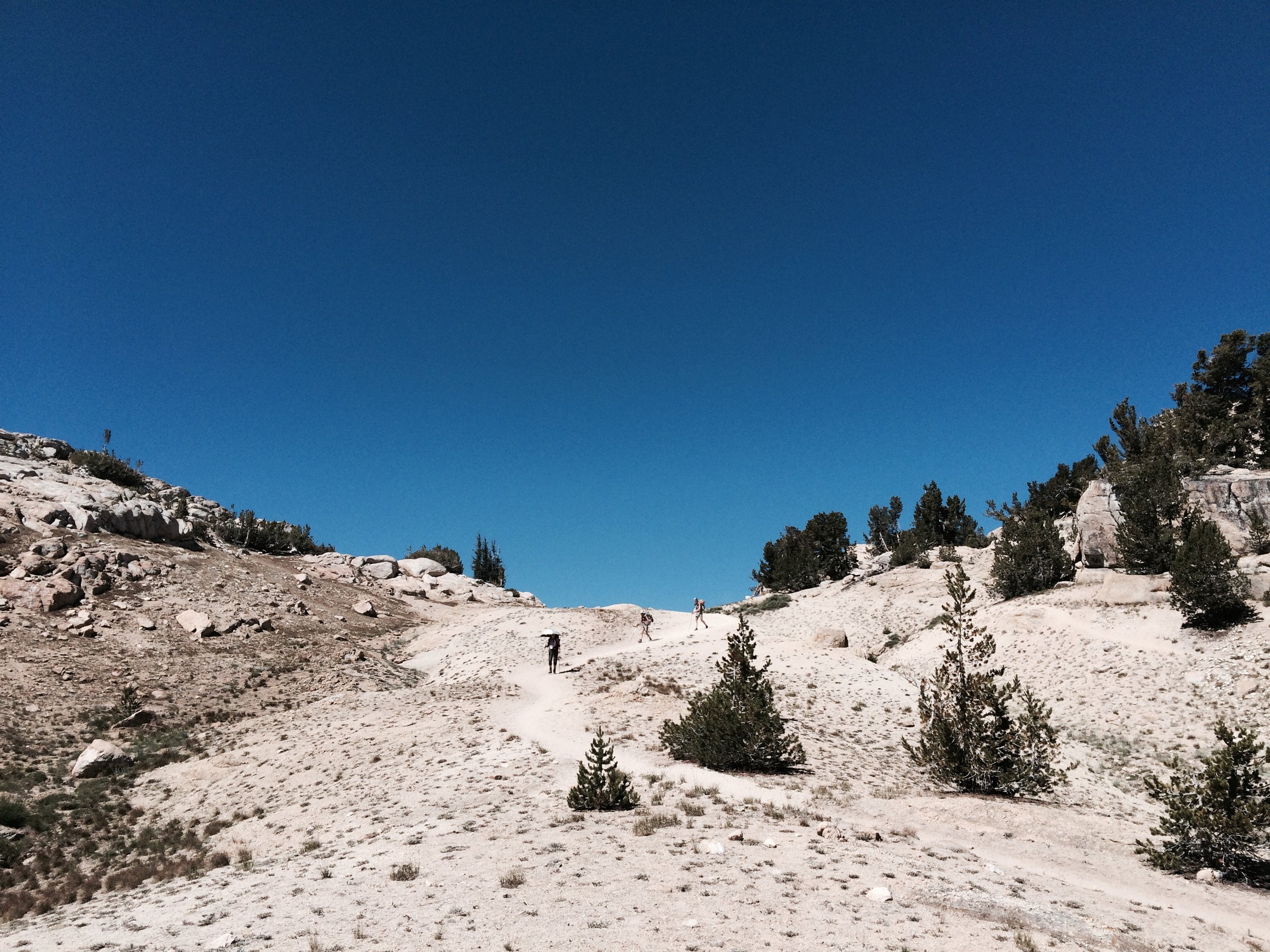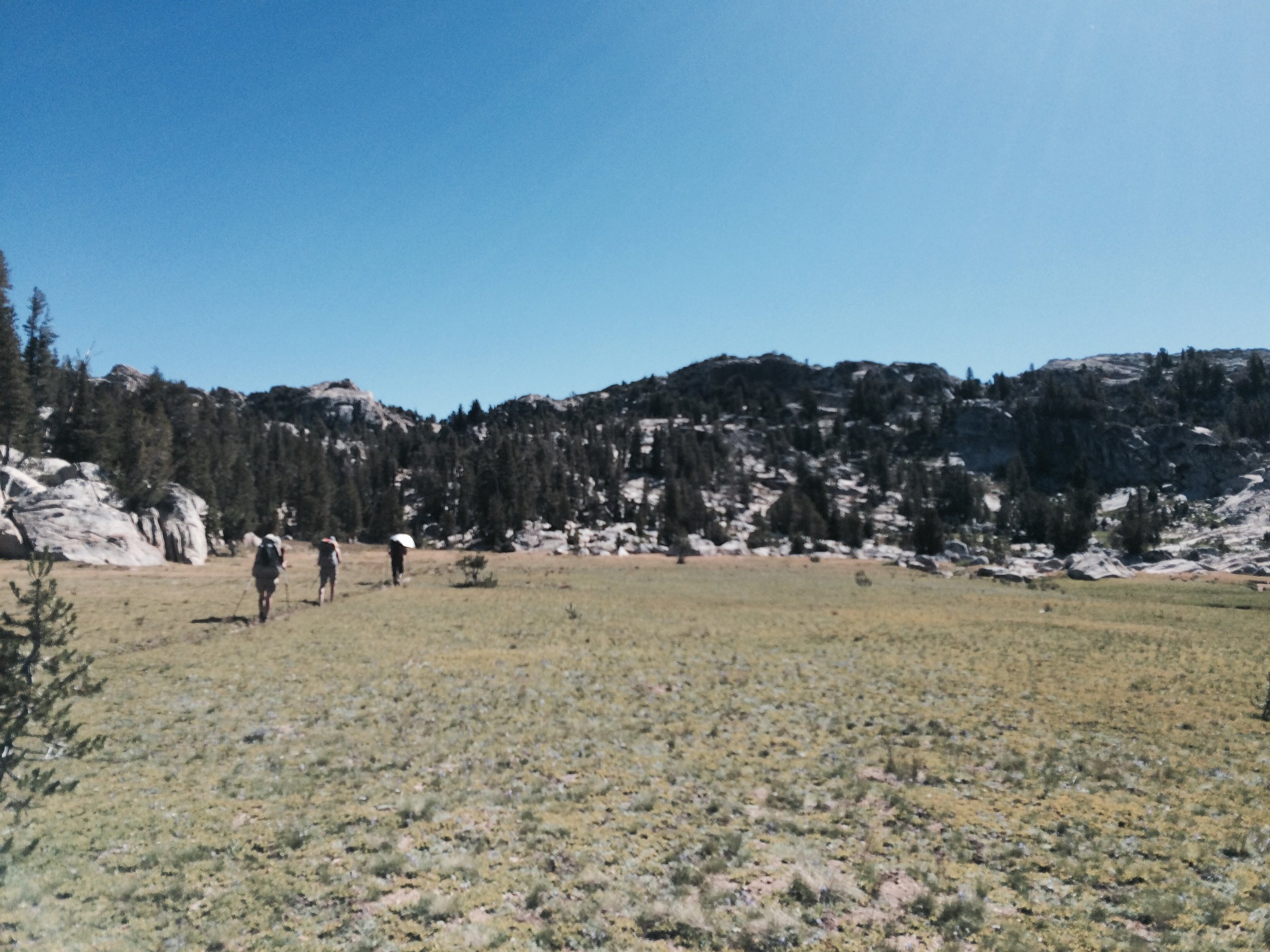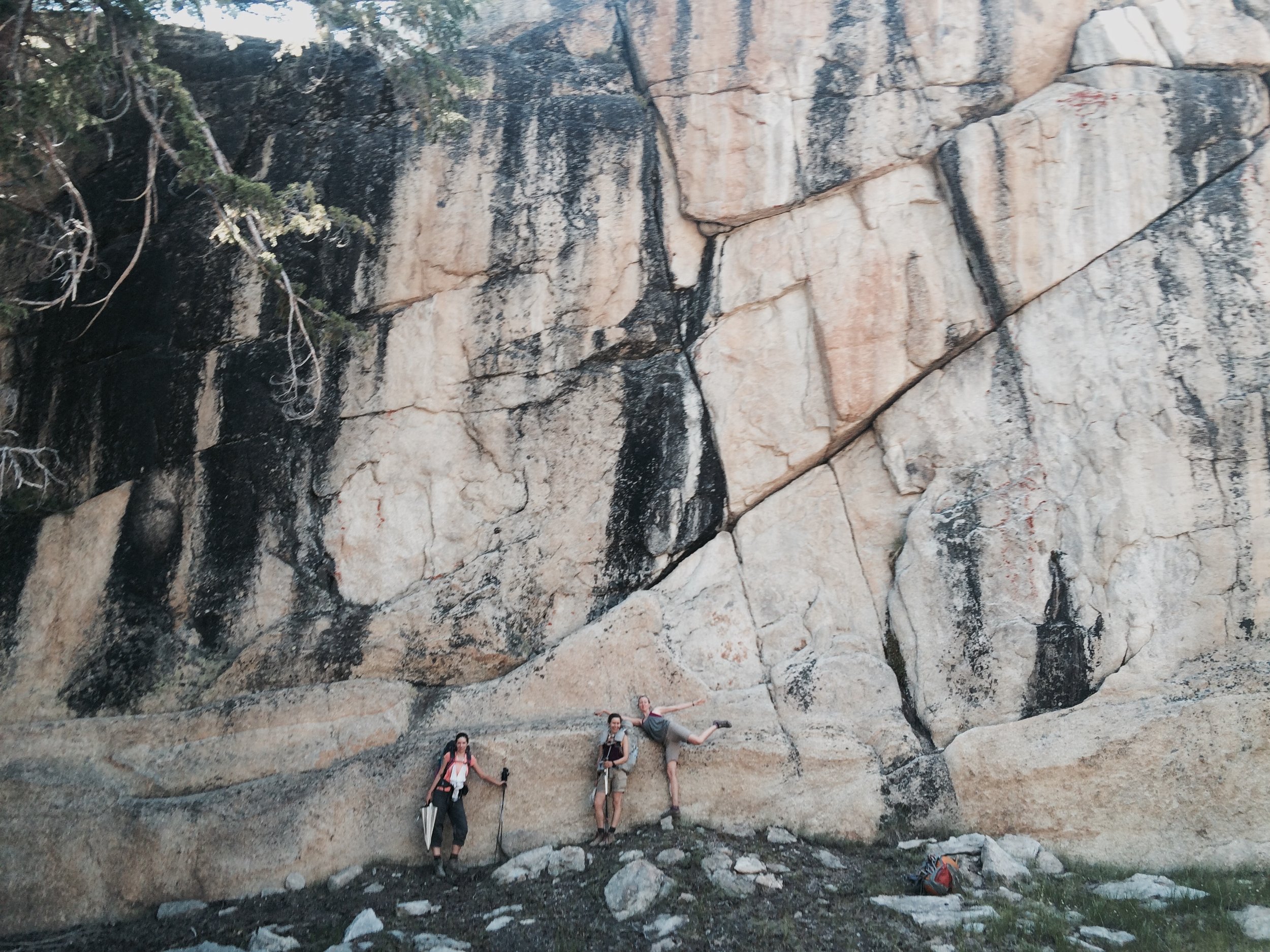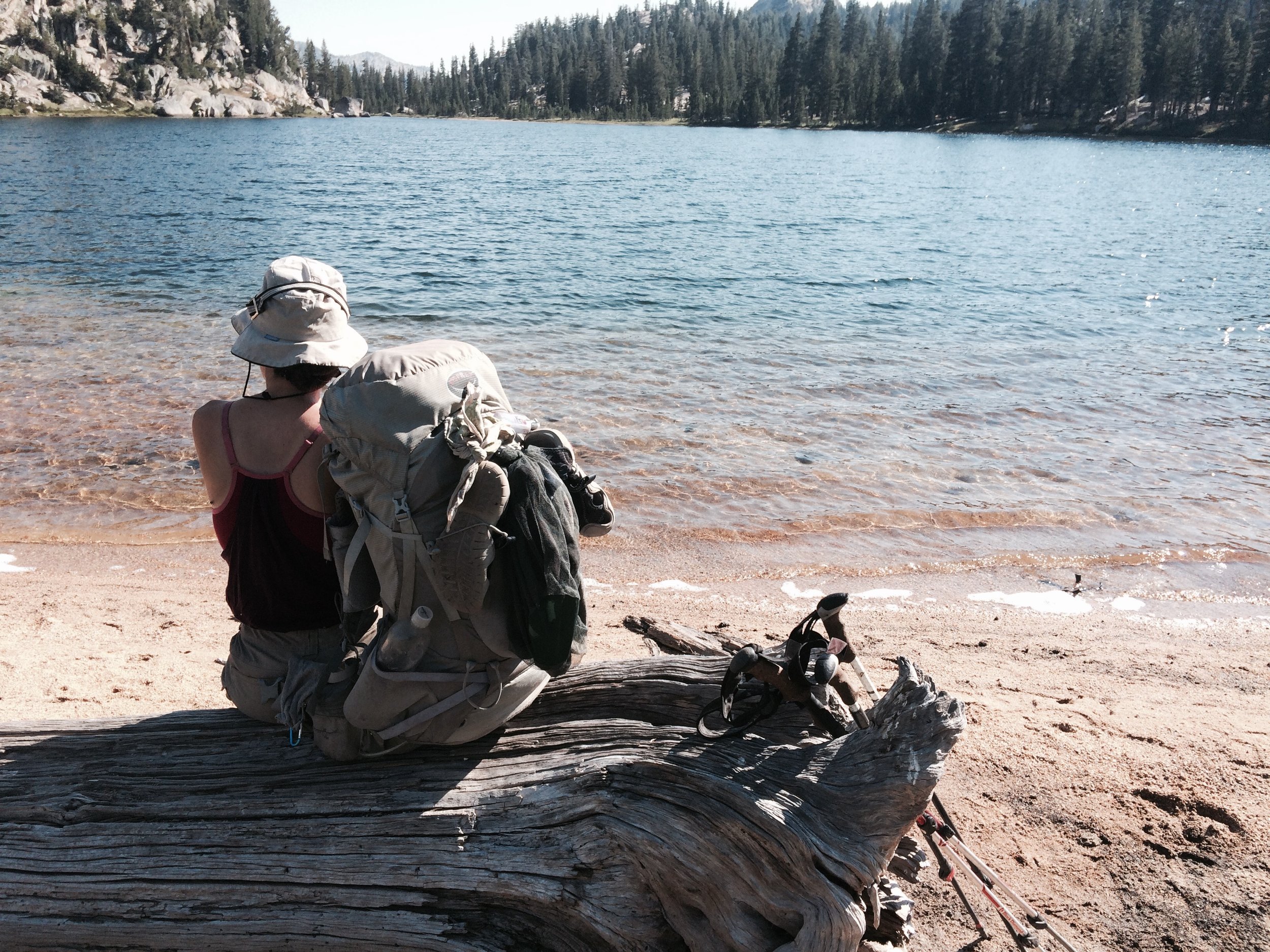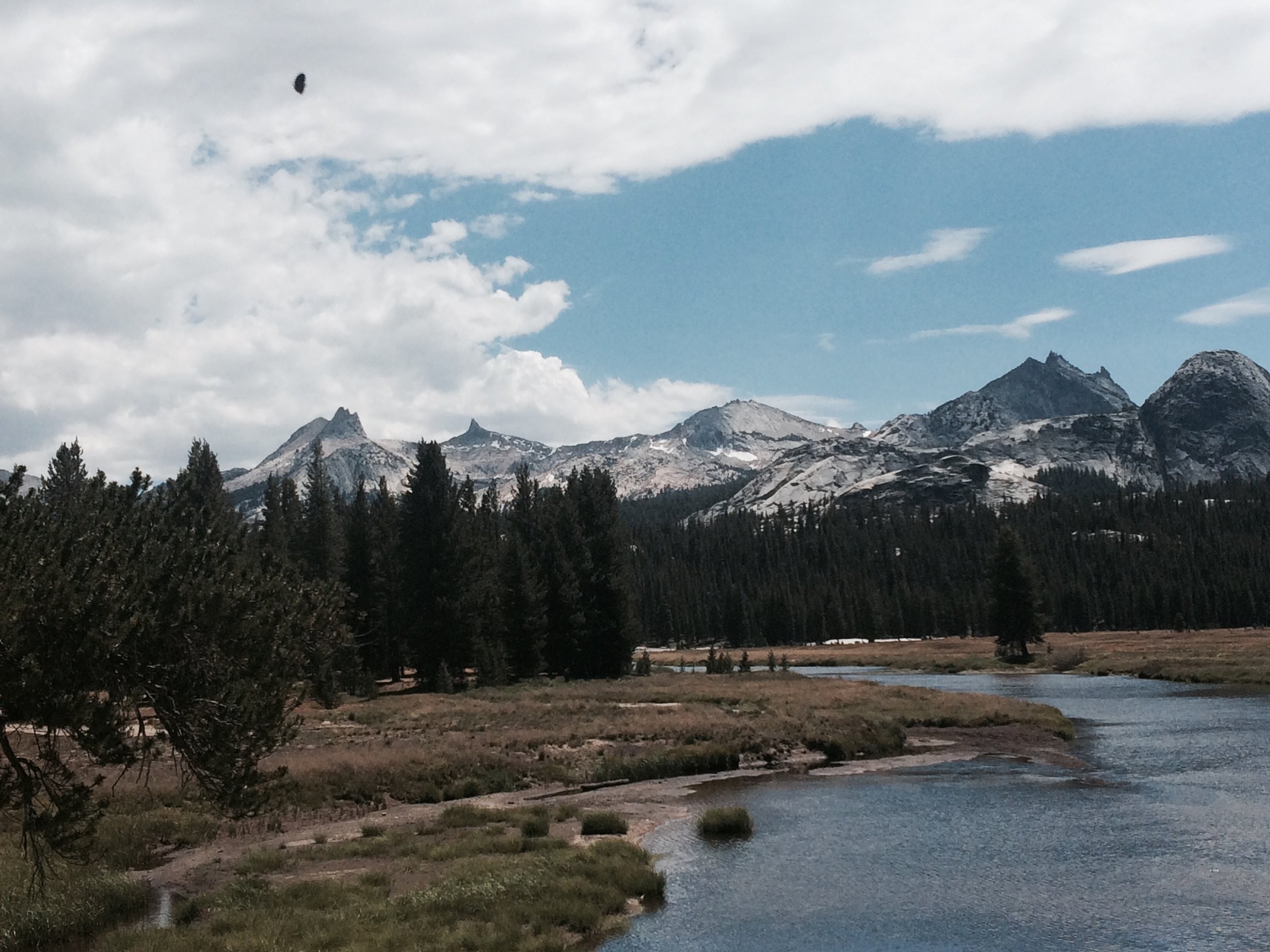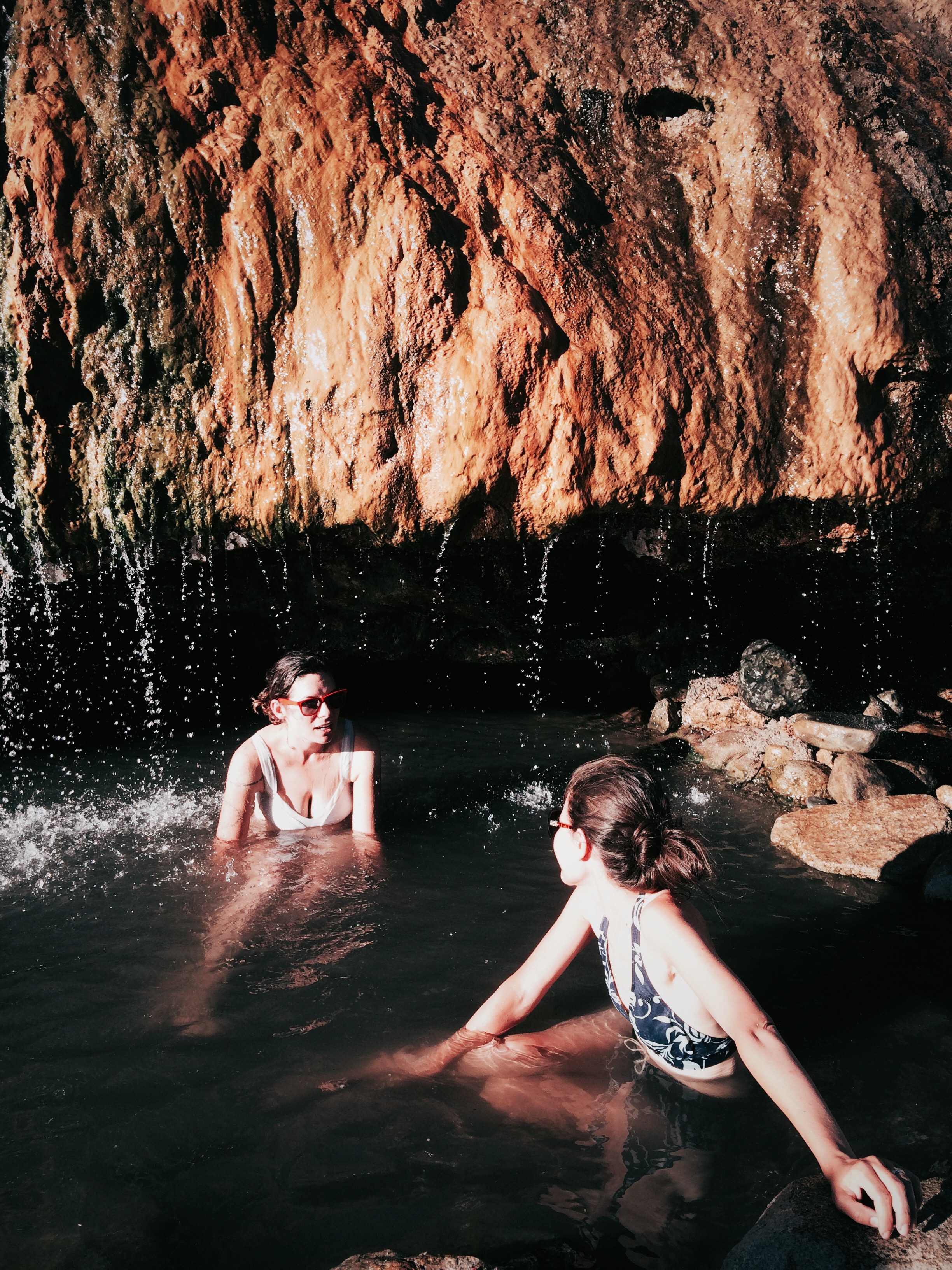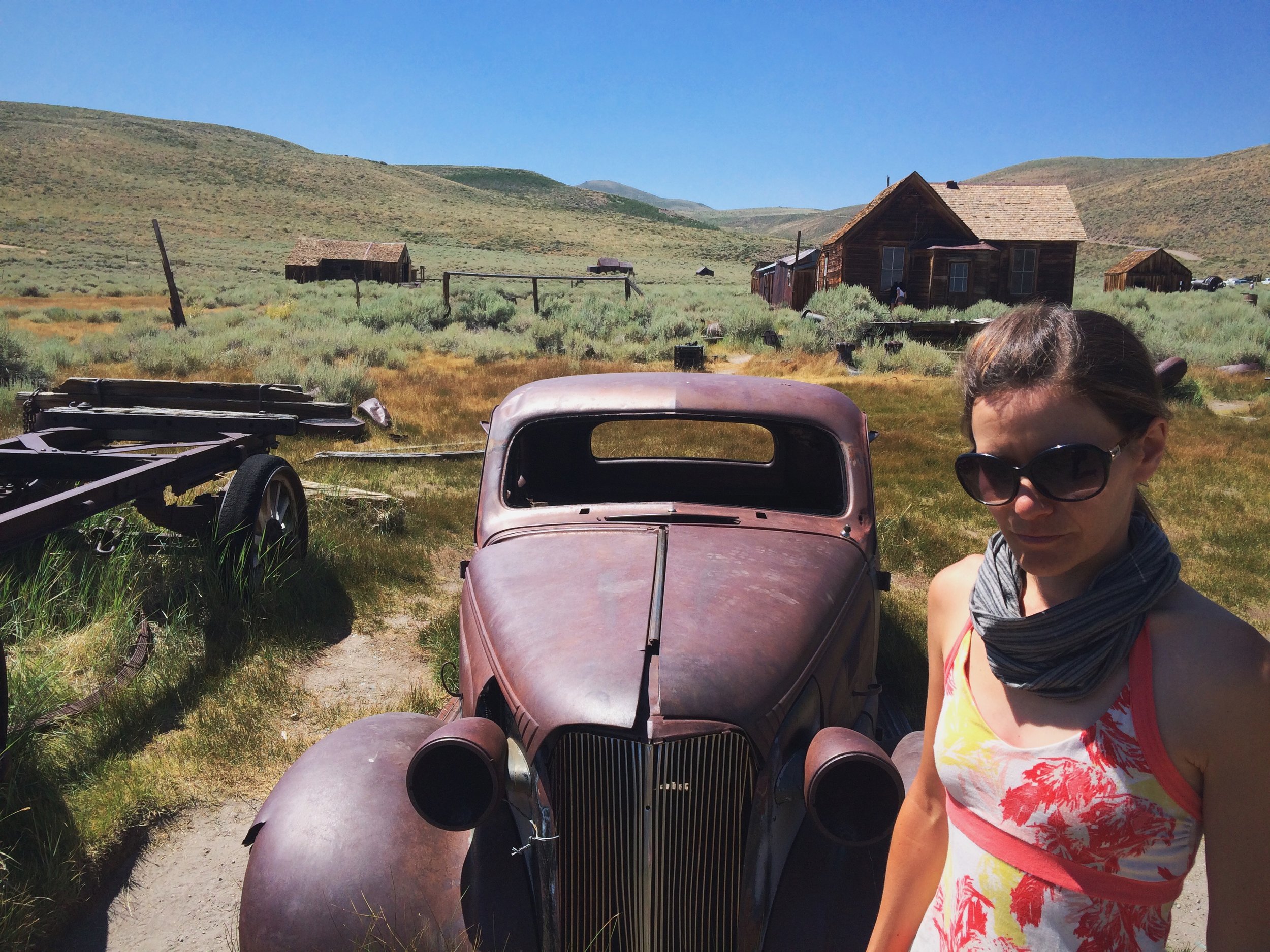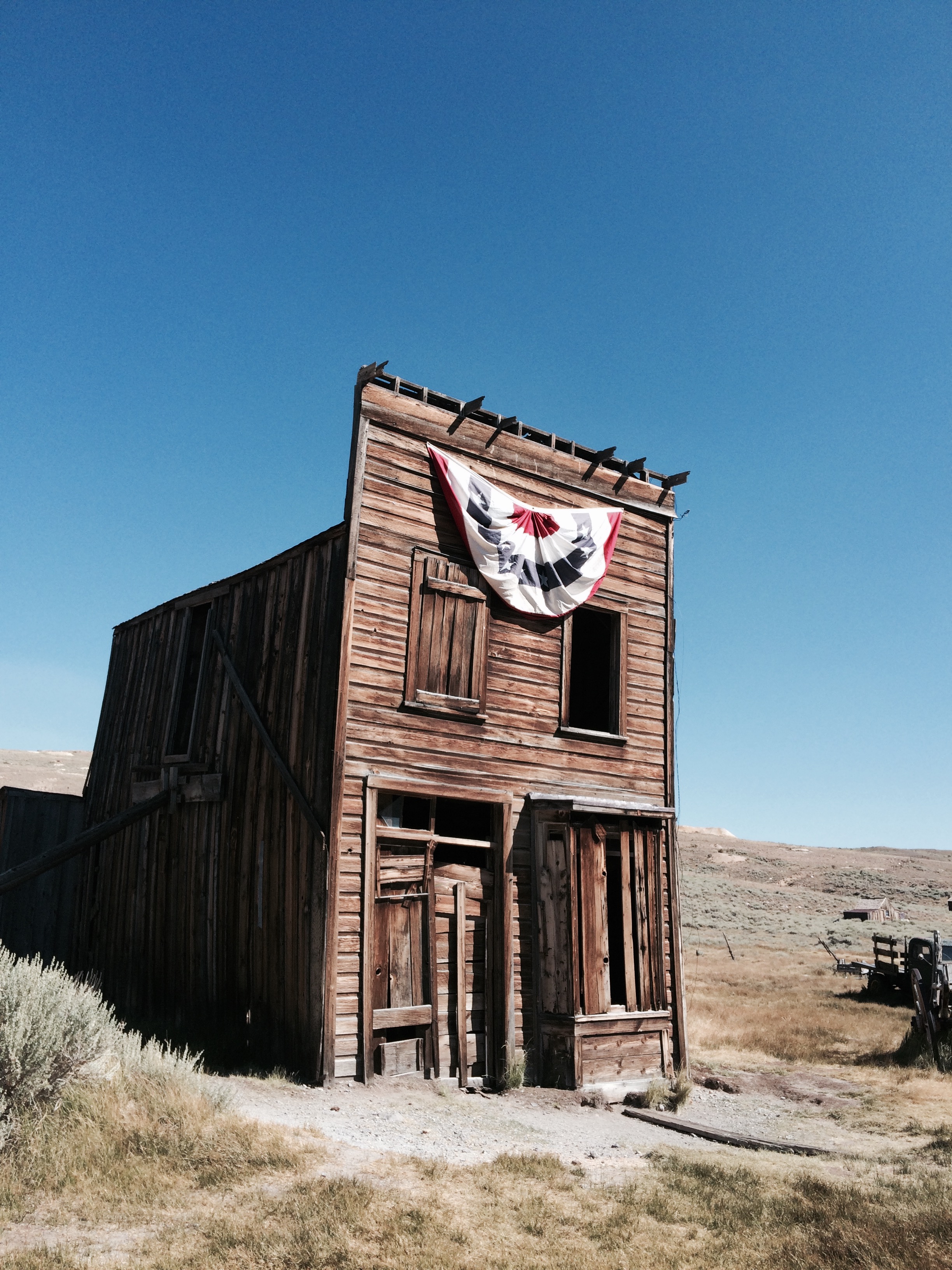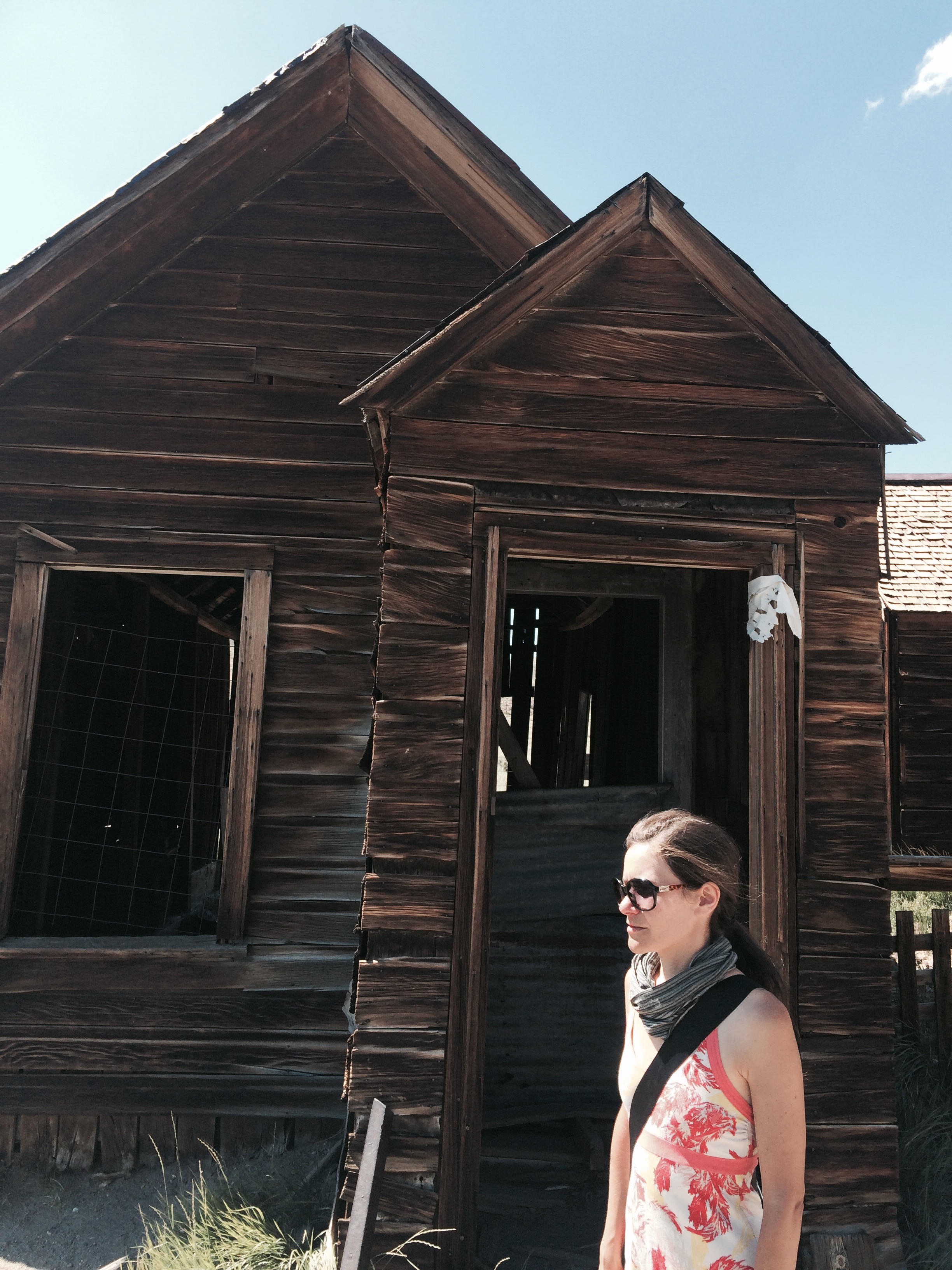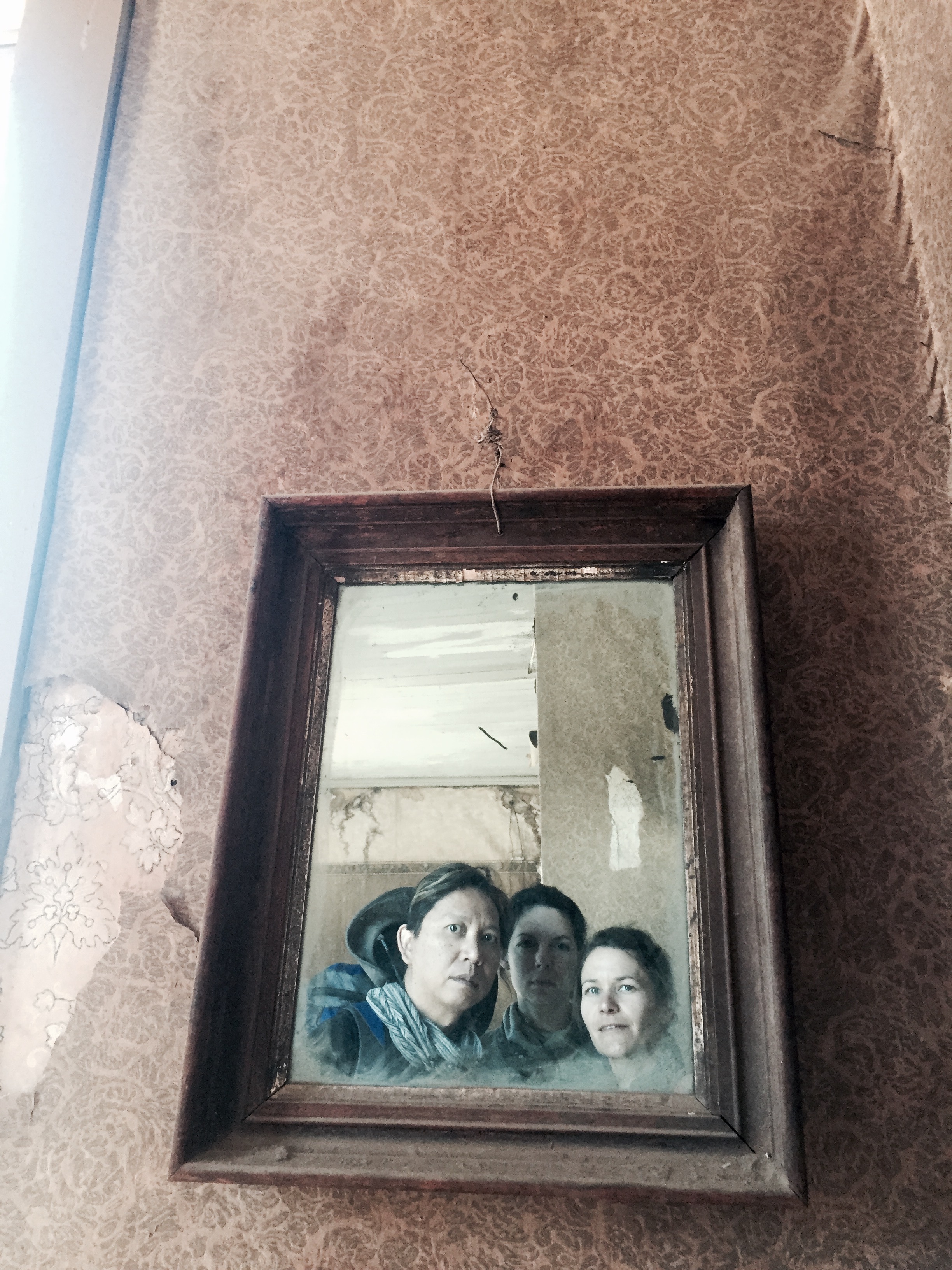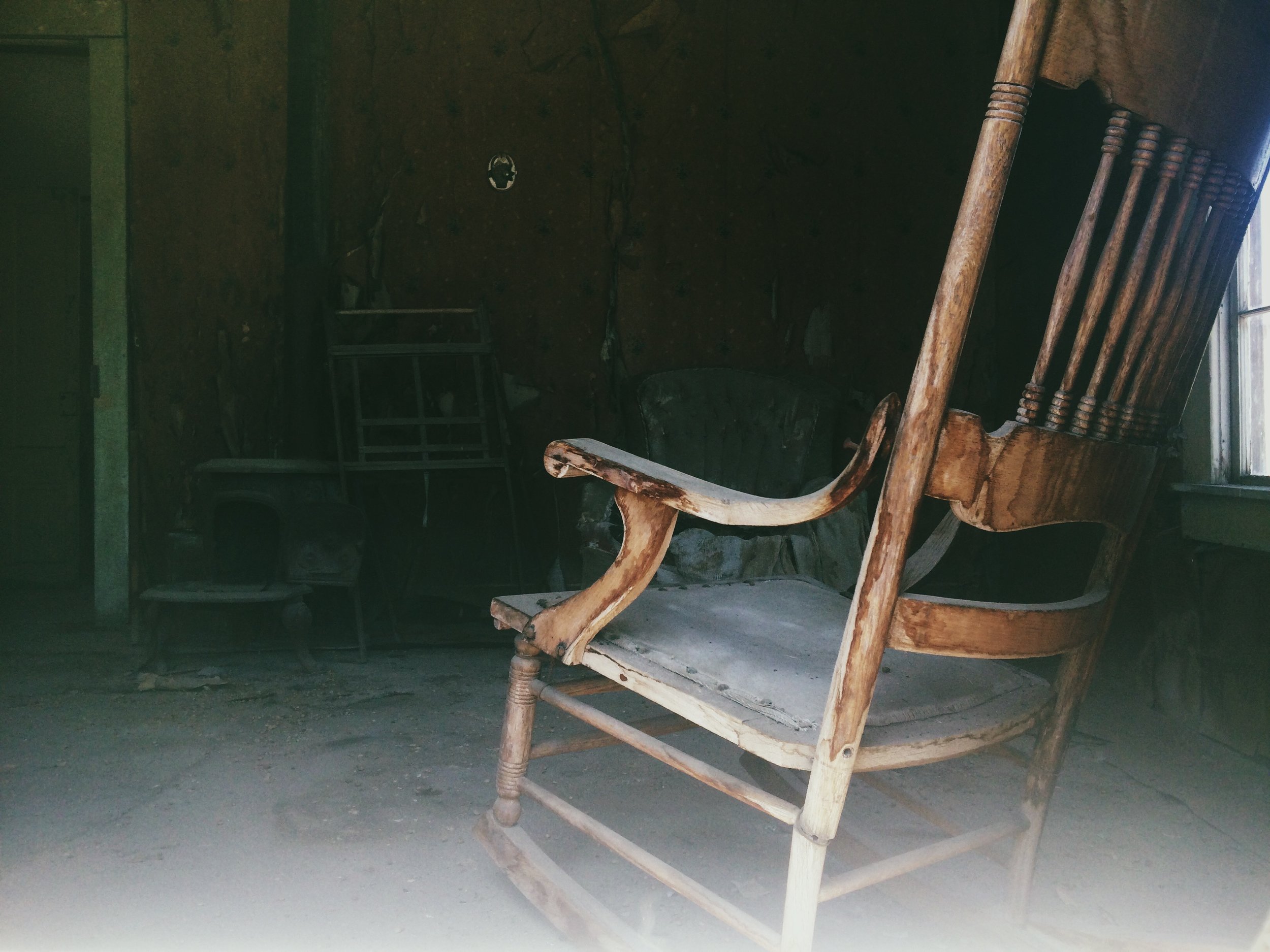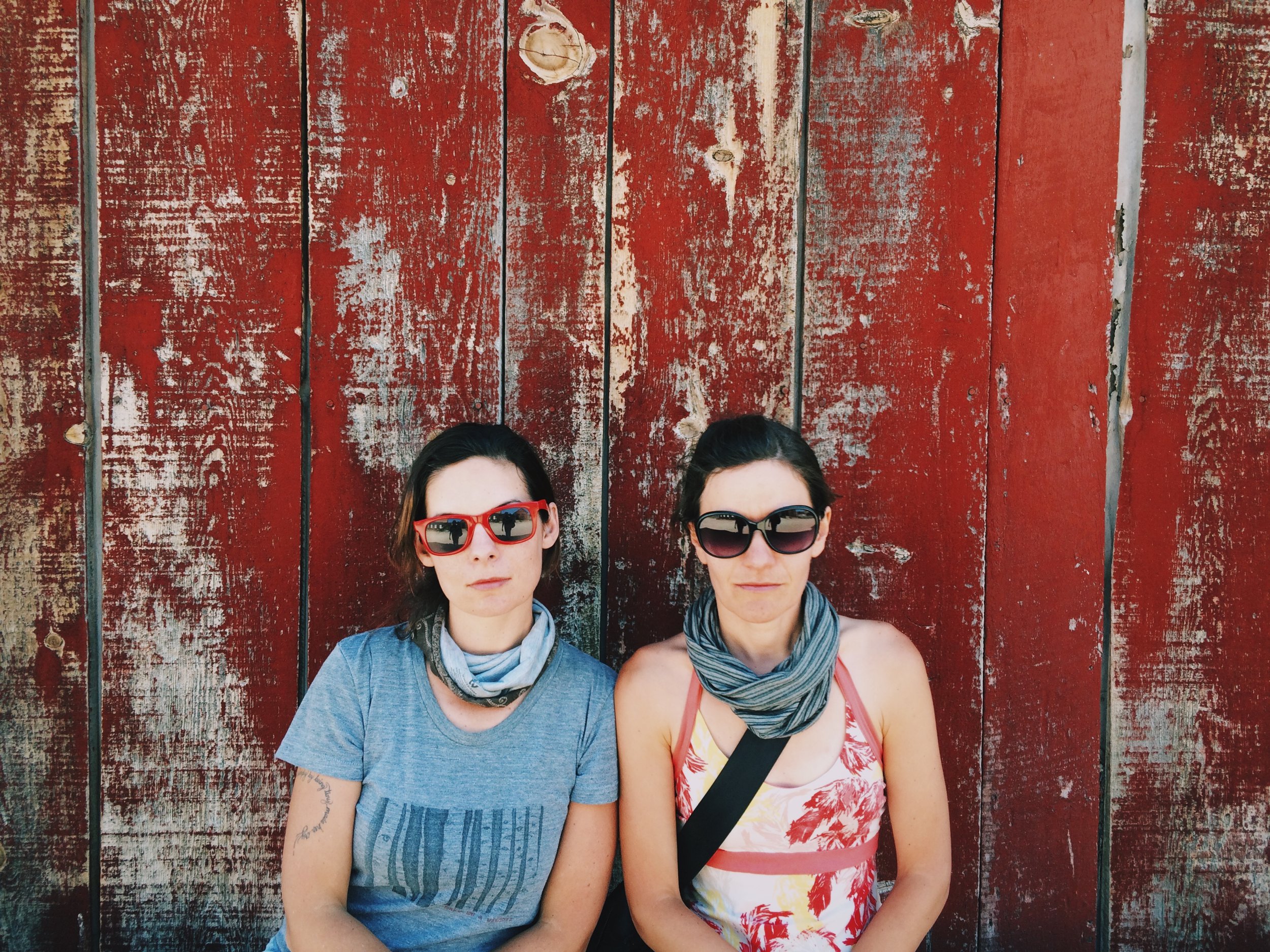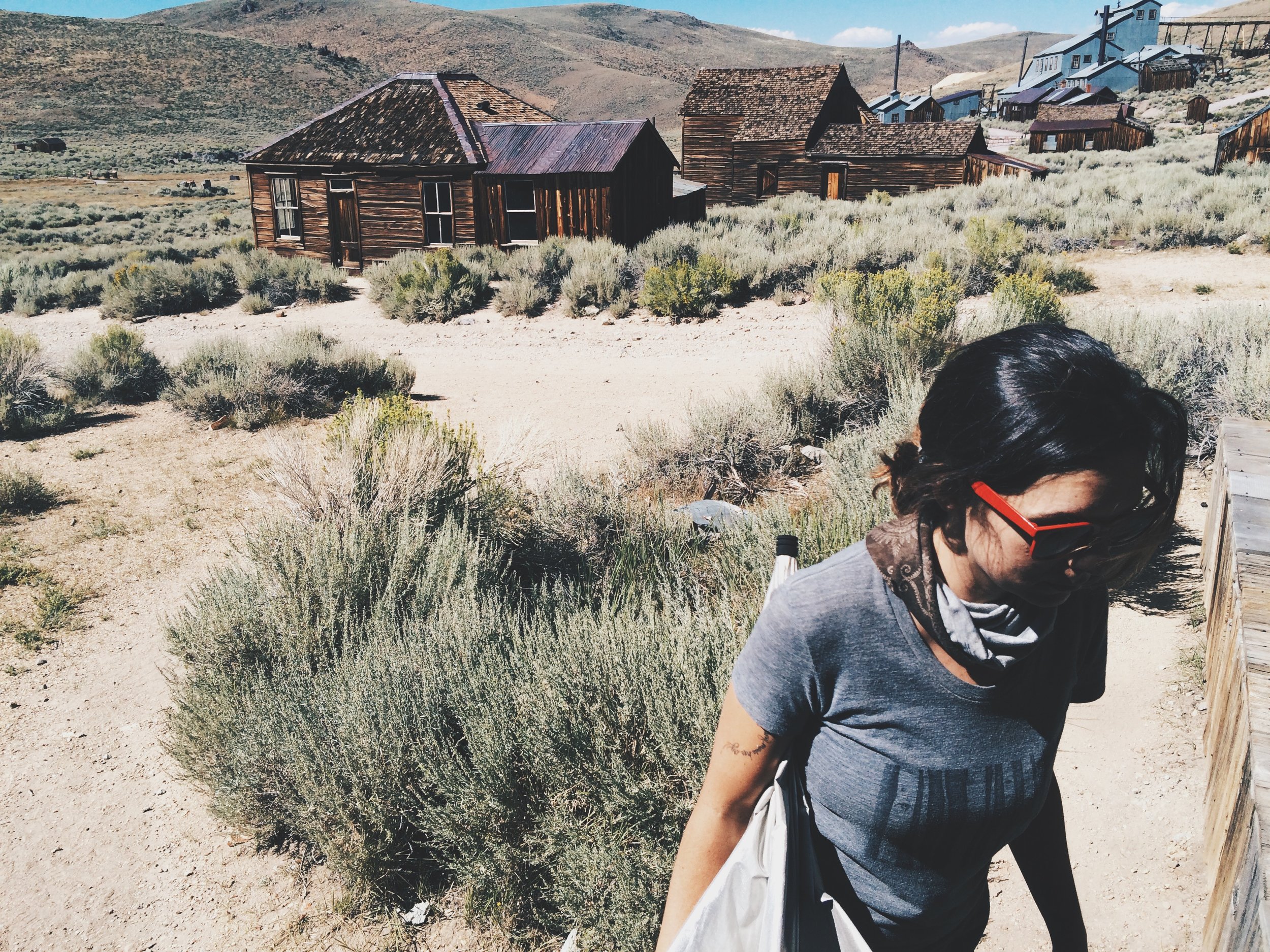 Miscellaneous Details
Halfmile's PCT maps and waypoints: we printed out the handy letter-sized versions and loaded up the waypoints onto our GPS unit. We also had the Halfmile app but found ourselves relying mostly on the printed maps.
Guthook's JMT Hiker app (for iPhone): indispensable to help identify reliable water sources in this drought year. Also helpful for quick navigation and for planning breaks.
Garmin e-Trex 30 GPS: loaded with Halfmiles' waypoints . We had the unit on whenever we were on the move and recorded virtually the entire trek. The recorded data is shown on this map of our hike.
DeLorme InReach Explorer: we borrowed this 2-way satellite communicator from our trail angels, Mary and Robert, which allowed us to send free pre-set messages to family. We were also able to get a weather forecast for our GPS location on demand through this free service (incoming message fees still apply).