Edith, Jolly and I found ourselves visiting two Southwest canyons in the Colorado Plateau this time: Zion National Park, in southwestern Utah, and Grand Canyon, in northern Arizona. In Zion, one looks up the canyon walls, while at the Grand Canyon one looks down into the landscape. I absolutely love traveling in this part of the country, because no one ever gives a second look when they see a buck roaming around. There are plenty of other native mule deer around to distract the bipeds.
Our original plan was to only go to Grand Canyon, but we always seek any excuse we can to visit E+J's friends James and Christine (and their wonderdog Buster), who live just outside Zion National Park, in the town of Springdale. Zion is always worth taking a little 5-hour "detour" for. As always, it was beautiful. E+J have been here so many times that they have lost count; it's just a magical place to be that finds them returning again and again. A new experience awaits each time. As for me, it was my second time in Zion (though I do have some Cervidae family lineage that leads to Zion).
Waterfalls were one of the themes of this trip. It rained (and even snowed some) while we were in Zion, and a leisurely hike to the Emerald Pools led us to a waterfall that was flowing full with runoff. We were able to walk behind the waterfall, a special experience as you try to track drops starting dozens of feet above you and crashing in a pool below you...like a secret that only you are privy to. (More on waterfalls when we discuss Grand Canyon).
When we travel, our hooves rarely touch the ground. We are always moving and covering ground. But there is something very relaxing about Zion that brings out our inner laziness. This time around, we did a great deal of exploring by just parking on the side of the road and wandering off to see where our feet would take us.
A couple days later we headed to Grand Canyon, one of the most popular national parks, and rightfully so. Photographs really don't do justice to its magnificence, and neither do words, really. John Wesley Powell said:
It has to be witnessed, it has to be absorbed. And until we descended into the Canyon for our first multi-day trek last year, we hadn't really experienced it. Mile-deep and almost 300 miles long, the Grand Canyon is shaped by the Colorado River and the erosive effects of rain and wind. Every step reveals a new view.
Having backpacked this during the same week last year (when E+J vowed to return this year), we arrived with a certain mindset of familiarity and even expectation. We were pleased that this didn't take away from the experience, and that it was equally, if not more, awe-inspiring this time. We still couldn't keep our jaws from dropping. The Canyon is never the same thing twice.
Our route was the same one as the last time - heading down via South Kaibab Trail and up via Bright Angel Trail, both on the South Rim. (Note: A backcountry permit is required if staying overnight in the Canyon; no need for one if you're just day-hiking).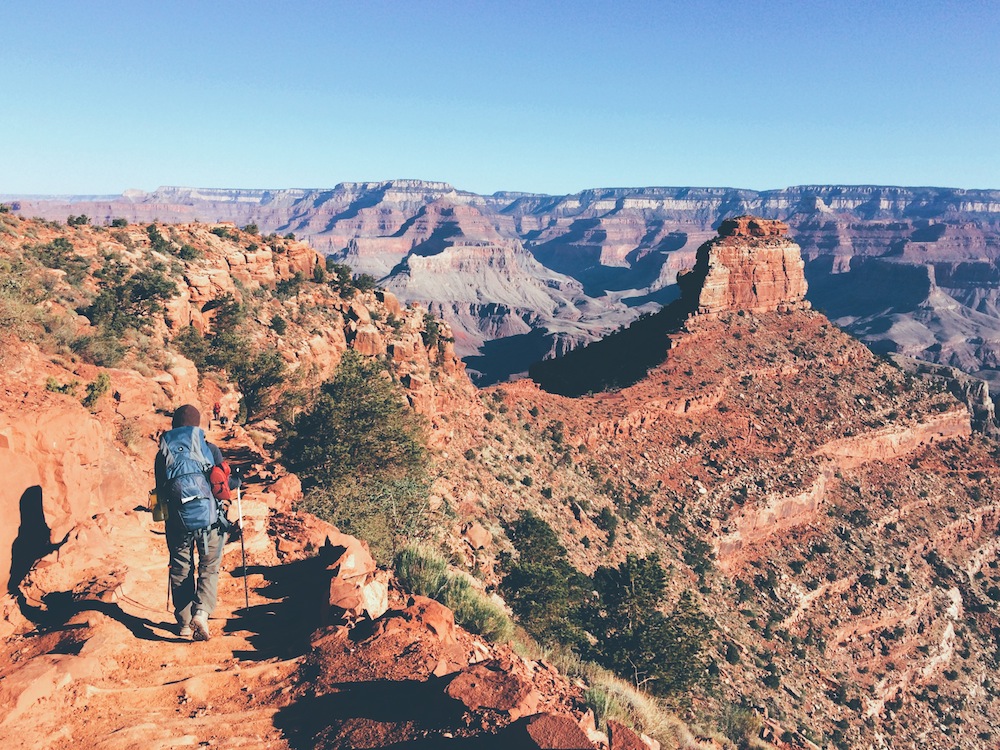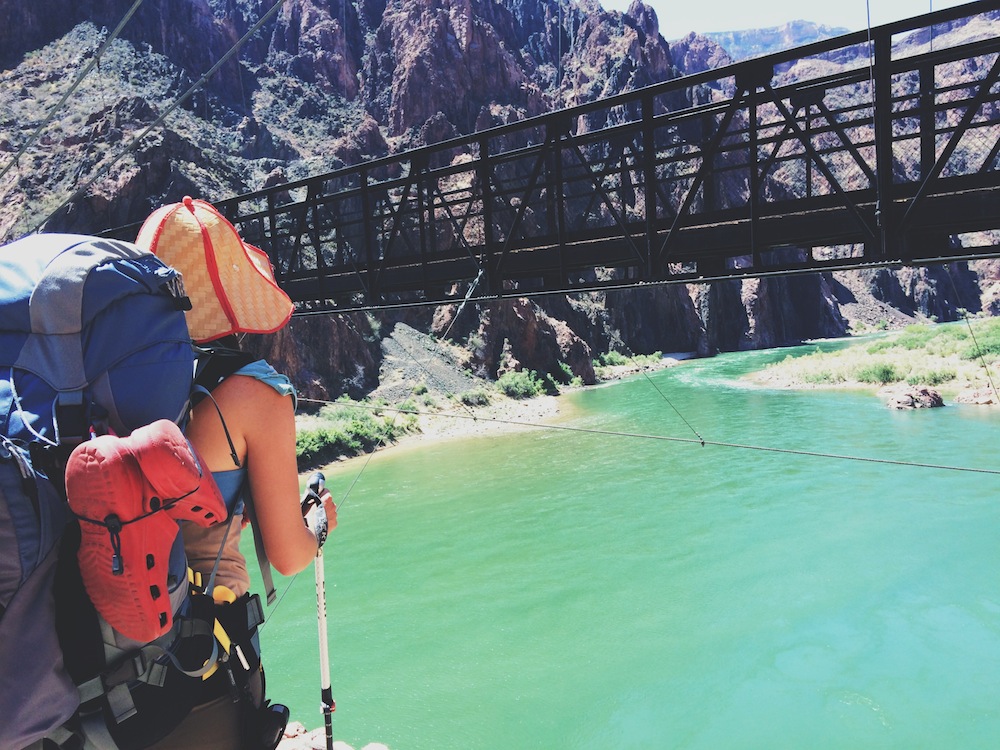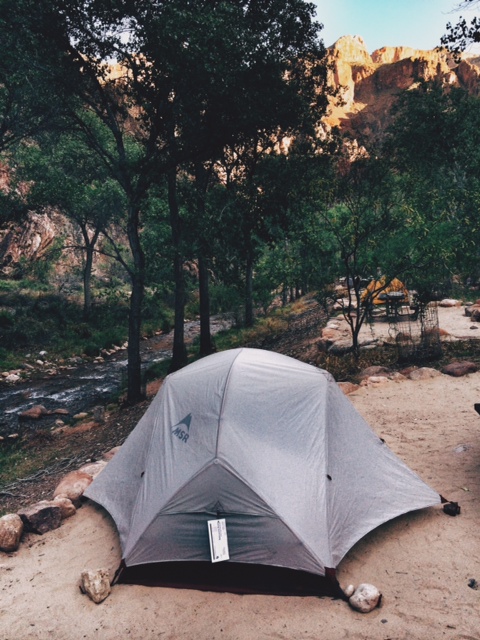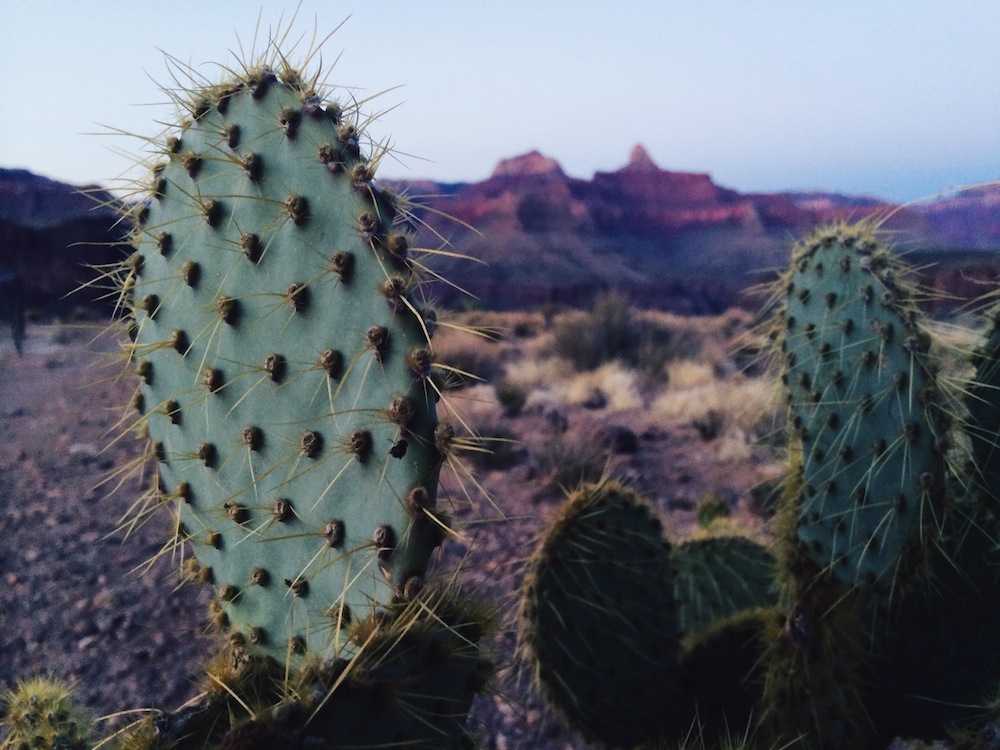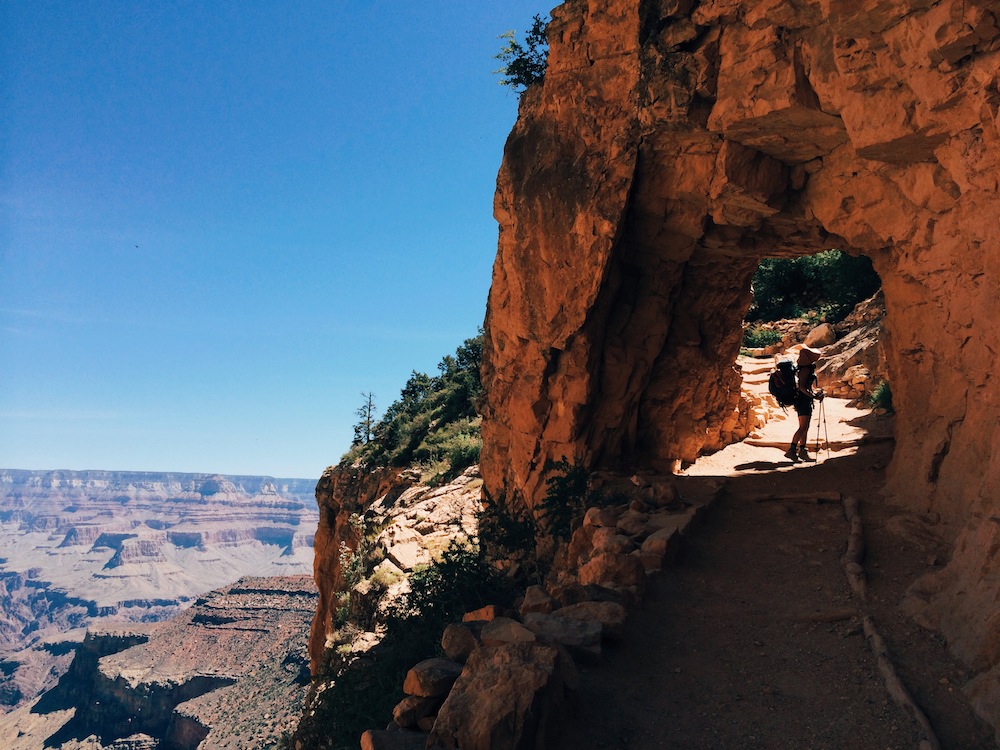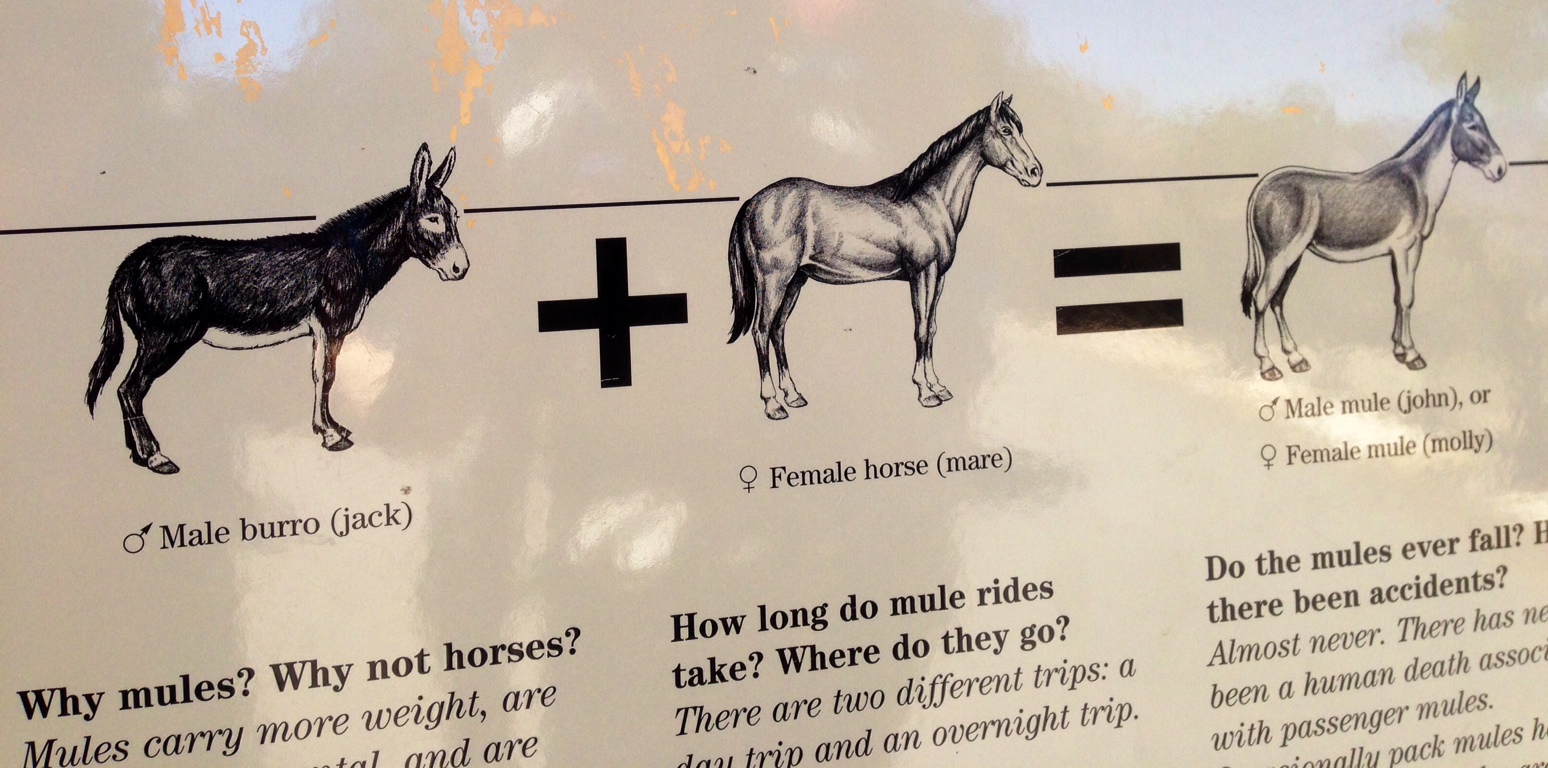 E+J took the first shuttle to the trailhead, which in late April leaves at 6am. I had to take the long route, by hoof; apparently the National Park Service looks scornfully on hikers that bring their deer companions on the shuttle. Having learned the hard way last year, we were determined to start early and beat the heat. For E+J, who are not equipped with a built-in coat, it was a challenge to choose the right layers to bring. The weather was set to be cooler this year than last year, and starting early at the rim means near-freezing temps. At the same time, dropping some 5,000 feet into the heat-retaining Canyon meant it could be 30 degrees Fahrenheit at the rim in the early morning and 95 degrees in the Inner Canyon by mid-day.
I like to travel light, as I require no special bedding and can usually find sufficient food along the trail. E+J, however, had 38-pound packs on each of their backs, which, from my perspective, made them look very much like mules. We started our hike by 6:30am - destination Bright Angel Campground. Surprisingly, we were one of only two parties headed to camp down below. Everyone else was day hiking, some setting out for a challenging 17-mile hike down the South Kaibab and up Bright Angel. It took us 4.5 hours to reach the campground. How excited we were that we had not just made it an hour faster than last year, but that we arrived before 11am. We're certainly among the slowest hikers (and snowshoers) in the world, but it was not even noon yet! We set up camp next to Bright Angel Creek, near where it meets the Colorado River, and we were settled in.
What does one do at noon after hiking down down down for 4.5 hours, running on three hours sleep? One takes a nap.
We took it easy the rest of the day, and had the luxury to do so as we were staying at Bright Angel Campground for two nights. We found a quiet spot at Phantom Ranch to watch the birds and enjoy the breeze. E+J recorded their experience in words and images in their journals while I munched on some local vegetation. We sat in silence for a long time, knowing that a full day of exploring the Inner Canyon Corridor awaited us the next day. As the day came to an end, the campground wasn't as packed as it was the previous year. "Quiet time" at the campground is 8pm, and by 8:30 practically everyone was asleep.
Day 2 was our only full day on the Canyon floor, and we spent it doing a long day hike to Ribbon Falls. We slept in and were slow getting started, leaving camp at 10am. Signage at camp indicated Ribbon Falls was 6 miles from camp, but at the end of our day, E's GPS told us we had covered not 12 miles but 17! Though we were a bit worried starting so late, the upside of being late was that when we got to our destination the only remaining hikers at Ribbon Falls were leaving, and we essentially got this piece of paradise all to ourselves. Though we were hiking in the desert, Ribbon Falls is a slice of heaven and you suddenly feel like you are in a rainforest. The water in these 50-foot-high falls has deposited minerals that formed a 30-foot travertine "dome" that is home to iridescent canyon treefrogs and American Dipper birds, which make their nests in misty, mossy caves within the dome. A trail leads up and behind the waterfall, where one can feel the energy of the water falling and as it hits the rocks and creates a small pool suspended 30 feet above the bottom of the falls.
The following day we started our ascent, heading up to Indian Garden campground via Bright Angel Trail. Indian Garden is a perfect halfway point to the rim and requires a 3 to 4-hour hike from Bright Angel Campground. We awoke before 5am to have breakfast, brush our teeth (an important habit for any healthy deer), pack and go. As an aside, I've observed that most campers and backpackers forget about dental hygiene when they're in the wild. Sure, they're roughing it, but what is it about being on the trail that makes folks think they're suddenly invincible to the slow and steady process of death and decay? For deer's sake, that toothbrush only weighs an ounce! But I digress.
Having made it to our destination before noon again, this time in an energy-intensive climb, we took a nap once more after setting camp. In the afternoon, we took a short hike to find a spot by the creek to go for a dip. Once we got back we had an early dinner at 5pm so as to make it to Plateau Point, 1.5 miles from camp, for sunset. Plateau Point is a phenomenal place to be during sunset: the light bathes the canyon softly in hues that change by the minute. We were fortunate enough to see a California condor (with a wingspan of nearly 10 feet) soaring above us. Even for a quadruped of my size, the size of a condor can be rather intimidating. For a moment, I thought this massive, winged creature would swoop down and pick me up.
The following day we covered the final stretch of the route. This ascent is steeper than the first uphill segment to Indian Garden. Fortunately there are two water stations which are usually turned on by April, so E+J didn't have to carry much water. We made it to the top in 5 hours, before noon again. We had no plans for where to go from that point, which can be liberating. It was a Friday and we didn't have to be back home until Sunday night. We decided to head south and stay the night in the mountain town of Flagstaff. I slept in the mountains surrounding the town while E+J stumbled upon Flagstaff's First Fridays celebration - which they tell me included musicians spilling out at every corner, street food galore, and easy-going Flagstaffians mingling on the sidewalks. A perfect re-entry into civilization.