Dear Jedheads,
As a buck who lives close to the land, I'm accustomed to being still and observing the scene. Is that the distant rattling of a rattlesnake? Is the screeching of that red-tailed hawk hovering above meant as a warning to us ground-dwellers? This kind of astute observation is necessary for the survival of us wild animals, but it is not a characteristic I generally see in humans.
This is why I'm particularly excited about this month's show. At the risk of coming off a bit debonaire, I think my presence has influenced my friends Edith and Jolly and that their work is showing evidence of just that kind of shrewd reflection.
The latest virtual exhibit at dearantler gallery features 24 works by Edith and Jolly, offering visual musings on the stories (and histories) hidden deep in the fabric of the West's travel landscapes. The works in It Takes 39 Steps: Explorations of Beginnings and Ends are odes to the silence and stillness that can be found in every moment -- qualities that are somehow brought to the fore when we take ourselves away from the familiar and allow ourselves to be vulnerable to the unknown.
Where It All Starts - 12 diptychs, 36 stories
Jolly's 12 photographic diptychs juxtapose images from diverse moments, creating surreal combinations that are sometimes solemn and often unexpected. We tend to live our lives myopically, focusing on what is immediately before us. But Jolly's work reminds us that it's actually our ability to have a multiplicity of experiences and to see things from more than one perspective that gives each moment a unique meaning. Sure, you could look at each image separately and see one story at a time -- but why would you, when you can break down the walls of perception and tap into something greater? One meaning for each moment, and one more interpretation once they are combined. That is where it all starts.
The inspiration for the series comes from the story of my animal kingdom friend, the salmon. Born in freshwater, the salmon swims out to the ocean, undergoing a transformation from freshwater to saltwater -- spending anywhere between one and eight years in the open ocean, depending on the species. The salmon then seeks out the river of its birth, using all of its strength to swim upstream, and undergoing a transformation back to freshwater once more. Finding the place of its birth, the salmon now spawns, usually dying within two weeks, but not without enabling a new story to start.
In Arrested Decay - Photographs taken in the ghost town of Bodie, California
Edith's 12 photographs were shot in the ghost town of Bodie, located at an elevation of 7,000 feet northeast of Yosemite and just north of Mono Lake, less than 10 miles from the Nevada border. Considered the best-preserved ghost town in California, if not the West, Bodie was a gold mining town that saw its heyday in the second half of the 19th century, at one point boasting an estimated population of 10,000. Bodie was a true Wild West frontier, home to teachers, prostitutes, bankers and gunfighters in equal measure. There were churches, banks, a school, a post office...and more than 60 saloons.
Two major fires destroyed much of the town and today about 100 buildings remain in a state of "arrested decay" under the care of California State Parks -- that is, maintained only to the extent necessary to prevent major deterioration.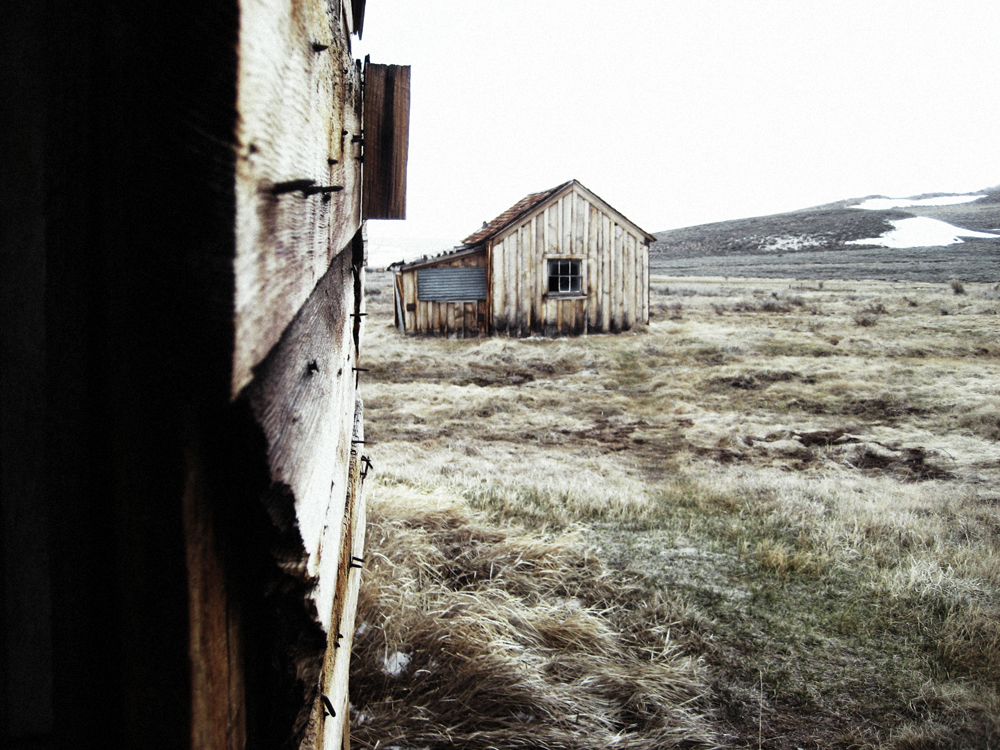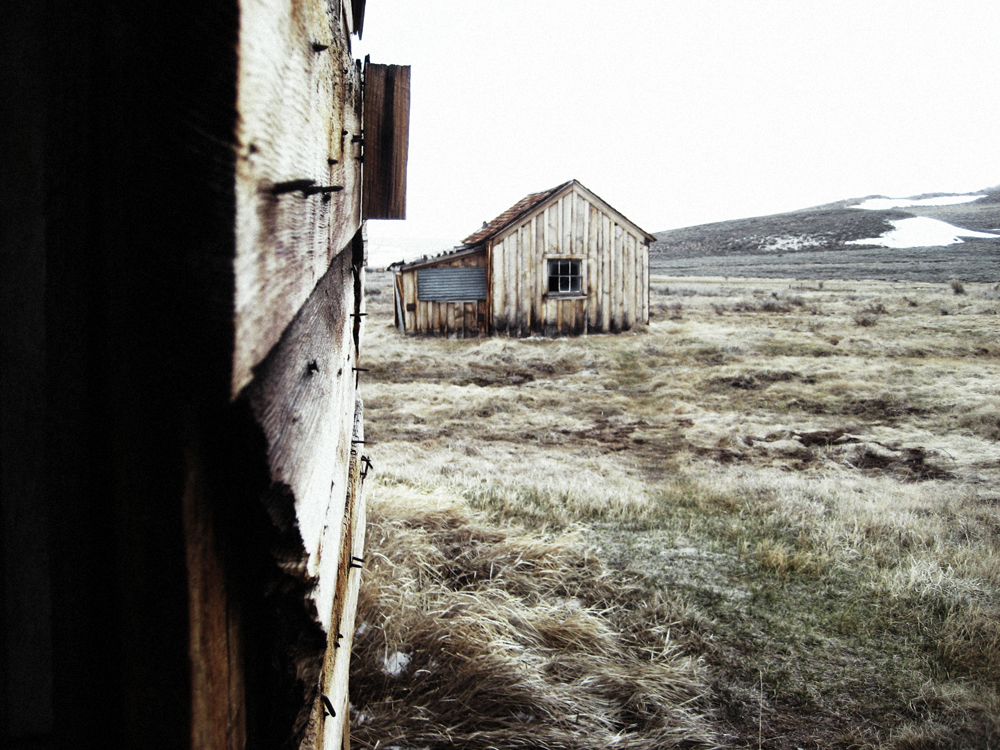 I was able to accompany Edith and Jolly on their visit (this is a state park where deer are native, after all). We were there on a foreboding, cold and overcast day that eventually caught us in a passing blizzard -- strong gusts blowing snow sideways like acupuncture needles, greatly reducing visibility. Wandering the dirt streets, we were transported back more than a century to a time when day-to-day survival was far from certain, when the desire to secure a life of comfort and prosperity was right up against the reality of life being at risk of the elements, dangerous work and lawlessness. Beginnings and ends.
The titles for the photographs in this series are borrowed from Western films -- mostly the "spaghetti Westerns" of Italian film directors including Sergio Leone, Sergio Sollima and Lucio Fulci.
It Takes 39 Steps runs January 18 to February 18.
I hope you enjoy your visit,
Jed
PS: If you ask me, the works from It Takes 39 Steps would make wonderful gifts (and there's plenty of time to order before Valentine's Day). Check out the general store for merchandise options.
Want to win a print?
We have a contest for you! Click here to submit your answers to the following questions by January 31 for a chance to win a free print. Two winners will be chosen at random.
What street name shows up in one of the photographs taken in Bodie?

What text is written on the train car in one of the diptychs?

The title of the last show was "North by Northwe(s)t." This month's show is titled "It Takes 39 Steps." What do these titles have in common? (Hint: don't drive yourself psycho or jump out a rear window trying to figure it out).