Joshua Tree and Death Valley national parks are two of California's best-known desert parks. But there is a third lesser-known destination that blends much of the beauty of the two and provides vast open spaces with far fewer people. Welcome to Mojave National Preserve, where 1.6 million acres of other-worldly rock formations, singing sand dunes, volcanic cinder cones and the world's densest Joshua tree woodland await.
Edith, Jolly and I took our first trip to Mojave National Preserve over the second weekend of February. It was an unseasonably hot weekend, but despite the severe drought we were pleasantly surprised by the dense, green flora all around us. We drove up from Interstate 40 to the south and found a desolate tent site at Hole-in-the-Wall Campground, named for the nearby rhyolite cliff formations sprinkled with holes and hollows — sort of like a lunar landscape made of Swiss cheese.
Rings Loop Trail
Our friends Cassandra, Barbara, and Nic joined us for a night. It was Valentine's Day and the moon was full, so you could say we were feeling romantic. We took a beautiful moonlit hike through the Rings Loop Trail (E&J and I had scouted it in the daylight a few hours earlier). Though the trail is only 1 mile in length, it's a beautiful hike that packs in plenty of adventure. Barely a quarter-mile into the hike, we encountered faint, ancient petroglyphs carved into rock, including what appeared to be deer, snakes and tortoises. We soon entered narrow Banshee Canyon, where rock walls rose steeply around us, each punctured with holes and hollows of many shapes and sizes. A side canyon, which extended only a few dozen feet from the main canyon, had a 15-foot dry waterfall with handholds and footholds that were used by Native Americans. The average modern hiker is quickly humbled — the dry waterfall rises vertically, intimidating anyone but the most agile climber.
Returning to the main trail we soon came across two more dry falls. These falls provide the name for the trail: metal rings are bolted into them to allow hikers to climb up and out of Banshee Canyon. Climbing above, we turned back for a view of the jagged canyon we just emerged from.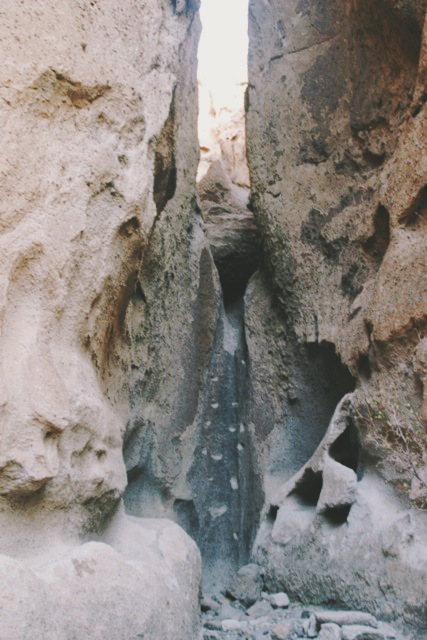 Lava Tube
We headed out the next morning for our only full day of exploration in Mojave National Preserve. Our first stop was along Kelbaker Road, where more than 30 cinder cones dot a landscape strewn with evidence of volcanic activity. Our destination was Lava Tube, an underground series of "rooms" formed when the upper portion of a molten lava stream hardened before the liquid lava below it, creating an underground hollow "tube" once lava flows ceased. A few small holes at the surface level allow sunlight to pierce these rooms, creating dramatic rays of light in an otherwise dark cave. We were there during a fairly hazy day, and even under these conditions the sunbeams were intense.
Kelso Dunes
Next we headed to Kelso Dunes, which are among the largest sand dunes in North America. The hike to the dunes is only about 3 miles long, but hiking uphill on sand makes for slow-going trudging. Walking toward the dunes, it's easy to see that the elements are constantly reshaping nature's landscapes. The human mind somehow wants to perceive natural features as being permanent, or at least having great longevity, but in fact, nature is always in flux. Perhaps nowhere is this fact more evident than in sand dunes, where forms and shapes are constantly changing day-to-day.
There is no "official" trail to the dunes, so we meandered our way through the sand. This being a holiday weekend, we were not alone, but with a bit of extra effort and a little inspiration courtesy of Robert Frost we took the trail not taken and found ourselves enjoying windswept dunes left untouched by human feet. The previous evening had been a rather windy one, so any footprints that might have been on the dunes a day earlier had been erased like an Etch A Sketch. Reaching the virgin dunes, we experienced a fascinating phenomenon. As we walked across the ridge, the fine sand we displaced with our feet began to flow down the steep slope like water, creating what looked like sheet-flowing waterfalls made of sand. As these made their way down the slope, they created a deep "booming" or "singing" sound — vibrations that we could not only hear but also feel as they moved through the dunes.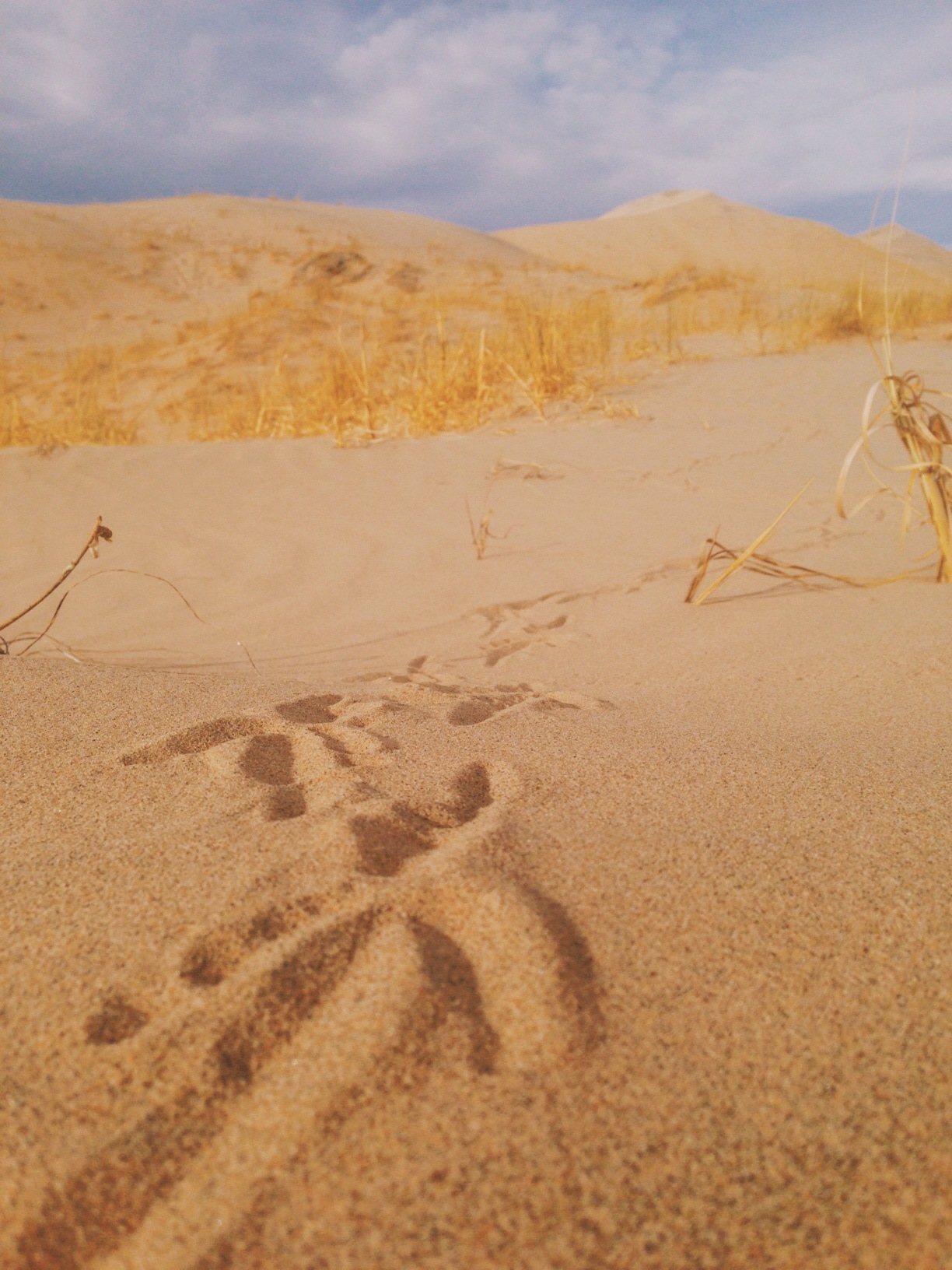 Kelso Depot
Between the Lava Tube and Kelso Dunes lies Kelso Depot, a historic station, restaurant and employee housing along the Los Angeles-Salt Lake route of the Union Pacific Railroad. Today, the Depot serves as a visitor center and museum.
Teutonia Peak
The following day, we headed to the densest concentration of Joshua trees in the world. We hiked Teutonia Peak, located just across the site of a controversial World War I memorial, featuring a large white cross mounted on a prominent rock formation. The cross was first erected in 1934 by veterans of the First World War. A legal battle over the constitutionality of the cross started in 2001, finding its way to the U.S. Supreme Court before being resolved through a land exchange settlement reached in 2012.
On the Teutonia Peak Trail, we hiked through a Joshua tree woodland, a verdant mix of Joshua trees, juniper and cholla cactus. The trail is fairly level for the first mile before ascending 700 feet to the rocky 5,755-foot peak. From the top, far above everything around us, we could clearly see the massive, gentle slopes of Cima Dome, a nearly symmetrical geologic dome covering some 75 square miles and rising 1,500 feet. On the way down we also visited remnants of the silver mining era — two collapsed structures and multiple mine entrances along a historic dirt road.
We were in the preserve for just over 48 adventure-filled hours, and we can't wait to return. But there is one thing that, as a buck, I didn't particularly care for. Mojave is a National Preserve, a designation under the National Park System along with National Parks and National Monuments. For many animal species that live in the park, including mine, this designation means that hunting is permitted. This saddens me, not only because I'd like to personally keep my rack intact, but because desert dwellers already have so many survival challenges to contend with. I can only hope that the bipeds that make important decisions for the rest of us will one day see that human quality of life depends much less on people's ability to exercise their dominance over other species. On the contrary, they may find that the role of steward and protector is a much more fulfilling one to play.